It's a warm spring day, as the students of GFB2 enter the courtyard of an old factory building. There, waiting for us is a young woman and a man, with happy smiles on their faces and greeting us with cheerful voice. They are Anna and Jussi Kurkela, she is the founder of Papu and he is the CEO of Papu and husband of Anna. From the first glimpse, when looking at Anna, you truly notice that you are in the hands of a true innovator; her personality and style catch the eye instantly and in the corner of her eye you can notice a spark, as she starts to tell their story.
Papu was founded by Anna Kurkela. She designed the first Papu collection when she was still a student in Häme University of Applied Sciences. She had a vision of a clothing line, that would be stylish and unisex-designed, and without compromising the key elements that they hold dear even during this day; Papu needed to be ecologically and sustainably made.  She decided to pursue work experience, family life and polish the business concept before launching it.
Papu Design was launched in 2012 by Kurkela, in co-operation with Hanna-Riikka Heikkilä, who is still the main illustrator and print designer for Papu. The recipe for successful children's clothing design was ready to roll! With a turnover of €2,3millions, Papu Design is nowadays sold in 16countries, numerous retailers all over the world, including here in Finland. The goal is to become one of top three children wear brands in the EU by 2020.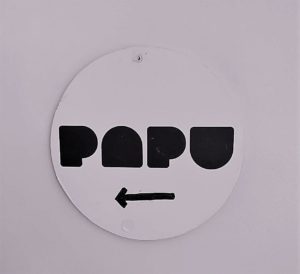 The main target customers of Papu are children aged 0-12, but they are also producing some special editions for adults from specific collections. They have also been expanding to some lifestyle products, such as fairytale books and home decoration. What makes Papu's clothes so desirable? It's not only the fact, that the clothes are responsibly made, but the durability and quality materials, and the best part -the clothes are pure awesomeness from prints to colors. It is no wonder that adults want to dress their kids in these clothes, the prints are joyful and just looking at them makes one smile and feeling goofy. These are the clothes, that you want to dress for your child and your child want's to be dressed in… and if you feel left behind, don't worry, there is always the adults clothing collection.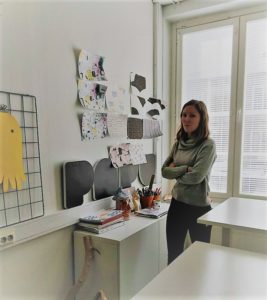 Papu's office  
The clothing industry nowadays is fierce, as new brands are arriving more than ever. Still, Anna and Jussi have a confident voice, as they are telling our students about Papu and its history and upcoming plans. Though building the brand is the most important topic, the value of growing also comes from being able to make a difference. It is about showing the world that you can do sustainable and ecological choices but also to work together by building the right connections and a community with people who wants to do the same.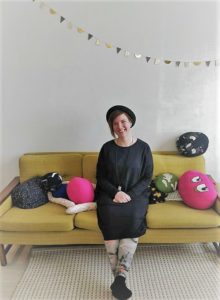 Anna Kurkela
Anna's adventurous and innovative personality shines through, from the great stories of the travels she and Jussi have had, and how they have overcome obstacles. When asking from Anna, how she would describe herself, she replies; humor and courage. At the same moment, a member of her team laughs and says, "courage is the first thing that comes to mind when thinking of Anna" and Jussi continues "and the way she dares to take on challenges with no hesitation".
Now, this is the spirit of a true entrepreneur!
 online: http://papustories.com/
Shop Papu online: https://www.weecos.com/fi/stores/papu
Follow Papu 
Instagram: @papustories
Facebook: https://www.facebook.com/papustories/