To start our story, we are a group of 5 students from Finland and Vietnam, working together, sharing experiences and knowledge with each other. Due to the incident of the covid-19 pandemic, the Global Fashion Business course had to be switched to an online learning platform, nevertheless teachers have tried their best to provide both lessons and interesting activities.
Fashion day was the most anticipated event of this course. As far as previous years are concerned, this event was held in Copenhagen and students were able to visit fashion companies and fashion week. This year though, everything was held online, although it was impossible to have an enjoyable experience like face-to-face meeting, we were still very happy to know more about companies and individuals operating in the fashion field. We would love to share our experiences to everybody. Here are some companies and individuals that we found quite interesting during the fashion day.
Roosa Mattson/ How Intercolor works?
First in the morning we heard presentation about Intercolor's trend forecasting. Intercolor is international platform of colour experts. It is a non-profit organization which provides colour trends and international colour cards.
The organization is global and participating countries have their own units. Organization has seventeen member countries in Europe, Asia and America. Each country produces colour cards which are presented and shared with other members. Intercolor does not publish international colour cards but the member countries are allowed to use the material non-commercially. Trend forecasts are 1,5 year ahead of season and congresses are twice-yearly. The reason of the work is to forecast colour trends and themes in the near future.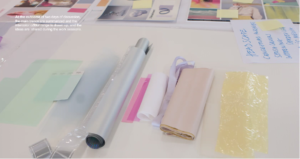 Making a colour card begins with an individual exploration and reflection on themes. What is going on right now? Small, visible and invisible things. What are they telling in magazine? What street fashion looks like? Scanning everything. After individual search, the group members share their ideas. They pick up the best colours, pictures as well as themes and from those they form the colour trend forecast. At the international meeting members take inspiration, new colours and ideas to their own colour cards.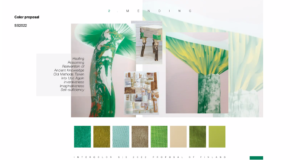 Colour card is a tool for designer. It helps decision making in many industries. Due to Covid-19 the work has been done online for two seasons already.
Karri Koskelo / Lundia Oy / Design Business
Next lecturer was Karri Koskelo from Lundia Oy. Lundia is a furniture manufacturer and seller that belongs to the Sinituote-Group. Company's main product is a shelving system called Lyndia Classic, but they also have many other products. The company was founded in 1948 and it is a family-owned company.
Koskelo's lecture was really interesting. He told us example about his career path, what he has done after graduating from HAMK. It is great to see how a Bachelor of Business degree really opens the doors to the world and allows you to be employed in a wide variety of professions.
In his lecture he focused on talking about the brand refresh that Lundia have started doing. I wouldn't have guessed how many things need to consider and how long the process really is. It's harder for an older company to start developing themselves because they need to take things into account more than newer companies.
Koskelo told us that taking risks, focusing on the core business (products, quality and sale channels) and understanding customer needs are the most important things when you are developing a company. Also, it's good to keep in mind that company still need to act like themselves and keep their own values. Lundia emphasizes their own values with the words high-quality, open and flexible.
Lastly, he talks about Finnish design and how it should be developed. In particular, sales and a certain kind of arrogance should be learned from the neighbor country. Also, companies should focus on selling and marketing their products and make it the most cost effective that you can. He concludes his lecture by considering how Finland could win Sweden not only in hockey but also in design.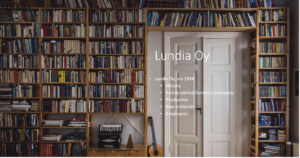 Miisa Asikainen / Social media professional / Using social media in design business
This lecturer is Miisa and she is from HAMK University for Applied Sciences. She worked for Globe Hope design company from 2015 to 2020 and since then, she worked as a part time designer and shareholder. She gave a collaboration thesis with Globe Hope and worked with them and the title was how she used social media marketing for Globe Hope. She went from sales advisor to designer and marketing manager.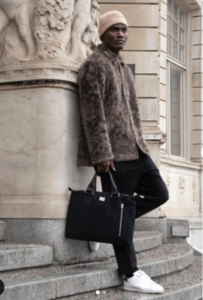 After that she shared about how to have good social media marketing, how to improve and how to get it done. The key points to have good social media marketing are tone of voice, plan, engagement, consistency, social impact and paid ads with good campaigns. She discussed the strategies to help your social media. For instant: develop the social media by being open minded, learning from experience, working with 150% effort. Also, you need to be brave to prove everybody wrong, to chase your dreams and celebrate small successes.
This was a great opportunity that I can have knowledge about starting from the beginning and the social media is all I want to learn recently.
Mikko Palmroth / CO Palmroth Oy / Palmroth and International Business
Palmroth is an old Finnish shoe brand. It was founded in 1928 by Pertti Palmroth.
Mikko Palmroth is the son of Pertti Palmoroth and has been the owner of the company since 2012. The company started as a women quality shoe company and the shoes were made in a factory in Tampere, Finland. 2011 the factory was closed and moved to Portugal. Portugal is very known for the shoe making and they make very quality shoes. After 2011, when Mikko took the lead of the company they started also concentrate more on the design of the shoes.
Corona has underlined the importance of their online shop and Palmroth has focused more on that. They sell their shoes all over Europe and North America, so the online shop is very important.
Palmroth opened their new showroom shop in Tampere last autumn. Even though we are living difficult times, Mikko said that the opening of the showroom shop was very essential.
It was very interesting to hear about this old Finnish shoe company and how they have succeeded to this day, over 90 years. There are very few shoe companies in Finland, especially in women's leisure shoes. This company is something that hopefully will just grow in the future, because there should be more quality shoes in the market.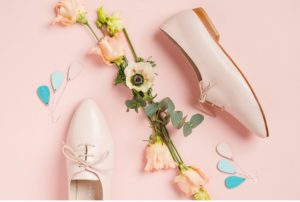 To conclude, we have had a very good time during this course. We strongly hope that school and events will be reorganized normally after this unexpected pandemic is over. We are also very grateful to the teachers who took the time to overcome unexpected problems, and thanked the lecturer, the companies and the pioneer for sharing their experiences with us students.
Duong Dao, Elli Hoviniemi, Ilona Sirén, Quang Nguyen & Ronja Lampinen