A virtual visit. One would think that a virtual visit surely would not be as effective as a physical tour, but we had one, and it was just as great!
Our visit
We had the virtual visit to Finnish Textile & Fashion 19.1.2020. It is the main organization for textile, clothing and fashion companies in Finland. The speakers at the virtual visit were Auri Kohola, Emilia Gråsten and Anne Ruokamo. 
In Finnish Textile and Fashion, they ensure that their member companies have beneficial business environment to grow, internationalize and succeed. They have 197 member companies.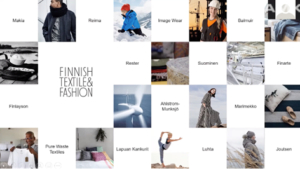 They have a wide selection of services for their members.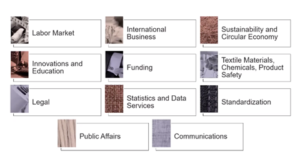 Textiles has a usage everywhere, not just within the fashion Industry. For example, health care, hygiene products, transport, building and many others. Textile & fashion sector in Finland includes 3200 companies, 4,4 billion euros turnover and 21000 employees. Clothing and textile market is divided to clothing 4,1 billion euros, footwear 700 million euros and home textiles 500 million euros. Finland's neighbor countries were the most important exporters in 2019. Textile and Fashions total export 2019 was 700 million euros. Total import was 2,5 billion euros and China, Bangladesh and Sweden were the most important importers.
An average Finnish consumer spends 749 euros per capita on clothing in a year. Surprisingly hyper markets offer biggest range in Finns clothing shopping. It also turned out that only 35% think about sustainability when shopping clothes and 31% its affects their consuming.
Finnish fashion abroad has also been successful ranging from Marimekko store in Tokyo to Joutsen in St.Petersburg and other Finnish fashion shops in Paris. This shows how smoothly Finnish fashion has transitioned into other countries and has successfully expanded over time.