Clare Barker – Philips (Fashion design) ja Emma Goff (Fashion marketing) came all the way from Falmouth Uni to give us a lecture about "the end of ownership". The purpose of it was to give us inspiration and some background knowledge for the group work where we developed nontraditional rental business for clothing.
The lecture represented a strong opinion about the idea of not owning technically nothing. We already live in a world of social media and internet where we share all kinds of moments from our lives to each other. We share pictures of our outfits, portions and trips and enjoy the fact that we can share that with somebody and that's very important nowadays. It's always more fun to experience and share anything with somebody than alone.
All of this made us think. Why we always buy everything new to ourselves for only to own it and in a minute, we change it to something new? After all a human being owns several things that they only need a couple of times. So why should we own anything? Also, the seasons change in high-speed rhythm and we always want to keep up with the latest fashion as well as get the nicest new things. Why shouldn't we just rent them? For example, people rent apartments, so it is easier to move forward elsewhere.
The lecturers introduced us several websites where you can rent products and different kind of packages. They also presented many opportunities to product trials. There was this one site where travelers can share for example a taxi drive with someone else so that they share the experience and the fee of it. We also listed below a few interesting sites to check: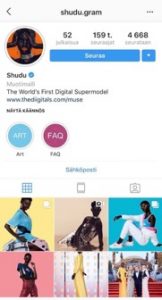 Check also the first virtual Instagram supermodel.
@shudu.gram
Salla ja Henna