GLOBAL FASHION WEEK / COPENHAGEN
February 2019


What is REVOLVER?
Revolver is a fashion fair kept every year in Copenhagen during the Global Fashion Week. Its aim is to attract retailers, influencers, exhibitors and buyers through diverse cast of fashion talents from Nordic Region's and worldwide. This year Revolver presented more than 300 brands (American Vintage, Samsoe & Samsoe, 7155 by SZEKI, Won Hundred, Mache, Libertine-Libertine, New Balance, Peoples Republic of Cashmere, New Denim, Kokoon, Lyle& Scott, etc.) of men and women clothing, shoes and accessories. The fair lasted for three days from 30th of January until 1st of February with approximately opening hours from 10 AM to 7PM. 
Their partners and sponsors – DHL, DGI BYEN, Heineken, EGEKILDE, STROM, Volt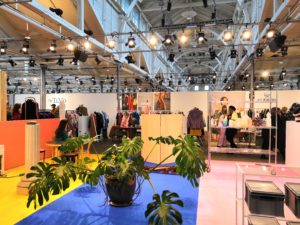 To find the Revolver exhibition we have been to Halmtorvet 11, Copenhagen V.
TRENDS 
The fair exhibits current and future collections following fashion trends of the moment. Latest designs are inspired by the current way of living, luxury industry but also nature and more soft fabrics.
As a matter of fact, a new trend happening nowadays is using organic and recyclable materials to design contemporary clothing.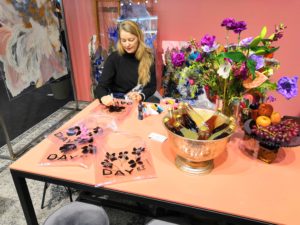 To keep the trends in mind, colours dominating this season were nude and earth colours like soft beige, ochre, rust or light brown, but also pastel colours as pink, blue or yellow. However the classic colours of the wardrobe were still present like black, white and grey.
In the same way, soft and natural fabrics like cashmere, wool, linen, silk, leather, mohair or alpaca were highlighted.
       "Norms are boring."
Scandinavian way of thinking
The Danish concept of "hygge" as a proper lifestyle was visible in the stands apparels. The minimalistic silhouette and Scandinavian standard were dominating. The most common shape was oversize coats, straight pants and trousers favouring first the comfort of shoppers.
A place of creativeness.
Revolver is a popular point for fashionistas and businesses. If you are interested in seasonal trends you will find contemporary styles there. On the other hand, if you prefer experimental clothing this is the place of innovation. Moreover, we liked it a lot because designers were really friendly and open to talk about their brands. We suggest you to visit Revolver and have a talk with them, you will get inspired!
If you want to know more about Revolver, visit: https://revolver.dk/
We hope you enjoy this post! 🙂
Dorjeta Rukiqi, Jehona Jashari, Manon Armand – Global Fashion Business