We visited Copenhagen Fashion Week as a part of Global Fashion Business module. We stayed there for five days, and the city had a lot to explore but also many things stayed unexamined. In this post, we will tell about our experiences and share our tips.
Hotel recommendation
We stayed at First Hotel Twenty-seven (Løngangstræde 27, 1468 København, Denmark). We had a bit of trouble with finding suitable accommodation for us because there are a lot of hotels with good ratings and location. Finally, we decided to go with this one. The location was perfect. Everything from the old town, shopping streets and metro was in walking distance. Even though it had a central location it was located away from all the traffic so it was a peaceful and quiet place. The hotel had modern but Scandinavian interior design and the rooms had everything you need. In addition to all this, the staff was amazing. They talked and joked around and helped us with everything we needed. Breakfast was good with basic hotel breakfast servings. Lounge area was inviting and we stayed there a couple of times just so sit around and spend time. In a nutshell, good location, great staff and clean, modern premises.
      
Shopping opportunities
We were quite basic and did our shopping's basically only in one place. Near to our hotel was the shopping centre, heaven of a shopaholic: Magasin du Nord, which you can find from Kongens Nytorv square (Kongens Nytorv 13). From Magasin, you could find almost everything, the concept of the shopping centre was very similar compared to Finnish Stockmann. In the first floor, you found makeup and accessories, the second floor was men's clothing, third women's clothing, fourth street style clothing, the fifth floor was for interior design and from sixth, you found a café.
At least from the makeup department, you get a 10% discount if you are not Danish, so remember to show for example your passport or driving license!
From Kongens Nytorv square you can find almost every mainstream brand you can think of, for example, Zara, Victoria's Secret, H&M, premium brands like Tommy Hilfiger, but also high-end brands like Gucci, Hermes and Louis Vuitton. Square offers a big variety of different kind of shops which you cannot find from Finland, like Disney, Urban Outfitters, Zara Home and Sephora.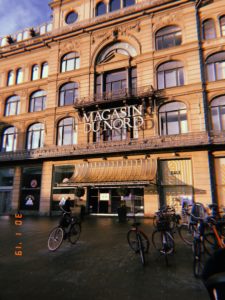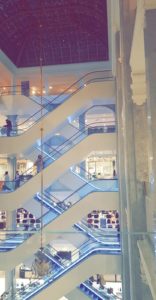 Fashion week in the Copenhagen streets
Fashion week showed well in the street image of the city and of course even stronger the closer you got to fashion week event places. To sum up, styles were a combination of classical, Scandinavian minimalist, imposing patterns and interesting details.
Compared to previous years, black clothing had vanished and colour took control this year. Colourful clothes can be seen everywhere. Especially pastel colours and mustard yellow popped into our eyes notably. People also wore a lot of furs. Fur jackets were really popular and the style of jacket variety was wide, some had really imposing style, others Scandinavian style with only fur detailing. Fur details were also seen a lot in street style, in form of sleeve, shoe, glove and hood details.
Many fashionistas also wore long trench jackets, especially calf and ankle long ones. Most jackets had already jacket's own belt in the waist but some had combined the jacket with really showy belts, for example, shiny faux leather belts or belt with imposing pattern or colour which gave the look interesting detailing.
Transparent clothing and accessories were a hit! Most of the fashionistas we noticed had something transparent in their outfits. It could have been a bag, an umbrella, detailing in their clothes or details in shoes. Also, in CIFF and Revolver we noticed the same thing, transparent clothing, details and accessories were seen many times.
Can this be seen as a sign that people want to have more transparency when it comes to fashion??
Café recommendations
Bastard café'
Rådhusstræde 13, 1466 København, Tanska
This was the first café we visited. It was under 200m from our hotel. The entrance was in an inner court of old houses. During summertime, they have a terrace where customers can hang and play board games. Actually, board games are the heart of Bastard café. They had tons of different games that customers could play for a small fee and people seemed to love it. The café offers basic cafeteria servings but they also had foods for example burgers on their lists. The atmosphere in this café was very cosy and we can believe that customers enjoy spending time in this place with their friends, playing games and eating and drinking.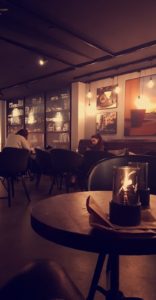 Café Blå
Blågårdsgade 17, 2200 København, Tanska
We visited this café one evening. It was a bit further away but the trip wasn't too bad to walk. Blå was really small but inviting café. It had kind of hippie vibes with down to earth decoration. They offered many foods and drink from basic coffees to organic and vegetarian dishes. We ordered lattes and one waffle dish, and the waffle was filling and delicious. As mentioned earlier the premise isn't big so don't go there with a huge group.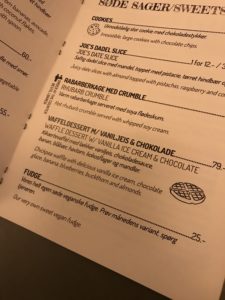 Restaurant recommendations
Trattoria SUD
Frederiksborggade 27, st 1 1360, 1360 København, Tanska
This was the first restaurant we visited. Their menu is based on Italian cuisine and their premise exhaled Scandinavian design with a Mediterranean twist. The mood of the restaurant was very cosy with dim illumination that was created with warm lightning methods. Staff was brilliant in Trattoria SUD. The owner greeted everyone very friendly and he sang, danced and made sure that everyone was enjoying their time. Waitresses were professional and they suggested dishes and wines. They also had small talk with customers and made us feel welcome. Everything from table wear to music fitted the image of the restaurant and the food was delicious.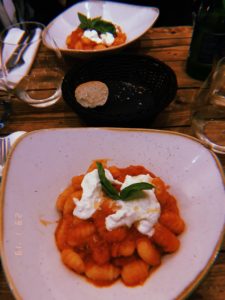 Restaurant KöD
Admiralgade 25, 1066 København, Tanska
On our last evening at Copenhagen, we visited this restaurant. KöD is all about meat dishes but if you inform them early enough they can provide vegetarian solutions. One of the best parts of this place was that you build your own dish. You choose the meat, then side dish for example sweet potato fries and sauce. Their menu is comprehensive and the first page tells how the restaurant works and explains the difference between meat qualities. Once again the staff was very competent and they knew answers to every question we had. At KöD we decided to split the dish and we ordered Chateaubriand for 2 people with sweet potato fries and pepper sauce. We didn't have to wait long for the foods but even if we had to it would have been worth it. The meat was perfectly cooked to the way we wanted. Size of the whole meal was good. 6/5 we would recommend this place!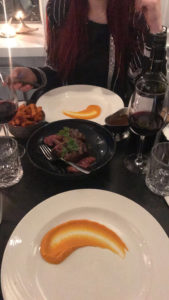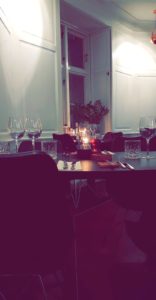 FUN FACT: If you order a cheeseburger meal at McDonald's, you get two burgers instead of one!
Le Fix party
In our timetable was a visit to Le Fix. The owner of the brand, Benny, invited us to come to their party later that night.
The after party was arranged in their shop. They have a whole house where they have their shop and studio (Kronprinsensgade 9). There was drinks and food offered and a DJ playing. The age range was quite wide, most of the partiers were youngsters from skate scene but there were also older people and people from different scenes, getting to know the scene and Le Fix as a brand.
It was a pleasure to be part of the party and get to see this side of the fashion week too, thank you Le Fix and Benny!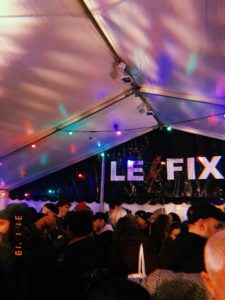 – Juho Kiiltomäki and Minna Alahäivälä