This year is the fourth time Bitfest has been organized. Bitfest is an IT-seminar, consisting of three lectures on current trends or areas of interest. Tommi Saksa starts the event and introduces our main speakers. He also gave us a little competition where the goal was to publish photo on the Instagram with hashtags #BitFest and #BitFest2018.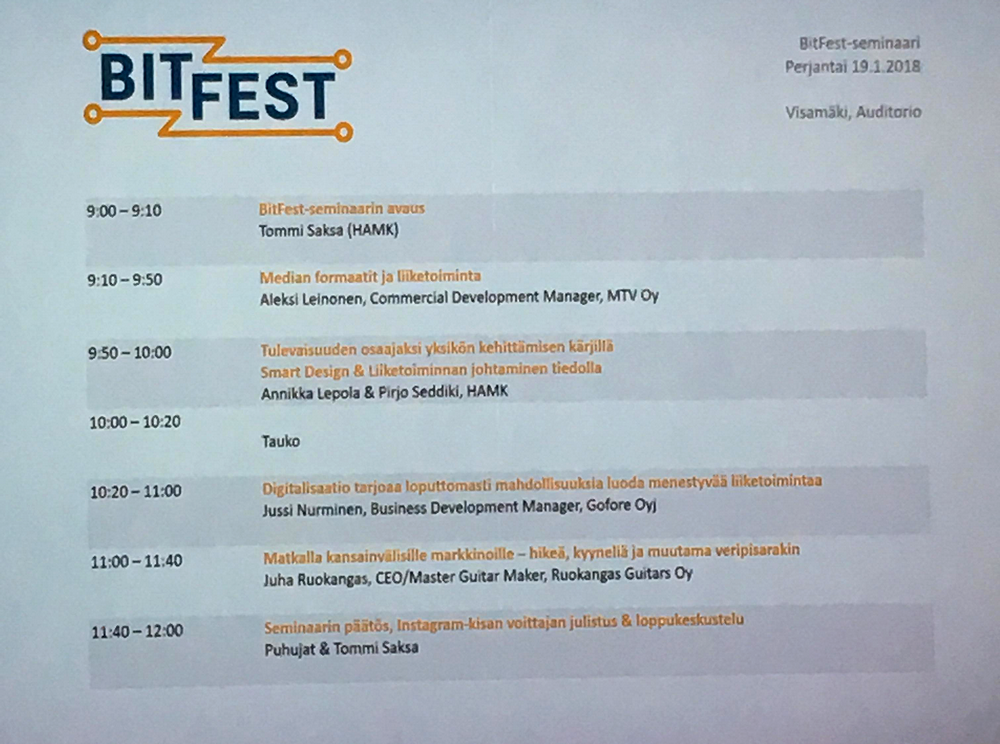 The First speaker was Aleksi Leinonen, a Hamk alumni who has created his career as creative and stratigic developer for MTV. He has worked with many famous TV-programs and formats such as Idols, Salatut Elämät and Big Brother. It was very interesting to hear about this kind of career. He makes us think about how to get branding advertising to work. He spoke a lot of targeting your marketing and how efficient certain types of marketing are to specific audiences – you can't market a product or format the same way for people aged 15-24 as you would to the group of 25-44.
How to get tv-format to be interesting? This was one of Aleksi's main questions along with how to keep people interested on the long run. Especially the lifespan of a format was interesting – it could be almost directly compared to that of a product's.
He also touched on qualities that are important for someone in brand marketing, such as: negotiation skills, ability to work under stress, understanding and adapting to new technologies, being able to think commercially and see larger pictures.
Aleksi had very casual voice and body language that made his presentation engaging. Seeing examples form well-known formats helped listeners to connect to the subject.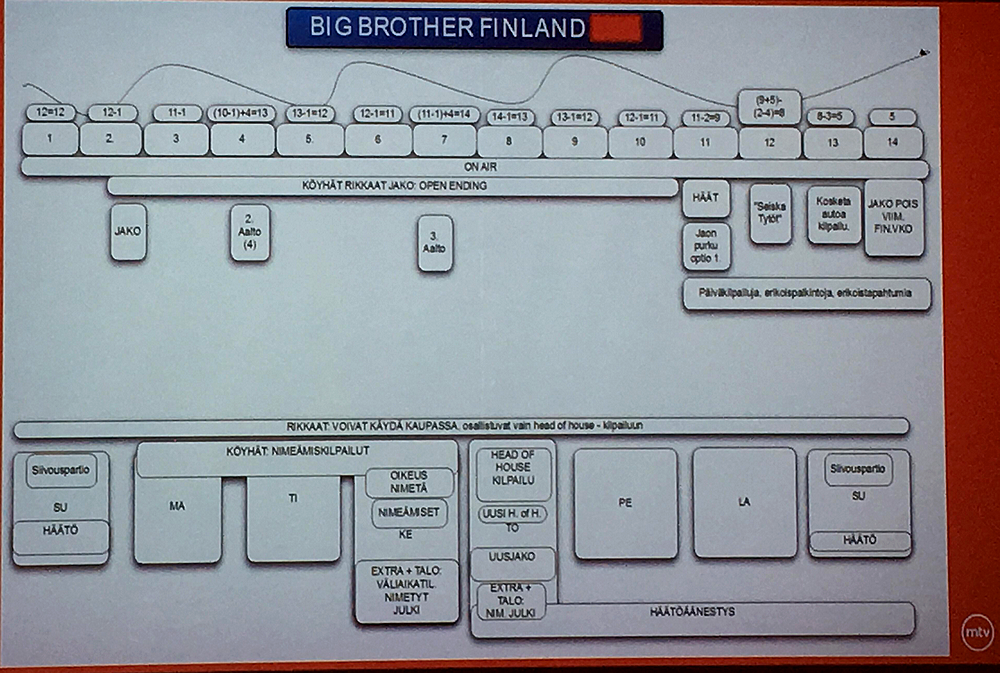 After Aleksi's speech Annika Lepola and Pirjo Seddiki had the floor. They had a short time to tell about new courses in Hamk. Smart design was the first innovation, where students try to find the way to design smart clothing and accessories. Next one was business leading with knowledge. That course based on robotic process automation and data analytics. A big part of these up-coming courses and modules will be bringing together students of different faculties – design, IT and business to work together in developing new technologies. A lot of the core aspects of these courses were present in the next segment.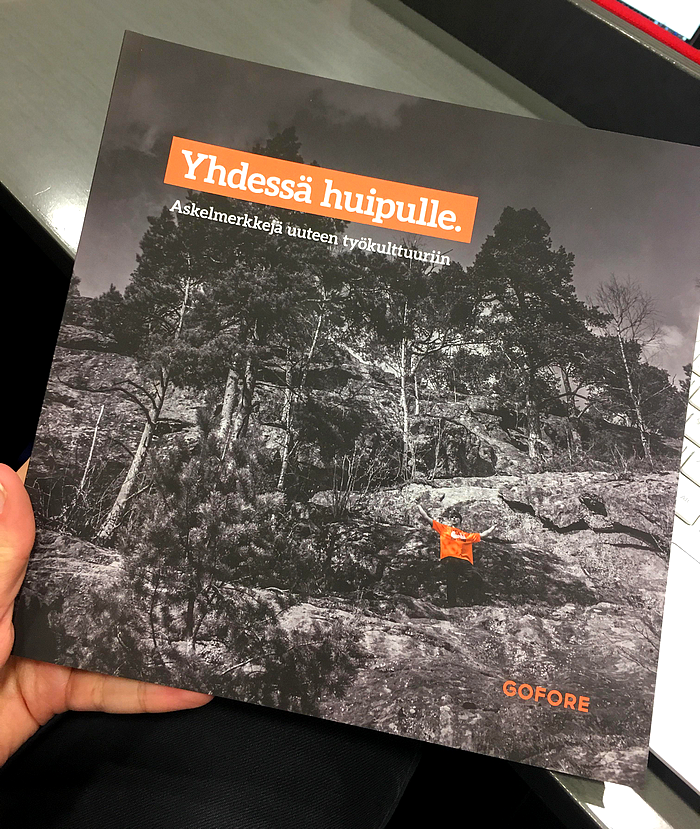 Second main performer was Jussi Nurminen. He currently work in Gofore Oyj, but he has forked for Nokia and Tieto Devices Finland before. He told about digitization, digital transformation and the possibilities in them, making us question our habits. He talked over current trends in the field like power of data(how knowledge is power), the Internet of Things(how all things connect and collect data), robotics(how we're using more and more automated processes both online and offline), virtual and augmented reality.
The importance of data collecting is highlighted in how nowadays consumers are more independent and demanding than ever. Everything needs to be available and ready to purchase to have in seconds, every day and time – think of streaming services, movie and music downloads, webstores that are open 24/7. With internet, markets and possibilities are near endless. The possibility to research and compare products and services before purchase is an important change. From companies' standpoint, the ability to answer quickly to the changes in market and consumer habits based on the increased amount of data is vital.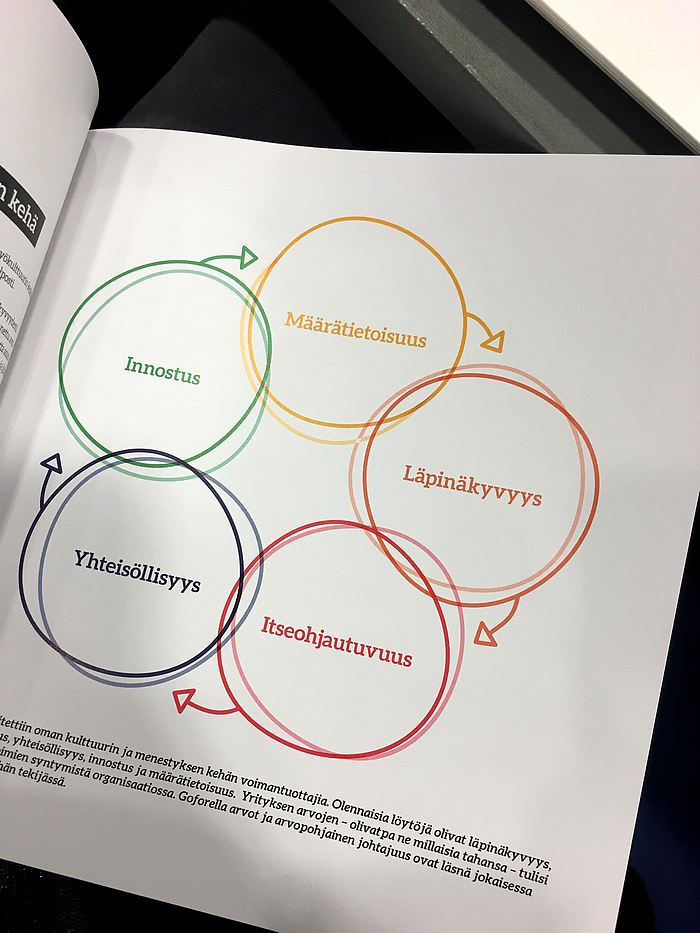 The last speaker of the day, Juha Ruokangas came to the stage with music video introducing his craft and business. He is a master of instrument building, an occupation that's not very common. Juha talked a lot about his own experiences in the world of small businesses, how he has been a pioneer on digital marketing and webdesign as a small design business and how unknown is worth exploring with open mind. He first told us how got a foothold in the market when he made a website for his company in the early days of the internet, proudly declaring "best guitars in the world". A few of the biggest music and guitar magazines published articles on that. He told us how years later he was still on the forefront of progress – his business was first to have a configurator, an on-site program to customize your own guitar.
Juha emphasizes the importance of the family and friends, and having connections to people with different expertise. He thinks that it is very important get to know about literature and not only focusing on our phones.
Vilma Katajamäki, Susanna Käppi