A wooden glove statue greets us after a couple of wrong turns and instantly ensures that we have come the right house. Around the corner  we find a little store & workshop where Janna Sauso, the daughter of Liisa Sauso – the founder of the gloves company – welcomes our little group.
Janna Sauso represents the company's fourth generation. The company originates as far as from 1929. It developed in its current form around 1989 when the glove company Sauso was going to move all the production abroad. Janna's mother, Liisa Sauso wanted to keep the business in Finland, so she started to work on her own, producing and selling gloves in Hämeenlinna and established the brand Liisa Sauso. Janna is going to follow in her mother's footsteps and continue the family business and is now acting as an apprentice.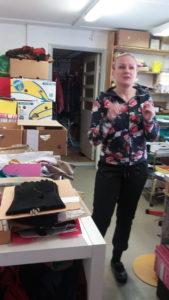 The company has moved a couple of times before settling  to it's current location, to the peaceful town of Turenki. In the shop you can find an ample selection of high quality leather gloves. If the customer can't find gloves that fit, Sauso's will make them such. Customers can also make wishes regarding the colours and adornments so that everyone can get gloves they want to wear for a long time.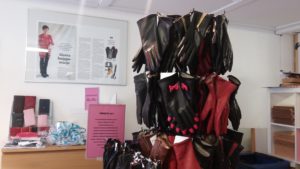 All Liisa Sauso's gloves are made 100% in Finland. They have very high standards for their leather, so they only use the best materials, like Ethiopian sheep and Finnish reindeer or deer. The leather has to be durable but also flexible enough to last in use for many years. Because of their good durability, some of the gloves also end up as working gloves.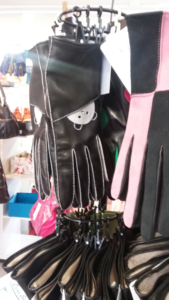 Liisa Sauso is a small company. Besides Liisa and Janna, they currently only have one employee, Päivi, who cuts the leathers. That's part of the company's charm though and they want to keep it that way. So no big plans for expanding the business any time soon. In addition to their own small shop in Turenki, Liisa Sauso's gloves are sold by retailers for example in Saariselkä and in Helsinki, in a store called Nippanappa. They can also be found in several trade fairs in Finland.