We had a visitor lecturer Mary Nöödgard-Larsen from Denmark VIA university. She was giving lectures on the freezing week in our university of applied sciences HAMK. Mary Nöödgard-Larsen was talking about design thinking and business thinking and how to merge these two topics together. The main idea was how to add design thinking to bussiness world. The lecturer told us that adding design thinking to a problem aims us to create 80% more innovative solutions than usual.
She was talking about problem solving and how to face the real problem.  There is many different ways to solve the problems one way is to use "5x Why method".
Example.
Mary Nöördgard-Larsen was also giving us a chance to practice with Realtimeboards with our Global fashion business group. She was adding everyone's email address to the realtime board and we only needed to create an username and login. In the realtimeboard we could easily communicate and work in team, because everybody could share their ideas. We did some practices with Mary and learn how to use this kind of onlineboard.  The application was very easy to learn and we can now use it whenever we want. In our opinion realtimeboards were really useful because we could visualise everything. When you visualise your ideas it's more easy to understand what you mean (with pictures and colors).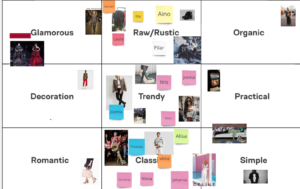 Realtimeboard group task.
Mary Nöördgard-Larsen showed us a design thinking model made by Paul McElherson. The first aspect of this model is to find what user needs and and then discovering their real needs. The aim here is to convert tacit knowledge (things known to the individual) into explicit knowledge (knowledge shared by the entire team). After this, we should start generating ideas and the aim is to generate a large number of new and diverse ideas, that move beyond obvious and uncover new areas, because there is no bad ideas and all of the ideas matter to gather collective perspectives. To do this effectively you need to develop a design thinker mindset, which includes learning from failure, developing creative confidence, embracing ambiguity, being optimistic as well as generating ideas. Because, most great innovations are built on the ideas of others and are combinations of ideas. Finally, we can start making prototypes. Prototypes help make ideas tangible and aid comunication.
We think that having Mary Nöördgard-Larsen lectures were a great experience to us, because we can use those problem solving and design thinking methods further in our future.
Design Thinking using the
KB-Strategic Design Practice Model by Paul McElherson (PME) VIA 2017
Niina Koistinen & Laura Zilinskaite
Mary Norgaard-Larsen, Via University College, Denmark
Mary Norgaard-Larsen  (is from Denmark VIA University) was giving lectures on the freezing week in our university of applied
sciences HAMK. The main idea was how to unite design thinking and business thinking. Design thinking is different
thinking than business thinking. Combining these two is important! How to combine design thinking on
business word.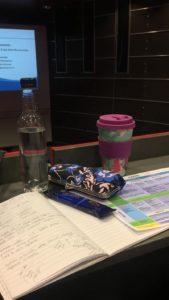 Teamwork.
Lots of thoughts on co-operation. How to think the problem differently. What I can do, what do I need
for help and what I can not do. The most active groups work creatively and knowingly.
Very much thoughts of cooperation, how to think the problem differently?
Most problems require both creativity and knowledge to solve them. The most effective teams work
creativel with knowledge.
Mary's the head point was a different way to thinking. Issues of the problem.
What is it? Where? Why? What? Does it work?
What is design thinking?
She put everyone to think.
Where did the idea come from?
It's important to know about history so that we can make the future. Do new, remember old, "stick on
ice".
How to get the product desirable and find people's needs.
5F+K
Find, Frams, Fullfill, Fabricate, Form, Knowlegde. The next day we looked at "find" more, but the next
post will tell you more.
Mary gave a job for all who was in the lecture. Invented a solution for rescuing Titanic's passengers. Our
question was, "how the captain would have saved all the passengers?" I think this was a very good job,
that she put everybody to think.
Another task was to define the height of the building. Are you going do the most simple answer or do
you use imagination? For example, test in practice or measures the distance and the time.
She had many different methods to solve problems. One was this, Sudoku. For each Sudoku box, all that
fit together.
Mary had a lot of things and information. The pace was very fast, I did not always get involved! She had
a very artistic and creative mind. She's lecture gave a lot of thoughts and thinking
Jonna Starck, Kuznetsov Denis