First GFB visit was in influencer marketing company IndiePlace in Helsinki. Influencer marketing company introduces influencers to companies that want to increase their visibility through influence marketing. IndiePlace also helps to create advertising campaigns with the client so that they can make it as powerful as possible. Influencer is someone who is highly visible in social media and have an ability to influence people. For example they make can make posts about beauty, interior, lifestyle etc.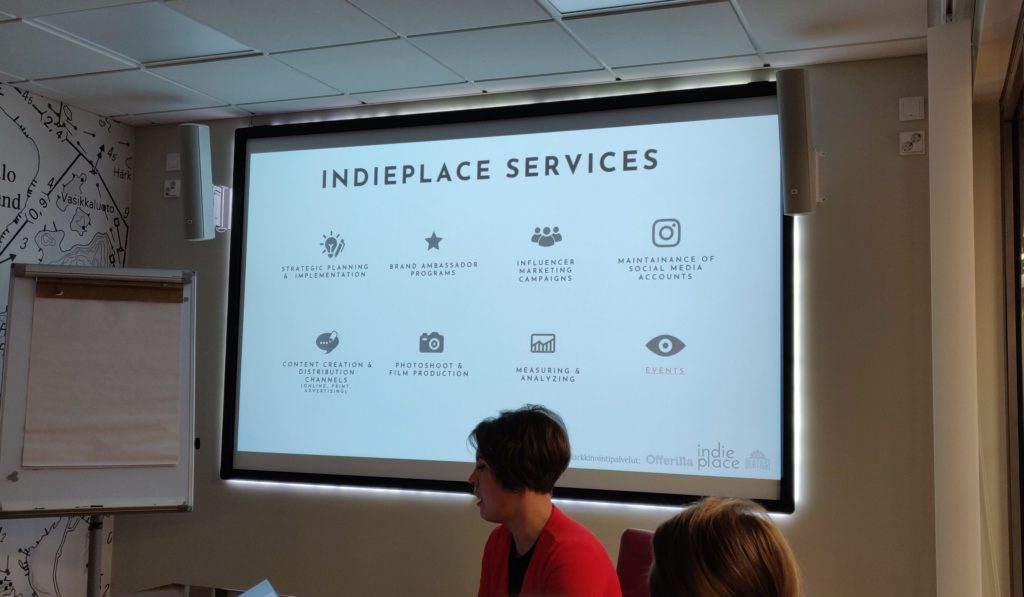 Influencers
IndiePlace has a long list of influencers in different fields from singers to athletes. There are influencers with followers up to hundreds of thousands like singer Isac Elliot (460 000 followers on Instagram), makeup artist and former Miss Finland Sara Sieppi (155 000 followers on Instagram) and lifestyle blogger Uino (154 000 followers on Instagram). There have been company clients like: Adlibris, Dermablend, Maybeline and maybe one of the biggest success story Olympus.
It all starts when client has a product/brand that they want more visibility and they want to do it through influencers. With smaller influencers it is possible to work straight without anyone between but especially with bigger campaigns companies want to do it with influence marketing company like IndiePlace. Together the client and influence marketing company creates the marketing plan. After that, the influencers can show their interest towards the campaign and tell why they would be a good suit for it. In the end client is the one who chooses the right one(s) for the job.
Case Olympus PEN
In 2011 target group of camera industry were mainly professionals and longline photograph enthusiasts. Quality of the photos in blogs were bad and there weren't a good and small enough camera for bloggers. Olympus and IndiePlace had to figure how to reach a new target group of young women and how to create them a need for Olympus camera.
They started to educate women target group to use Olympus systems cameras when creating informative blog contents. Quality of the photos in blogs increased highly and need for the camera was created. Now Olympus PEN is every woman's must have high-quality and stylish blogger camera. Olympus PEN has a globally unique market position in Nordic countries and the marketing is built only around blogs. Olympus still continues working with IndiePlace and I believe that they have more great things coming in the future.
So why influence marketing?
Bloggers are more influential than some might even realize. It's about someone testing products before you buy it and telling about brands that you might not have even heard of. No one wants to buy something just to realize it's bad and you don't need it. It's all about creating the need and showing it's something you want and need to buy. Even though those influencers reach a great amount of people, it's not so much about reaching as many people as possible anymore, it's about reaching the right alignment. Year 2019 is for micro and nano influencers rather than the biggest ones. Micro influencers has followers from 2000 to 50 000 and nano influencers are those with less than 1000 followers.
So why would you want to choose someone who has relatively small number of followers? It's all about authenticity. Now a days there is paid content almost everywhere and you can't be sure what is said to be good, just for the sake of the money. So, people want real experiences from everyday people who feel more relatable and trustable, someone who actually likes the product.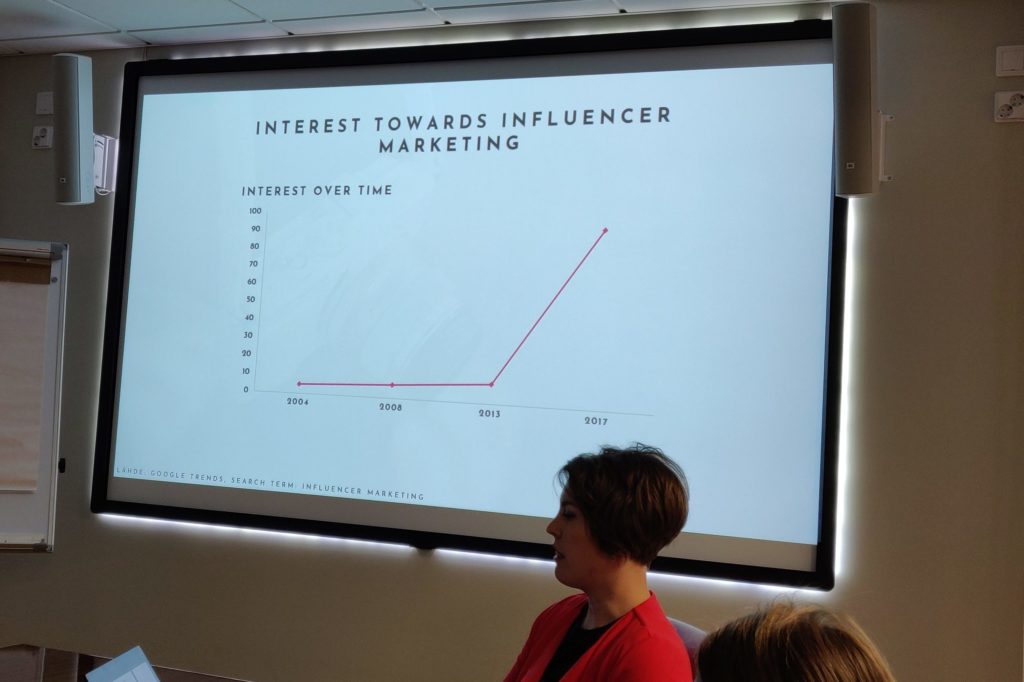 So what's next?
Influence marketing doesn't seem to be going anywhere, it's just changing its' form. Videos are something that are coming fast and youtubers are making bigger and bigger foothold in the area of influence marketing In Finland. Still, videos are not only for youtubers. Stories in Instagram are already popular way to advertise and I believe that soon instagrammers are making more and more video based content and of course let's not forget IGTV. Videos are great in storytelling and they can make bigger affect on people with music, movement and emotions. But we have to remember that there is also challenges when it comes to video contents. Videos need much more work and in this hectic world it is not easy to get people to stop and watch the videos from the start to end. But when they do stop and watch it, it really can make a difference. It will be interesting to see where social media and marketing is really heading in the future.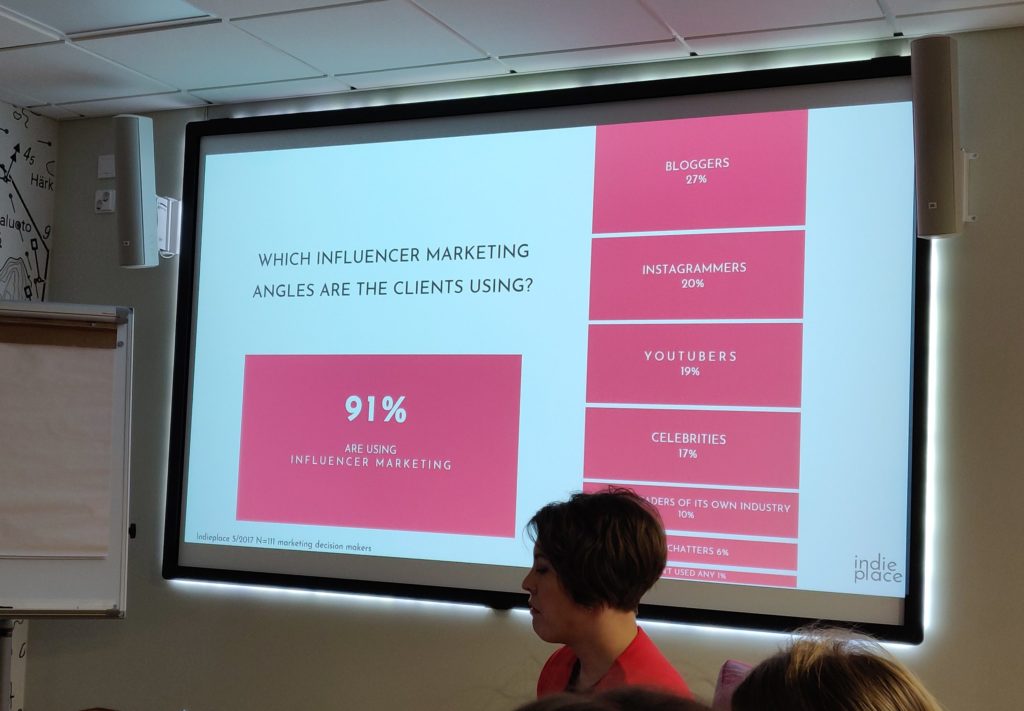 Thank you IndiePlace and Anne Häkkinen for having us!
-Kristiina Kiiski & Maria Kangasniemi