The 23 January 2020, with Global Fashion Business lesson, we visited two Finnish company in Tampere. The first company was "Palmroth", a fashion shoes company and the second company was "Mukava", a sustainable fashion company. The objective of these two visits was to understand the organization of this company, their fashion aspect, their environmental aspect, their growth and their future objectives. Let's go to know more about this companies:
Palmroth
Information about the Palmroth
Our Tampere day started with a visit to Palmroth. Palmroth is a family-owned company that manufactures classically stylish weatherproof women's footwear. Palmroth was founded by Pentti Palmroth in 1928. All Palmroth shoes are designed in Tampere and manufactured responsibly in Portugal. The company has been awarded the Key Flag and the Design from Finland badges.
For Palmroth, it is not so much the countries in which the products are sold, but the fokus is cities, and the quality of the vendors. At the moment largest markets are in Canada and Sweden. Last year's growth was about 35%. Palmroth is turnover last year was around half a million euros, of which approx. 20% came from online sales.
If the customer does not see products anywhere it is difficult to sell on the internet, that's why popup shops are good. Because of this, Palmroth has pop up stores in major cities around the world.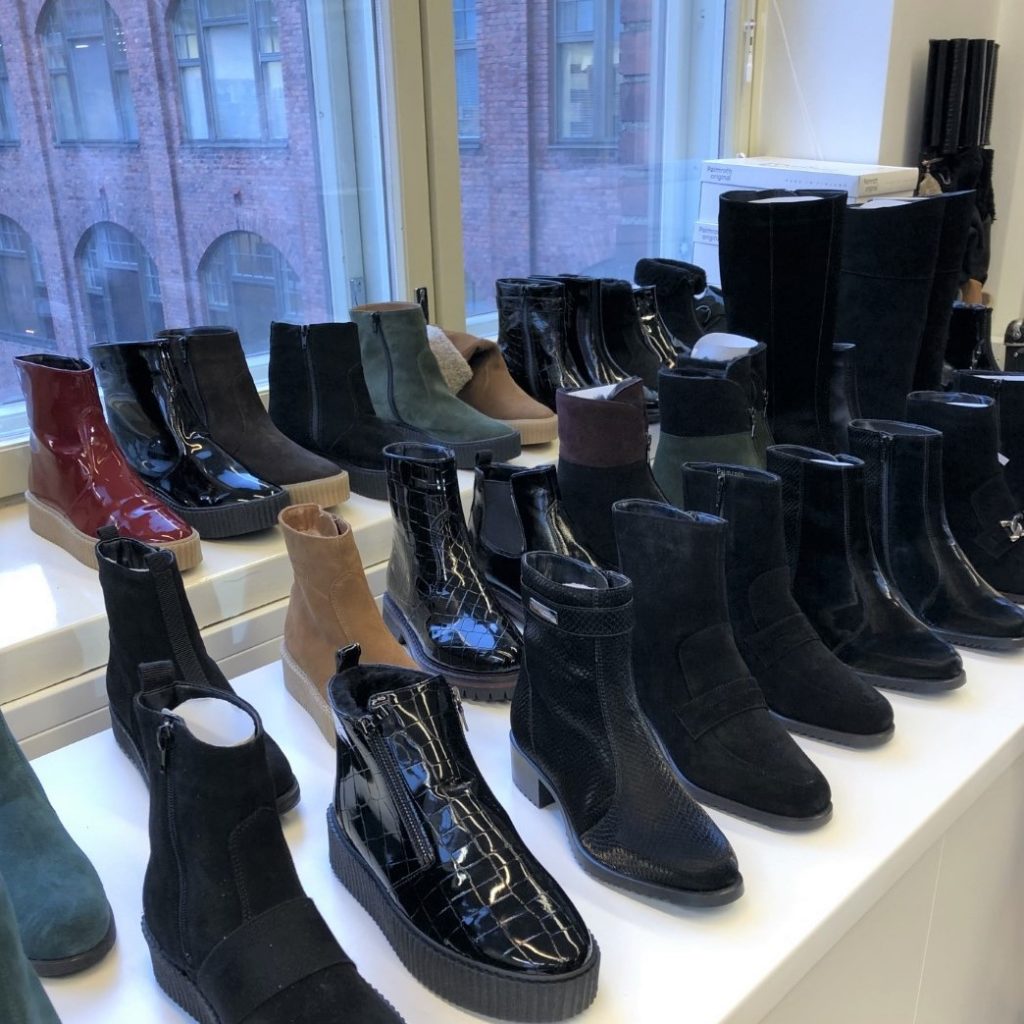 The three major values for Palmroth are:
Style
Palmroth has two different collections. One style is a low-key and conservative one that contains mainly black. Another style is more personal, where you can try new products such as the popular bright red shoes. If Palmroth see something that customers really like they can just accomplish it because they are a small company that can affect their output easy, they are quick and flexible.
Quality
At Palmroth, all the materials used in the shoes come from the EU. The products are focused on quality and durability. Palmroth uses leather and suede as a material for most products because leather is a more durable material than plastic and can be used for many years. New to Palmroth is a vegan collection of recycled polyester that is also waterproof.
 Comfort
The shoe has been designed with comfort and ease of care and weather
resistance in mind, taking into account the Finnish climate.
Target group
Palmroth target group is over 25-year olds which have a higher standard of living as the products are quite expensive. The target group is not targeted to a specific age group as that target group will be change younger and younger.
Foreigners find Palmroth special because they are not sold in everywhere and not everyone owns them. This adds value to the product abroad.
Then with vegan shoes, they want to find new consumer and expand their brand.
Social selling
Through Palmroth's Instagram, customers start asking about products from various stores around the country, then stores contact to Palmroth and want Palmroth products for sale, this is called social selling. You can find also Palmroth in Facebook and Pinterest.

What we learn about Palmroth?
It is important to choose high quality resellers as they too are part of the brand.
It is not so much matters what countries in which the products are sold
but it is mean which cities in they are sold to be an international company.
In addition to webshop, it is important to have visible models of product and for that pop up shops are great way getting more sale.
Super Mukava
Information about the Super Mukava
Next we visited Super Mukava in Tampere, which sells sustainable and contemporary Finnish design. Founded in 2004, Super Mukava sells its own brand Mukava, as well as products from other Finnish designers.
Last year's Mukava's turnover was around € 300,000, but this year it will fall. At this moment, about 20 people are working in the Mukava clothing industry. At present Mukava has about 10 retailer in Finland, but two years ago they had around 40 retailer around Finland.  The reason for this recession was the addition of family to the entrepreneurs, who have not had the time to working as much as before. For the company to grow they would need an employee who would be responsible for selling from business to business.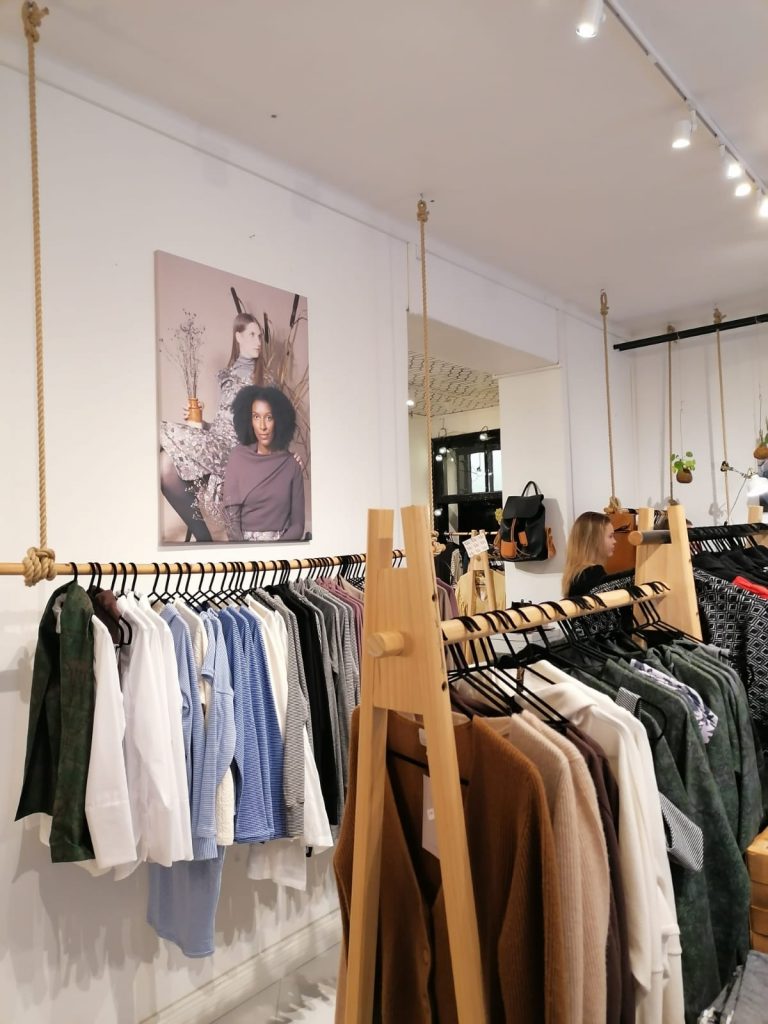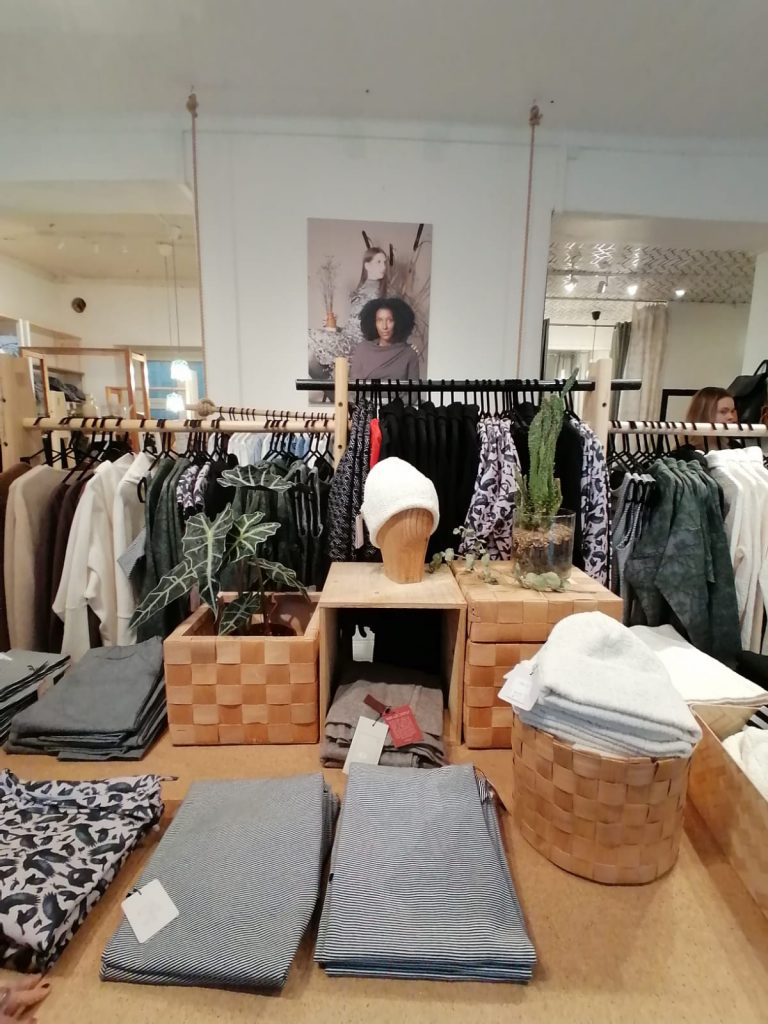 Responsibility
Although cotton is not terribly environmentally friendly Mukava use organic cotton because it is very durable.
They find it important to make quality products that last long. The cotton and wool they use is made in Kangasala, Finland. Use natural and ecological material is very important for the shop to awareness this customer.
Competitor
Mukava entrepreneurs perceive Uhana design as the biggest threat to their business, but on the other hand, they do not consider Uhana design a threat as a competitor because a similar brand brings them more awareness.

Production
At present Mukava has about 10 dealers in Finland, but two years ago they had around. The problem is that those who work in apparel are old women who are about to retire.
This kind of work will disappear from Finland and Estonia as the younger generation wants to do more fun work like design.
What we learn about Super Mukava?
If you have an idea and passion you can just set up a company.
The entrepreneurial is very difficult and take a lot of time. You need to have a good partner and be profitable quickly to progress and continue the project.
Summary
To conclude, these two visits was very interesting, and we learn a lot of thing. We learn a lot about running a business, the fashion business and sustainable development. Moreover, we thank to this two companies, to take time for us, to explain their company and show their products.
You can make your own opinion on these two brands by going to visit them, where?
Thank you to Palmroth and Super Mukava.
– Netta, Amandin & Annegret