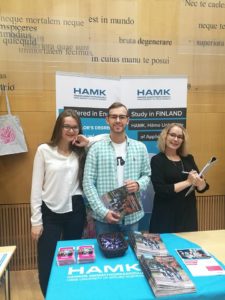 In the first year of studies, I went on the interview arranged by Eveliina Toivonen and Harri Tuomola. It was successfully for me and for 15 more students from ~40 more participants. Reason for applying to Marketing Ring was willing to challenge myself, improve presenting skills, know more about Finnish schools and Finnish education system, and just be active in student life.
Marketing Ring is a course, where students apply marketing knowledge to various practical situations while promoting HAMK and Valkeakoski degree programmes. Students becomes comfortable in real life promotion situations and develops his/her planning and time management skills. Students will earn three credits of this. Our main activities started in October. I visited three schools (will probably visit one more in January) and went to one Study in Finland fair in Russia (yes, you even have opportunity to go abroad!)
On Study in Finland fair I, one engineering student, Eveliina and Terhi (HAMK staff) were promoting HAMK, making contacts and just were having fun. We collected more than 50 emails, and that means more than 50 potential students just from Russia! What you needed to do there is just to be at the stand, smile, and attract people. 🙂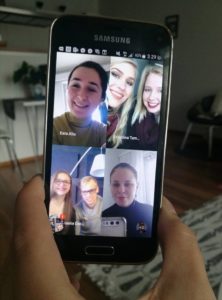 School visits are also fun; you are going with the group of four students (3 Finns, 1 foreigner). In the school, you have with you a power point presentation, your team and your background experience. All you need is to tell guys from school how wonderful HAMK is! Tell them about work opportunities they will have after they will graduate, tell them about Valkeakoski campus, about your curriculum and activities. Nothing difficult!
What did this course give to me:
Improved English and Finnish
Experience in presenting for audience of teenagers
General experience in marketing
Higher self-esteem
Self-confidence
New friends
Further opportunities
Apply for it, go to the interview, impress teachers by your individuality and win. I can say without any hesitation that this course is one of the most unforgettable!
Anastasiia Danilova, 02.12.2017.