As a part of Doing Business in Europe module we went to Brussels to get to know better how European Union works, to get acquainted with Finnish organizations operating there and to simply explore Brussels, the capital of EU.
On Monday we visited the Permanent Representation of Finland to the EU. We had a presentation about Permanent Representation of Finland to EU and its tasks by a Finn, Rami Nissilä. He told us about other representations on Finland in the EU, which one of them is the embassy. Even though the Finns have studied basics of EU and social studies in general, we think that each and every one of us learned something new that day.
In the afternoon we visited EESC, the European Economic and Social Committee where we had a chance to meet Jean-Pierre Faure, Head of the Secretariat of the Single Market Observatory. There we had a different, not so official one might say, introduction to his profession and the single market observatory. We sat in a conference room with microphones and cameras and people got excited about the equipment. Jean-Pierre was not the typical French person and had strong opinions related to the EU and its operations. Nowadays, many politicians seem to gain reputation and endorsement by simply being anti-EU. It is easy to bash EU and claim that the changes they make in Brussels is the root of all evil. However, it is the same politicians who have the power to affect on these decisions. Our IB class is very pro-EU and we believe that after his presentation, that feeling got strengthened.
On Tuesday we had a visit to the European Parliament. We had a presentation about the European Parliament and its operations. For us Finns the information about the different locations of the EU was already familiar, but we are sure that the people outside the EU enjoyed the presentation and learned a lot. After the presentation we got a chance to see the place where the decisions are made, where the members of parliament sit, the Chamber. What was specifically interesting, was learning about the interpretation job. That must be one of the most demanding jobs we have got familiar with. After the tour we had a chance to write postcards which were sent free of charge to the receiver. We both sent postcards to our families back in Finland.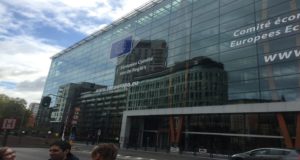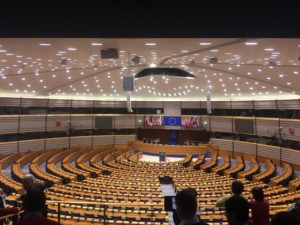 After lunch we went to the Parlamentarium. There we had a chance to go around the place as we wanted and to get better knowledge of the subjects that were interesting to us.  My personal favourite was a big map on the floor where people could find information about certain countries and cities, and I found my beloved city, Turku, from the map. This is coming from, of course, Laura.
In the evening those who wanted met in Delirium Café for some beer tasting. Most of us were there which was nice. We had a chance to talk to one another and taste different beers. In the end, we all ended up staying there for quite a while. The place was crowded but still managed to have a comfy atmosphere. We both usually enjoy traditional tasting beers, for example lagers, but Laura couldn't resist trying a beer with coffee taste in it and claims that it was a positive surprise.
Wednesday was a public holiday in Brussels, so we had no obligatory activities. That day Helmi, Kimmo and I (Laura) decided to do a daytrip to Amsterdam. The city was fascinating and really beautiful. At the same time, me (Tuomas), Andreas, Niko and Jani decided to explore the city of Brussels. The public transport in the city is phenomenal and we ended up visiting all kinds of places. One place worth mentioning is the famous statue of a boy peeing, Mannekin Pis. What surprised us was the overall number of tourists and especially the number of armed soldiers around the town. However, maybe it is because we see neither of them back in Finland.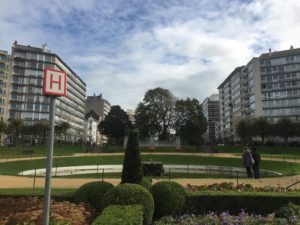 Thursday morning, we got together and went to visit the House of European History. Each of us got headphones and got to go around as we wanted to. The exhibition was rather large, and it was divided into several different floors in chronological order. The exhibition was full of old historical pictures and some real and some counterfeit objects. You could find history from every country of the EU, the World Wars and the development of health care, to mention a few. We found it all extremely interesting. Me, Tuomas, I enjoyed best the overall high-end technology used in the tour. Each student got a headset which made it so that each visitor can hear and learn about the subjects in their native language.
Later we went to Confederation of Finnish Industries. We were warmly welcomed with coffee and biscuits. Two Finnish senior advisors gave us a presentation about CFI and how it works both in Finland and in EU.
After the CFI, I (Laura) together with some of my friends went for a little Brussels tour. We went to Grand-Place, had some waffles and saw the Manneken Pis. The Grand-Place was very impressive during evening time.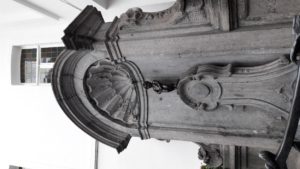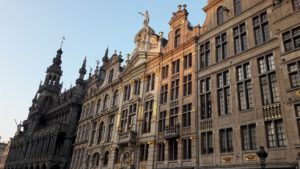 In the evening the whole group had diner together in a restaurant called Amadeo. Most of us decided to eat ribs because apparently the restaurant was well-known for their ribs. We drank some wine and had a really good time at the restaurant. After dinner most of us continued to a pub for a pint or two. Unfortunately, Tuomas and Andreas missed the occasion due to some sketchy kebab they ate the evening before. Let's not get too detailed into this story.
Friday was our last day in Brussels together. We had one visit that day, which was to Council of Tampere Region.
After the visit the school trip was over. Some of the students left, some stayed. I (Laura) with my friend spent the rest of the Friday enjoying Brussels: sightseeing and eating good traditional food. On Saturday we went to Luxembourg and flew back to Finland on Sunday.
This is when I (Tuomas) together with my roommates, Andreas, Niko and Jani left for Amsterdam for the weekend. Not much to add about the city, it was beautiful, however way too crowded to enjoy to the full potential. We can only imagine how it is like during the summer.
The overall opinion of the trip to Brussels is very positive. We got to see lots of places and learned many new things. We spent some quality time together and ate good food and drank good beer. It was very interesting to explore the capital of EU and see the wide spectrum of people living there. We both agree that working for EU in Brussels would be an incredible chance that we would both gladly embrace. Until the next trip, farewell Brussels, you served us well!
Laura Mäntylä & Tuomas Manninen