Our last day in marvelous Brussels trip was finalised by visiting the
House of European History.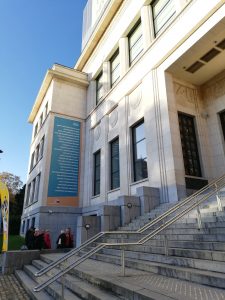 During our trip, the weather was not always on our side, but during that morning, the sun was shining brightly when we strolled towards the museum. We walked through a beautiful Park Leopold, which is located right in front of the museum and the view was really nice. The musem itself has only been open for couple of years now, after it was renovated to resemble how it was designed to be originally in 1930's when it served a different purpose. The museum has a permanent exhibition regarding the history of Europe, but also temporary exhibitions about different topics. When we visited the place, the current temporary exhibition was about restless youth from 1940's to 00's.
We were given tablets with headphones so we could navigate through the museum in the order or pace that we wanted to, which was really nice. But in order to acquire the tablets, one of the group had to leave their passport to security as a deposit. Overall during our trip, all the places were quite careful regarding security, which was something we were not so used to.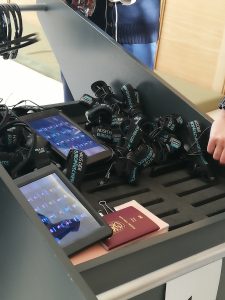 The technology they used in the museum was great, because you had different ways to learn, whether it was listening information from the tablet or if you just wanted to look at the items and read their descriptions. Also, the device could tell which area you were located, since it changed the topics provided when you moved from floor to floor. You could also access the tablet in any of the 24 EU official languages, and we chose to have it in English. The museum was several floors, with each floor being dedicated for a certain time period and what new technological, social and political changes that time periled brought with it. Our tablets were eager to tell us what was behind each display, and  you could select what interested you the most and you got an audio description, or a text, which was extremely helpful when navigating the big museum. The focus was clearly on the relations between the European countries, both negative and positive, and how they would eventually lead into the EU. Overall, it was a great last day for our trip.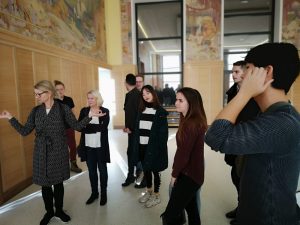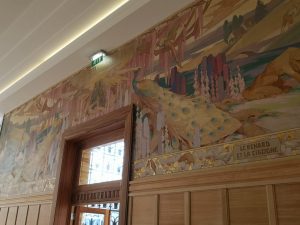 Unfortunately, taking photographs in the premises of the exhibition area was prohibited, which is why we cannot share them here. But we can assure you, it was definitely worth the visit! Visit their own webpage to find out more:  House of European History