Our group was responsible of the free time activity in Brussels. In this post we will explain what we decided to do but also give you some tips what to do and see in Brussels, where and how.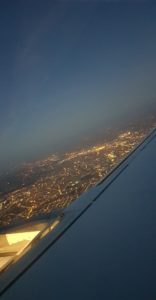 We decided to arrange a nice dinner to the whole group on Wednesday evening. It sounds like an easy job, but it is quite hard to find a place which offers versatile menu so that everyone would find something. We faced many times the problem that restaurants or cafés were not willing or able to speak English so it will be an advantage if you have a person who speaks French!
We ended up to book a table from Garden City (Place de la Liberté 6). It turned out that it definitely was a good choice! The restaurant was not that big, it was modern and decorated really nicely but still really cozy. The menu was versatile and everybody found something to eat, the prices were really reasonable and the food was really good! Our study group was very satisfied and the dinner was a success!
After the lunch we went to see the statue of Colonne du Congrés and continued to a place called BEAT where we stayed and enjoyed drinks together.
(A tip: The area of Place de la Liberté has a lot of restaurants from European food to Greek, Italian, Japanese.. you name it!)
Travelling in Brussels:
Connections inside Brussels are easy on effortless. Metro is easy and cheap way to travel, as in every big city. People also use a lot of Uber, which works there very well and we also used Uber many times. Taxi is also a good way to travel, the prices were usually notably cheaper than in Finland. There was a lot of motorbikes and bicycles, since the traffic is rather crowded. In general, the traffic is very hectic and might feel dangerous and unpredictable to people who haven't got used to it. This is one thing you should be careful with. There is also a fun vehicle called Bird, which is a electric board and you can easily go from place A to place B with it. As we can see, there's a lot of opportunities how to move in Brussels!
What else to see in Brussels?
Brussels is a combination of old town and more modern, new architecture. There is a lot of cafeterias, bars, terraces and parks. Even though it was October, the weather was warm and people were outside having coffee and just hanging out and so did we. The spirit in Brussels was very international, just by walking down the street you could hear multiple languages being spoken, a lot of business people, a lot of people coming from different countries and backgrounds.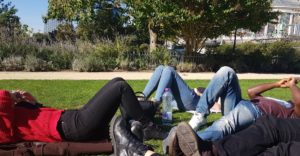 The chance, that you will meet art in Brussels is huge- art is everywhere.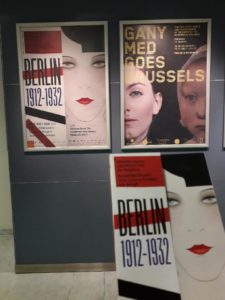 Wondering what is hot in Brussels? Follow the street from the Royal Palace, walk 5 minutes by Place Royalle and you will end up in front of the Royal Museums of Fine Arts, where you will find pleasure from classical to modern arts from six museums and three of them under one roof.
Start with the Oldmasters Museum where you will enjoy the collection of Rubens and Flemish paintings. There is a range variety of temporary art here as well- from surrealism to great modern installations. Do you remember the paintings of a man with a green apple instead of face? Those paintings are waiting for you in The Magritte Museum.
(A tip: Good news for those of age under 19- the museums are free for you! For the others, It is best to get a card, if you plan to visit more than one museum. The name of the card is Brussels Card Pass. More information of the museums here)
One local told us there is no other country that has produced more comic artists than Belgium. So, the Belgians has certainly great sense of humour and you will see it by looking…up!
While in the Old town, have a look up. Yes, raise your eyes from the wonderful tiny shops, full with tasteful Belgian chocolate and Belgian waffles, and look up at the walls of the buildings. If you are lucky, you will see funny mural paintings from iconic comics like Nero, Jojo, Blondin, and Tintin. Such a lovely way to cover otherwise empty walls! The project called the Comic Book Route and started in 1991. You will find them all over Brussels, but we mostly found them in the Old town. Below you can see some of the art we found from the streets: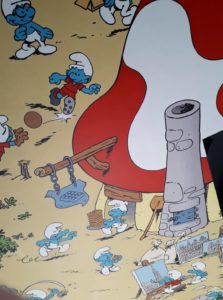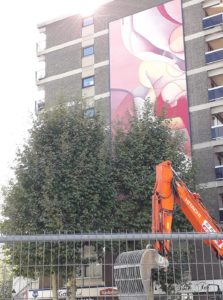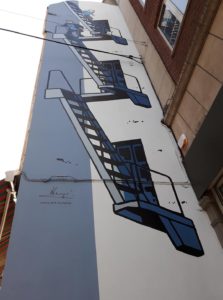 Brussels also offers uncountable amount of different kind of sights, to mention few of the most famous ones: Atonium, the famous "peeing statues" (Manneken [a boy], Jeanneke [a girl]and Zinneke [a dog]), Mini-Europe.. The list is endless and we can promise that you will not get bored in Brussels, there is always something to see. Our tip is just go out and start wandering around, you can find "hidden diamonds" accidentally all over the Brussels! We also visited a shopping street, from Rue Neuve you can find a big selection of international brands and it is a shopping heaven to a shoppers like us..
Since Brussels is a rather big city, the night life is also big. During our stay our group visited Poechenellekelder in the Old Town. It is a really popular bar which has a wide selection of different kind of beers, definitely worth of visiting! We also went to a karaoke bar called O'Reillys Nua, to sing some karaoke and spend the night, and we had a lot of fun!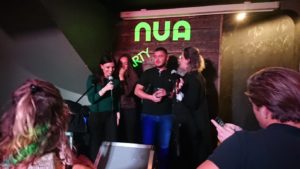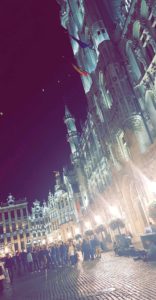 Our last night in Brussels was unforgettable. We went to the Grand Place late in the evening and it was absolutely stunning. The Grand Place is beautiful by day with its golden statues and high buildings, but during the night it just takes your breath away. People were there just sitting on the ground, having fun and talking together and we decided to do the same, just enjoy together our last night in Brussels. We can promise, it is worth of visiting the Grand Place during evening or night.
Overall, the trip was a trip you will not forget. We received a lot of information during daytime and had a great time together with the group during evenings. Brussels trip was definitely worth of going and we really liked the method to learn outside the class room and the teachers hopefully enjoyed our common time with us as much as we did.
If you have an opportunity to go to Brussels, we highly recommend to go, you won't regret it!
Hopefully You will have as great time in Brussels as we did!
Jasmin, Milva & Minna