HAMK Freezing Week 2022 took place online during 07.02.2022 – 09.02.2022. The topic of the Freezing Week 2022 was Sustainable Business Transformation. Students from HAMK and NHL Stenden participated in creating solutions for companies in multidisciplinary and international student teams. On Tuesday 8th HAMK Design Factory introduced prototyping options for students and were coaching teams during Wednesday and Thursday. It was such a pleasure to see the excellent students' prototypes materialize during the week in such a short time.
Freezing Week 2022
HAMK Design Factory staff participated for the first time in the Freezing Week to give extra hands to help with the student projects. During the Freezing Week, students solved real-life company projects and turned sustainability into euros. Students only had two days to create their solutions but despite the short timeframe we got to see amazing prototypes from apps, for example. The company representatives chose the best projects to go to finals where judges chose the winner for the whole week. DF staff were helping out the teams during the week and encouraged them to build prototypes to help everyone visualize what the idea is and how would it work. We also helped students with Design Thinking methods so that they had a clear path to follow during the ideation and developing processes.
DF workshop
In DF workshops students are able to learn skills that might not directly be part of their regular studies but what might still be needed in working life like graphic design, information design, or UI/UX design. All the courses are open for everyone, so it doesn't matter what you study in HAMK. During the Freezing Week, the finalists had an opportunity to come to DF facilities to build their prototypes and it was amazing to see students prototyping again after a distance learning time. For those teams that did not yet have an opportunity to prototype with HAMK Design Factory staff and for those that want to continue prototyping, DF Workshops (DF00DM61-3002) are open for enrollment in PAKKI.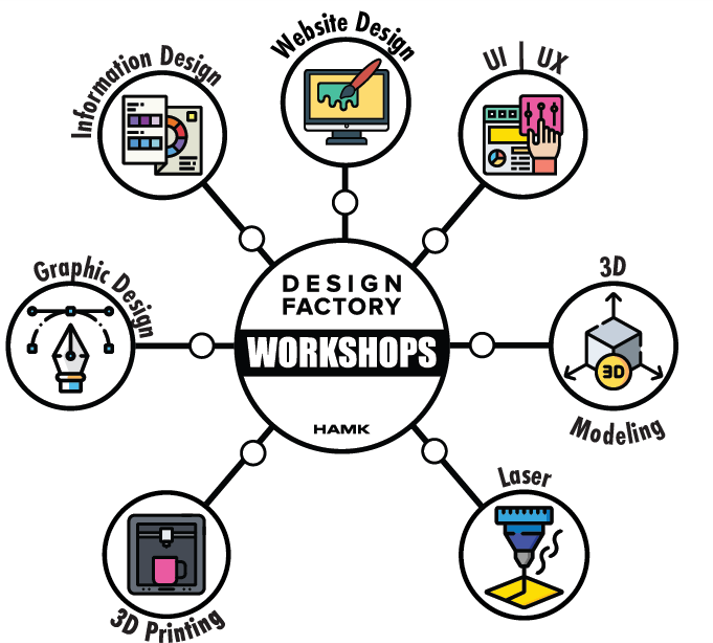 Materials from the week
Graphic Design workshop prepares you for creating vector graphics suitable for print that you can, for instance, cut into shape with our Laser cutter from wood or leather, or engrave the shape into glass. Check out our short Laser Corner demo.
3D Modeling workshop is about creating 3D models, obviously. 3D models can be used to demonstrate and prototype your ideas, products, spaces and even abstract concepts. You learn to create 3D models that you have an opportunity to print in our 3D Printing workshop. Have a look at our short demo on 3D printing to get an idea.
If you missed the Freezing Week 2022 or were not participating this year, no worries, you can catch the idea of what we were doing from the Tuesday intro on Prototyping.
Let's see what the next year brings with new projects! Until then: check out our iPDP course that starts in March!