Hi there! I'm Kristiina and I'm one of the HAMK Design Factory staff members and I work in marketing and communications. I'm also a third-year business student here in HAMK and that's actually how I ended up working here. But more about that right below!
How did you end up in HAMK and what do you do in Design Factory?
I'm a third-year BBA student in HAMK and I started working in DF in August 2019 as a communications trainee right before the opening ceremony. More about my internship can be found here! I started as a trainee and now I'm happy to tell that I will be working here for a little bit longer. Communications and marketing are my main areas and that includes many kinds of tasks like writing blog posts, social media, designing posters, making marketing material and basically, anything I or we come up with.
I have fairly free hands to throw ideas and make them come alive. It's quite amazing thinking that I get to work with these kinds of tasks when I haven't even graduated yet. I think that Design Factory is a perfect place to grow professionally and I enjoy working in this experimental environment where's room for taking different approaches and where making mistakes isn't the end of the world.
What do you bring to Design Factory?
I bring to DF student's points of view and also fresh marketing knowledge right from the school bench not forgetting my mad Instagram skills and bad jokes.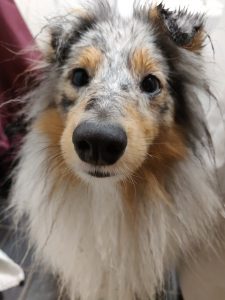 What do you do on your free time?
Right now my free time goes mainly to my final studies and thesis but outside that I spent time with my friends and with my furry little friend Hilppa the dog.
I'm  very excited to be part of the DF family and I can't wait to see all the upcoming projects!
-Kristiina