Well, how did the Aalto PDP experience really continue? Our PDP group continued its research, brainstorming and developing of a co-creation space, which would support collaboration inside of industry space.
During the last six months of researching and brainstorming ideas within our Product Development Project (PDP) team, we still had our ups and downs, while reaching for the prototype goal. Though we still were uncertain, what that goal would be like and how it would finally be presented.
Where we left off
After the visit to ZAL tech center in Hamburg. Where we were able to gather "on spot" type of data and get feedback from possible space users. We returned home to continue our research, did a few more company visits and workshops. These would support our project idea and could bring more interesting aspects towards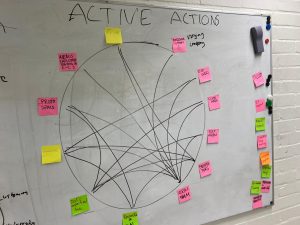 collaboration type of space. For example, we visited Fortum Showroom in Espoo, Finland. The main target of the Fortum visit was the Showroom for visitors, which contained a presentation area through VR and AV equipment. These brought the viewer into an immersive space and wider understanding of what is going on in Fortum. This type of space presented to the visitor Fortum plans, goals and live source reviews of the company.
During this visit, we also got a small tour in other areas inside of the building. One noticeable area was a large space, which contained a big open mid-section surrounded by windows towards the hallways into the smaller sections of the building. This open mid-section didn't require any special authorization to be in but to move through the hallways in the smaller departments did require certain level permission. This mid-section allowed visitors and staff to collaborate inside the open space, while having closed off spaces for more private communication. Most of the offices were also visible towards the open space through windows. This in turn gave the feeling of openness from the company towards visitors. We needed to take these kind of elements into consideration, when we started to visually plan examples of the co-creation spaces.
Next steps
At this point of the project experience, our Aalto and Porto teams had divided into two smaller groups. One group mainly concentrated on the research of co-creation and collaboration, while also thinking about possible business models to support the idea. While the other group concentrated on the visual presentable prototype for the sponsor and DF. Though, at this phase we still were kind of uncertain on how the deliverable will look like.
From a visual viewpoint. Creating a co-creation space for industry is kind of difficult to define because it requires quite a lot of analyzing of the factors that make co-creation and collaboration possible in the space itself. While also taking into consideration the company culture and user needs. Therefore, we had our PDP team divided in two. One would be concentrating in the research aspect, while the other on the visual and prototyping aspect.
At this point of the PDP experience everything started to move forward without too many complications. Until we had that small issue with the COVID-19.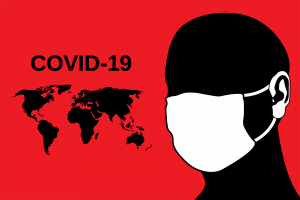 Originally the Aalto PDP Final Gala was meant to held on 14th – 15th of May 2020 but unfortunately this was not possible because of the COVID-19 situation.  The Final Gala presentation day had to be moved further closer to the end of the year. This did change our plans because some of our team members could not work on the project over summer. We also still needed to present the "final" prototype to the sponsor and Airbus, by the end of May.
Visual prototypes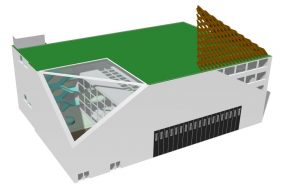 I was working in the prototype group and we had a pretty clear vision on what we would be aiming for with the visual prototype presentation.
We decided to design a 3D model of a four floored space, which would contain the supporting elements of co-creation and collaboration. Our team had brainstormed these elements from the research material from the company visits and other research material.
During the 3D modeling, I used the Rhinoceros software because I already had past experience with it and I felt it was the best solution for space modeling. Rhinoceros plug-ins also provided good rendering options for the final image presentation.
Brainstorming new solutions
How our prototyping group moved forward with developing a visual presentation of a co-creation space? We moved forward by taking key factors from example elements, which also supported collaboration. These were compiled into a mind map with example pictures and texts defining them on where they could be placed and why. Some of these ideas were: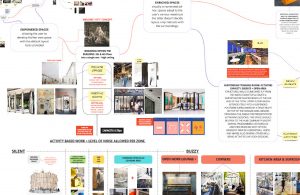 A main cross section staircase, which enforced random meetings between the building staff members and visitors.
Windows towards work spaces, open spaces and outdoors. These bring visibility towards the happenings inside of the building. While also allowing the possibility for natural light to get inside of the building.
An AD-HOC working area. This provides the possibility for different sized teams to design and create their work areas. Which in turn can help them to suit it better to their needs.
A neighborhood, cubicle and resting area. These could bring higher engagement, which is typically accomplished not just with open social space but with tight, walled-off workstations and adjacent work areas for smaller groups collaboration.
We also decided on a frame of the whole building. This would limit our ideas and could give us an outline of the dimensions to work in. This was mainly because at this point of the project, we started to have limited amount of time left. Having a limiting factor could help us to start locking ideas in. Without it, would be like trying to walk up the Burj Khalifa building, while also trying to avoid not to enter and explore each floor (2,909 stairs, by the way). Of course, walking up has an endpoint but it would take ages to get to the top. Reason being mainly because it would take so much time. Time, which we did not really have at this point of the project.
Development of the solutions
When we had gotten an example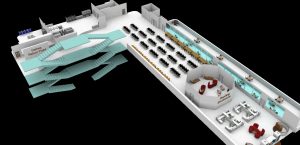 image of the prototype frame done. We gave the outlines or "locations" in it for the elements from the mind map. These represented the needs of the users of the space. The users were brainstormed from the research and interviews we did in the ZAL Tech Center visit.
We also made use of already 3D modeled objects (E.g. Furniture, tools, machines), which we downloaded from free to download 3D websites. I made use of 3D Warehouse because it contains a wide category of 3D modeled objects from different designers. This allowed us more time to brainstorm and work on the actual building and space.
Post Scriptum
Though, with everything that was presented in the new floor plans and 3D models. It doesn't necessarily mean that you need all the new and immersive filled packages to create a co-creation space. You can get quite far with just an open, welcoming and easily adjustable room or space. For example, a room containing whiteboards, markers, sticky notes, tool carts, adjustable and multipurpose type of furniture. Which would be dedicated for different individuals from different backgrounds.
The users could be those, who want to brainstorm or develop their prototypes alone or in teams. Also without having too many limiting factors like location, functionality or jurisdiction. For example, if the space is hidden, difficult to reach or if the space has high jurisdiction. Then you can't build a co-creation or collaboration type of environment there because you have opposing factors of it put in that space.
In the end
Our teams final prototype was to develop a website, which would work as a guide for co-creation. The targeted users of the website were aimed for those whom are interested in developing a co-creation space. The website also works as a presentation for possible users, on what the website of the space could be like. This would benefit the users of the website in a way that it allows for communication between parties without needing to visit the actual space.
The website contains:
Key factors of co-creation and collaboration
The users of the space and work culture
A "cookbook" for co-creation
The visual presentation of the elements inside of the space
A bit of the story of our project development
Presentation
We published the website at the end of May 2020 and some of our team members will continue to develop its content, until the end of summer 2020. After of which, our sponsor plans to continue its further development, also possibly with the Design Factory. While also making use of it in future presentations for interested audience.
After we had published the website. We presented it with our sponsor to some key members from Airbus, who gave us questions and comments of the prototype and how it could be developed further. Some of these questions were about the security, access and costs. Like for example, how would the space secure the digital data and IP addresses or what would the costs be like for the users of the space?
We answered these with few possible solutions. To create an open co-creation space, where the key aim is for collaboration to happen and where the users are probably from different fields or companies. There shouldn't be too much jurisdiction or personal IP addresses for every user. Everyone shares everything in the space and develops it together to further suit their needs. If a user wants a personal work area, where only limited people can go with only their permission. Then this type of co-creation space might not be the best place for those type of requirements. Costs could be distributed by a monthly subscription fee, which in turn the user get to benefit from the whole space and its equipment or he/she pays only for what they need.
Conclusion
Overall, this PDP experience was really interesting and immersive. I was able to gather experience and knowledge, which I can benefit in the development of HAMK Design Factory courses. Mainly concerning group brainstorming, communication techniques & platforms and the importance of dividing tasks within the group. Even though this isn't the end of my PDP experience. There are many more of this type of courses coming through HAMK DF. Thus, I can close the book on this experience and look back at it with great inspiration and appreciation. Big thanks to the Aalto Design Factory and I'm looking forward to working with you in the future.