How are you doing? How did your summer holidays go? What are you working at? Why? Good questions to start the first working week after summer.
From an organizational point of view, we are doing good. Some of us have already returned to work and the rest will return by the end of August. In August we will host a fashion show and make preparations for the RUN European University intensive week on October that will bring together teachers and students of eight European higher education institutions from six different countries. In September we will host Design Factory workshop for Empowering Vietnamese VET Teachers for Transformation towards Education 4.0 (EMVITET) project, visit inno.space Design Factory Mannheim, organize a hackathon, do planning for the RUN European University Short Advanced Programme, and get ready for the International Design Factory Festival that also takes place on October hosted by Design Factory Global Network (DFGN). In November we will start another round of Product Development Project.
More broadly speaking, we are implementing the HAMK 2030 Strategy – to be the most inspiring and most workplace-oriented university of applied research in Finland. We do this in collaboration with the five schools: School of Bioeconomy, School of Entrepreneurship and Business, School of Professional Teacher Education, School of Technology and School of Wellbeing, and the four research units: HAMK Bio, HAMK Edu, HAMK Smart and HAMK Tech. In addition, the 33 Design Factories in the Design Factory Global Network and 8 RUN European University higher education institutions are our key partners in solving challenges of sustainable growth in global networks.
People new to HAMK Design Factory can glimpse our facilities from the wonderful Lookbook designed by Jali Närhi. Or have a look at our recent research from our webpages. Illustrated also on the snapshot below.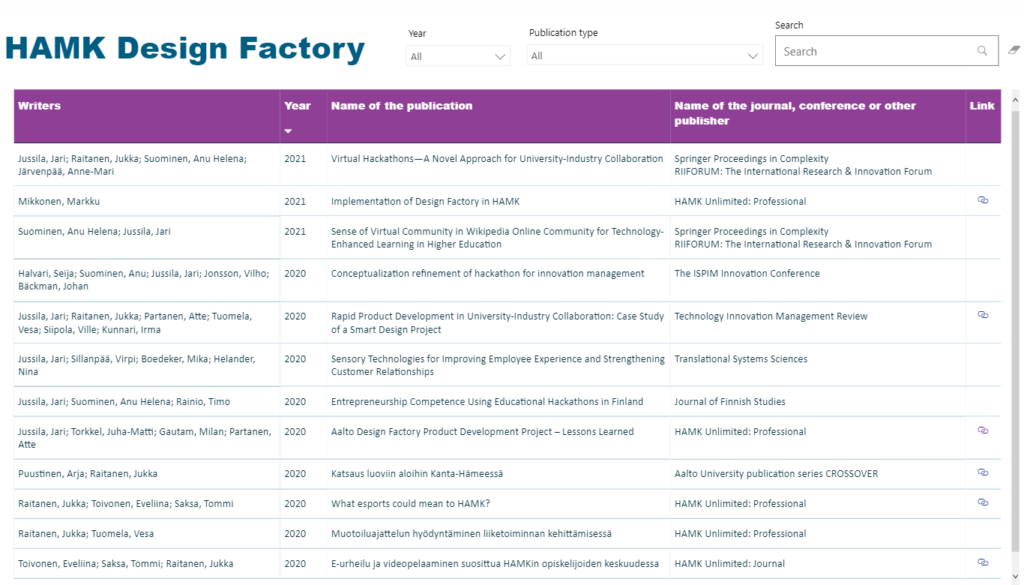 Looking forward to exciting times ahead 😉
-Jari