You are welcome to follow the new blog of the Global Education R&D Team of HAMK University of Applied Sciences, The School of Professional Teacher Education.
We are an enthusiastic and energetic international network of researchers, university lecturers, teacher educators and future makers whose interest is to apply latest research in designing better education for all. In this blog, we write about our current research and ambitions, innovative ways of learning, educational change and student engagement, just to mention a few of our passions. We will also present some educational experiments and reflect on global challenges – and share articles and conference tips we think you may find inspiring too.
Educators as we are, this blog has also three educational goals:
1. Widen the learning community and find our tribe
By presenting our work and interests openly we believe we will find more partners and collaborators who share the same or similar interests, ambitions and challenges. We are constantly applying for international calls and submitting papers to global forums – maybe we can share, test and dialogue our ideas with you? We are eager to network the high-impact learning communities of motivation and drive.
2. Develop our thinking and networked expertise
We are a new, a recently founded RD&I -team which is experimenting with and developing many new tools for researching and designing innovative services in the global context. Our work is mainly physically distributed, and we are in the process of kindling our strategies to reach our goals. By blogging we want to get to know each other better, develop our joint thinking and finally, bloom and boost our collective, networked expertise. It will be a long journey, but let's us take the first step.
3. Introduce research-based design as an approach to the educational change
Our design work focuses on innovative educational services, program development, plans for new educational models, methods, frameworks and products. For example, we design teacher education programs for international partners, up-grade leadership coaching for school managers in digital change, and plan competence-based higher and vocational education that meets the challenges of the changing world of work.
Accordingly, our research interests include educational innovation and shifting learning paradigms, competence development, and the future of learning and education. The approach is experimental, practice-based and participatory. Our goal is to apply new knowledge into the service design process briskly, effectively and bravely. How to make it, and how the whole creative process runs – this often needs second thoughts, explaining, visualizations, dialoguing – and learning.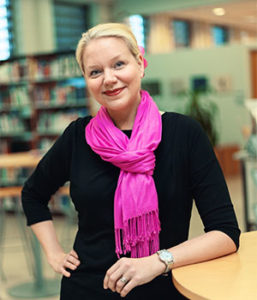 Essi Ryymin
Principal Lecturer, R&D Manager
School of Professional Teacher Education
Häme University of Applied Sciences