Permanent Representation of Finland to the EU
The HAMK University of Applied Sciences decided to go to Brussels for a week with the Doing Business in Europe Module. On Monday, our first day, we started the trip at 10AM with a visit to the Permanent Representation of Finland to the EU.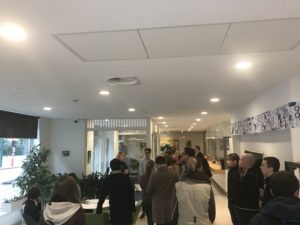 We had a presentation about the structure and tasks about the Permanent Representation of Finland to the EU by Rami Nissilä.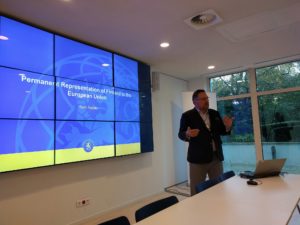 We got to know the three representations about Finland in Brussels: The embassy of Finland to Belgium, Finland's mission to NATO and Finland's permanent representation to the EU. He explained more in detail those three representations and talked about the four main institutions of the European Union: European Commission, Council of the European Union, European Parliament and European Council. As for us exchange students it was really informative and interesting to learn more about our host country Finland. Since we are coming from Germany we don't know a lot about Finland and its businesses and official representations, so we've got a more in-depth overview about the country and upcoming events in this week.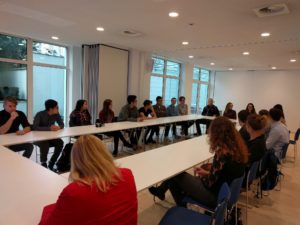 He continued with describing the decision-making process of those institutions and finished the presentation with explaining the Coreper 1 and 2.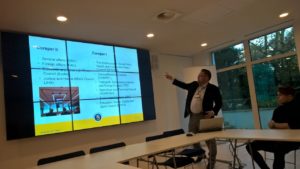 After the presentation we had some time for questions which resulted in a really interesting and interactive discussion. He made time for our questions and the answers were really helpful and clear. Rami Nissilä gave also some personal experience about the terrorist attacks in Brussels and how it influenced the life of him and close relatives, which was which gave us a personal point of view of those events.
What added another interesting factor to the presentation was that our teacher Annaleena Kolehmainen and Rami Nissilä knew each other from primary school and that even the father of Rami Nissilä has worked for HAMK. This showed us that it's even possible to meet after many years in a foreign country again, especially under circumstances like our study programme International Business.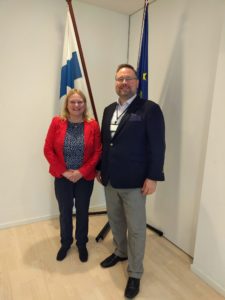 The visit to the Permanent Representation of Finland was a new experience and gave us a lot of information about the topic. Besides, we got a personal insight in the way of living in Brussels and how the work looks like.
We were really grateful to be able to be a part of this awesome excursion and experience together with HAMK.
Laura and Ann-Kristin