What is the Design Factory and what do people do around there? Those were exactly my thoughts before I spent my internship there and got to see a new side of HAMK. I had an opportunity to learn more about 3D-scanning, -modeling and -printing, machine maintenance, and VR technology. Read more about how I got a new head at HAMK Design Factory below!
Expectations for the on-the-job learning
My name is Elli. I'm a fourteen-year-old girl. I spent a few days of my TET in the Design Factory of HAMK. The word TET comes from "työelämään tutustuminen" which roughly translates to getting to know or exploring the world of work. So the point is that everyone gets themselves a place for the one or two weeks of internship. My TET was at HAMK in general but I got the opportunity to spend these few days of it in the Design Factory.
I didn't know much about the Design Factory before my internship there but I had heard about it a few times. I didn't have a lot of expectations because I really didn't know what to expect and I just thought it would be a success if I learned something new and had a good time.
What I learned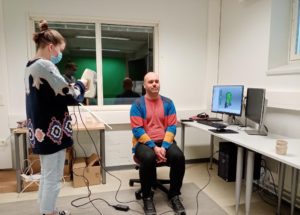 When I first went there, everything was new to me and I was a bit confused about everything. But it turned out good. I think I learned everything pretty fast. Throughout the few days, I spent in the Design Factory I got to clean and take care of some of the machines. There was this project that was a big part of my internship. The project's idea is to scan all the Design Factory's employees' heads, print them out with a 3D-printer, and put them all up on a wall. Luckily for me, this project started right before my internship so they started to scan everyone's heads for practice. Therefore, I got to be a part of it too. I got to scan a few people's heads and edit them on a computer so they would be ready for printing. My own head was scanned and printed too. That 4,5cm (18 inches) tall head surprisingly took almost three hours to print.
I was really amazed by how much had to be done so manually. Although computers and machines did most of the work, I was surprised about how the scanning was done. I thought someone would just go sit somewhere and a machine would just go around their head and scan it, like in x-rays or something like that. But the person who was being scanned actually had to go sit in a rotating chair and turn by themselves and then another person would scan their head with this machine in their hand.
I also got to use a VR headset for the first time and it was very exciting. But most of the time just really went into the "head project".
Thoughts about the experience
The Design Factory seems like a very nice place. I think the environment there is so kind and accepting and that's such a good thing. The learning system is very laid-back, in a good way. It's not sitting in class in front of a desk the whole day and listening to someone talking. Instead, it's based on the students' well-being and everyone's enjoyment. All the people I met during these few days were very nice to me and seemed like such kind people.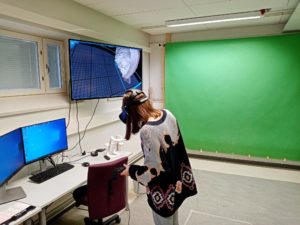 I got to use so many machines I probably hadn't even seen before. It was so interesting to learn the usage of them. One of them was the 3D printer. I had seen those before, but I thought it would be so hard to use it. Well, it wasn't actually that hard. I couldn't have managed to figure it all out without anyone helping me though.
I had a very good time and was a bit sad about leaving because I only got to stay there just a little over two days. But I'm very happy I got to experience all that in such a short time.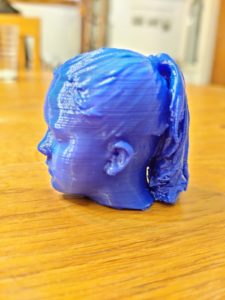 And that is how I got a new head at HAMK Design Factory!
-Elli
Read more 3D-printing experiences here!