Most studies in HAMK are carried out in teams with various authentic work-life projects. Students will develop social skills and a sense of community relevant to working through projects and in different roles. These Bioeconomy Engineering student projects are being sought after in the field of bioeconomy.
In autumn 2018, the digital map of the Elonkierto exhibition park was implemented between the first-year students and the Natural Resources Institute Finland (Luke) by using the Thinglink service. The map contains images, text, videos, and 360 images with content tags. Project management studies were also linked to the project. First, at the beginning of the studies, we visited Elonkierto and its important sites. During the first study module, the students went there to collect material and ideas for the digital map.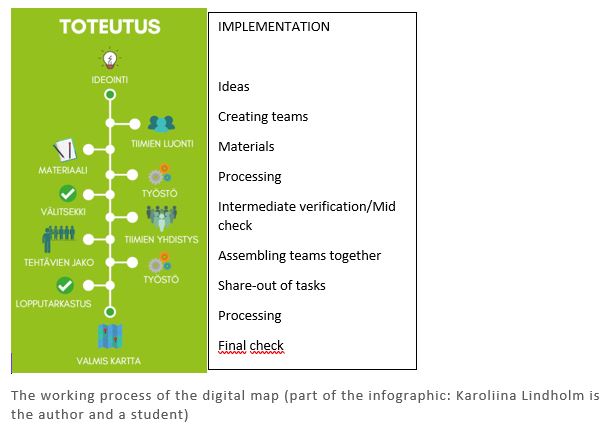 The actual digital map was worked out in the second eBioeconomy module in the autumn. At the beginning the students worked in their own teams to develop ideas and design the map, making project plans and learning how to use Thinglink. In this way everyone received the basic skills. After an intermediate verification with the Elonkierto staff, the best functions were selected from all the suggestions and the teams joined forces.
The teacher guided the practical work. At the end of the course, students were quite independent in project management, the share-out of tasks, map completion, and communication with the customer. The result was a well-executed and documented digital map, meeting the customer's needs. The map has been linked to the Elonkierto website and the responsibility for updating it has been transferred to Natural Resources Institute Finland (Luke) after the end of the module.
You can find the latest news concerning this degree program from the point of view of both teachers and students from the Bioeconomy Engineer YouTube channel.
It includes working in projects during the first year of study, practicing teamwork, and collaborating with companies, supporting the continuation of studies when students are starting the second year with longer three-module assignments in engineering office teams.
The digital map of the Natural Resources Institute Finland (Luke) Elonkierto Park can be found on the Elonkierto website: https://www.luke.fi/elonkierto/
Ms. Johanna Salmia, Development Manager, HAMK Bioeconomy Unit, a teacher in Degree Programme of Bioeconomy Engineering  (post in Finnish 6th of May 2019)
Translation in English: Ms. Satu Suoranta, Education Assistant, HAMK Bioeconomy Unit