Yllka Ibrahimi, who graduated from HAMK International Business in 2017, has had a very versatile career including working for Applift and currently for TikTok. She says that IB studies served as a very good steppingstone for further opportunities in her life even though the starting point of the studies in Finland and in Valkeakoski was quite a challenge. According to Yllka, the best things about studies were the people and also the way of studying which included useful hands-on projects. For future HAMK IB students Yllka gives some advice to keep eye on what is happening in the world and also not to be afraid of the Finnish weather!
I'm Yllka and I graduated from HAMK's International Business degree programme. I'm originally from Kosovo and living now in Germany. Studying IB was a great opportunity because it opened other possibilities. I also did a double degree in Germany at Technische Hochschule Deggendorf. There I started an internship in business development in Berlin where I live now.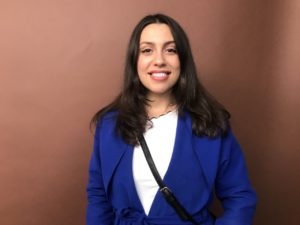 My career journey kind of took its own path in Germany. It started with business development and I worked for a small consultancy and then I worked for Applift where I started my performance marketing journey. I was there for two years and from business development I shifted more towards account management which led me to my current position as a client solutions manager at TikTok.
How did you end up in HAMK?
I always thought I would study abroad. That was my goal ever since I was very little. My ambition was always U.S. and I did my exchange there. But then there was a huge hype, especially in my family, about studying in Finland. So, I applied to a couple of places and got two entries for universities. I decided to go to Finland because I did some research and found out that there is a great education system. It was very intriguing for me to be part of it and since I already got accepted, I just took take study place.
I didn't know anything about Finland at that point and it was difficult at the beginning. It was one of those struggles where you didn't know where you would sleep and how. I know a lot of students, including myself, who at the beginning really knew nobody. But it was a great journey because that part of being away from home and being in Finland played a big role for my growth and for all the things I could achieve after that.
Why did you decide to study International Business?
Before I decided what I would study, I always thought it would be something which would enable me a couple of paths. I didn't know exactly what I wanted to be or do at the age when I needed to choose the university. I just knew that I liked creativity, dealing with people and the business world. And I thought that IB would give me a lot of ideas to do something outside of the traditional business environment. That would be either design, having my own company, or working for an innovative company.
International Business definitely enabled different paths. It didn't have a set way that you usually have in more niche degrees. For me that was great because it took of the pressure to decide what I wanted to do because my wishes changed within the years and I gained more experience and information to make the decision.
How is your current role at TikTok?
Throughout my career journey I have liked working with people and liked the technical side of things. So, I wanted to merge both of those into one job. That's when performance marketing came in and where my role as a TikTok's clients solution manager plays a big part. My day-to-day tasks include dealing with my clients which are usually the key clients in the market of different industries.
With clients, it's a lot of recommendations and consulting on how to improve the performance with their KPIs (key performance indicators). This means creating from daily strategies or media plans to bigger strategies. We work cross-functionally a lot within the teams of TikTok. I'm often working with the product team as well with the sales team because I'm kind of in the middle of both so I can come up with solutions for my clients.
What was the best and most challenging parts of your study experience?
The two most interesting parts of my HAMK experience was the people and the style of education which was super-different compared to what I was used to in Kosovo. I really appreciated I could learn in different ways which was actually the reason to choose Finland for place to study.
And of course, the amount of people I met around the world and chance work with different kind of people was something to remember. In addition, we did real projects with HAMK, for example organizing the Christmas Fair where I was the financial director of the fair. That was a completely different world when it was an actual fair that you were organizing. I really appreciate those hands-on projects which led into real results and prepared you for the business environment and real life.
I think the number one challenge at the beginning was that I moved from Pristina which is the capital of Kosovo to Valkeakoski which is a very small town. It was challenging because we all know the weather conditions and the darkness in Finland which didn't really help. Of course, you need time to find the right people to socialize or have your own group of friends. It supports you since anyone is going through the same thing, even the Finnish people sometimes. For me, it took longer than I expected to get used to the weather and to Valkeakoski. As a student it was also harder to get out of this little town.
But what I now appreciate in Valkeakoski, is that it is so full of greenery and lakes. It was so beautiful. And I got to see the northern lights in Valkeakoski which is actually quite rare to see them there. So, this part of my life also had positive sides but of course at the beginning you don't necessarily see or are always willing to see them.
Did you travel while you were studying at HAMK?
Yes, that was something I did with other students. Within Finland I only visited Helsinki and Turku but I travelled abroad quite a lot. We had some activities at HAMK which took me to London as part of the marketing team to get new students to HAMK from all over the world. I also visited Denmark with HAMK and Germany too within one excursion. Beside of that I travelled to random places like Poland, Spain, and Italy where we participated in the Harvard World Mun conference with HAMK students. So, we had quite a lot of activities that included travelling abroad which was very exciting at that time.
What kind of future plans do you have?
I have an idea of what I want and that is to gain as much experience as I can in my current role and having as much exposure to take with me in the future. What that would be in terms of topic, remains to be seen. I want to create something where I can pull from my previous experiences. I like working with people, so it is going to be something related to that. But I think my plans don't lay on one area. I want to explore other areas as well and maybe have them simultaneously because I also like different things outside of business and I would like to keep those in my life.
What would you want to say to someone who is considering studying in Finland and at HAMK IB?
I think this is a great opportunity to carve your own path. Depending on where you are coming from and what your circumstances are, you can find out what do you want, even if it's a little bit uncomfortable. But this way you will notice what works for you and what's best for you. And you should not to be afraid of new environment or the things you hear about Finland which is usually the weather. At the end of the day, for me this was the first steppingstone to great experiences that enabled more opportunities.
And I would say to everyone that even you are choosing one degree, you can change your mind and that's okay. And even while you are studying, it's always good to be informed about other things. So, if you are studying International Business, always try to keep eye on any new discoveries in science or financial and economical world. Those are very much the things you are going to deal in your life and it's great to have that knowledge from a very young age. This way you will also meet people who are part of those industries. I would say, try to learn from every person and experience and try to set yourself in an environment where you are also learning from outside of your own degree and this way expanding your knowledge.
Read another International Business alumna story:
Ekaterina Iarygina