Ekaterina Iarygina is a Marketing & Partnerships Specialist at FA Solutions, a fintech services company based in Helsinki, Finland. But before embarking on her professional career, Ekaterina was an international student at the Häme University of Applied Sciences (HAMK) in Valkeakoski, one of Finland's most picturesque towns. We chatted with Ekaterina about life as an international student in Finland. She talked about adapting to a slower pace of life, understanding Finnish culture, and how studying at HAMK helped her develop the skills she needed to land a professional job. This article written by Ashley Murphy is originally published at the Keystone Academic Solutions' Bachelorstudies website. 
What aspects of Finland did you find to be a pleasant surprise?
I come from Saint Petersburg in Russia, which is a hectic city. So I was shocked when I realized how quiet it is in Valkeakoski. There's no one on the streets after 7 pm, and it's really safe. I could walk home at 2.00am after partying with friends and never felt worried. I live in Helsinki now, where things are a bit different. Helsinki is great, but I miss the peaceful nature of Valkeakoski.
And everything is so organized in Finland. Before coming here, I'd never dealt with social security codes, banking, or other stuff like that. But the way the Finnish do things makes it all super simple. If I have to make an appointment with the doctor, it doesn't require a tonne of niggling paperwork. It's like this everywhere in Finland. It's ideal for international students settling into a new country.
I was also pleasantly surprised by how free people are in Finland. They express their opinions easily. It doesn't matter if they're talking to teachers, bosses, or even the government. They dress how they want and are never afraid to be themselves. It's awesome!
After spending some time here, you'll quickly understand why Finland is often called the happiest country in the world.
How did you feel about life in Valkeakoski, given that you're a self-confessed city girl?
I had a tough time at first! It seemed so small, even a little boring. As you said, I'm used to big city life, so adjusting to how things work in a small town where the stores close at 8pm was never going to be easy. But one quote I heard from a friend helped. They say in Finland, "you learn how to hear the silence." I didn't understand it to start with. Then I began spending more time by myself exploring the lakes, enjoying the sunsets, and soaking up the silence. These were unique experiences that made me appreciate a new way of being. And I still got to enjoy all the best parts of university life, like meeting new friends, participating in activities on campus, partying, and studying hard.
And why did you choose to study in Finland?
Finland is right next to Russia. So I'd been here a few times as a tourist. But I never thought about studying in Finland until the end of high school. Then I learned Finland has one of the best educational systems globally. So I thought, 'why not?' And that's how a whole new chapter of my life started. But I was lucky. I discovered later on that my year was the last to get tuition-free education for non-EU citizens.
What did you like about studies and the study environment?
Studying in Finland is entirely different from the Russian system. Finnish schools put more emphasis on independent study. For example, the research material you get from class covers about a third of what will be on your exams. It's up to you to find the rest through independent study. I think this is a better way of learning. It teaches you how to be independent and find practical solutions to problems.
We also did lots of teamwork, something that Russian schools don't focus on. I never did a study assessment in a team back in Russia. Working with others is an incredibly valuable experience. You learn how to set boundaries, listen, negotiate, and promote your ideas in the right way. These are all skills that you'll use in your daily work life after graduation.
The atmosphere at school was pretty chill and very supportive. There's always someone who will listen to you. Suppose you have a justified reason for not making your assignment by the deadline. In that case, you won't be penalized or made to feel like a 'failure.' Instead, the lecturers will be sympathetic and help you come up with an alternative solution.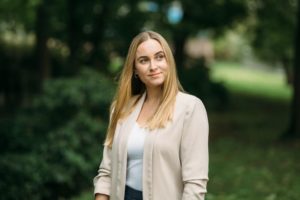 What were the highlights of your studies?
I made a couple of terrific friends here. I'm still in close contact with them. And I met the love of my life! I'll always have Finland to thank for that! We've already been together for almost five years now. We're doing great together.
Studying at HAMK also gave me the opportunity to experience an exchange semester in Spain, which is very different from Russia and Finland. It was delightful there, especially the weather and culture. I can see myself spending a lot more time in Spain one day.
But the best thing about studying abroad is your personal development. I discovered so many things about myself, including my strengths and the things I need to develop further. I learned the importance of never giving up and having clear goals. In a sense, I realized what I want to get out of life and what makes me happy.
How did you find a job in Finland, and how have you liked working in Finland?
I moved to Helsinki after graduating, which was a good and bad thing at the same time. There are lots more job opportunities for graduates in the capital, but the living costs are significantly higher. It was tough to cope. My first role was a non-paid internship at a start-up company that helps migrants find work. I was an Event Producer intern. It was interesting and great experience for me. But I wasn't getting paid, and I needed funds to cover my living expenses. So I found a part-time job as a cleaner. For graduates, taking on unskilled work can dent your ego. But there's nothing to be embarrassed or ashamed about. You're just starting out on your journey, and you won't have to do it forever. I cleaned for a few months part-time before I was lucky enough to find my first professional job at an IT company. I still work there today.
The company specializes in the financial sector. They develop software for asset and wealth managers across the world. I'm responsible for all the marketing and partnership communication. What still amazes me is the level of trust and independence they give me. The bosses don't micromanage. They let you get on it and manage yourself, which motivates me to do even more.
Job searching in Finland is a combination of good luck and persistence! You have to be relentless. Just keep applying to any jobs that might be interesting or provide relevant experience. I've had numerous rejections and multiple interviews that were not successful. But I'm living proof that it's possible to beat the odds and get hired.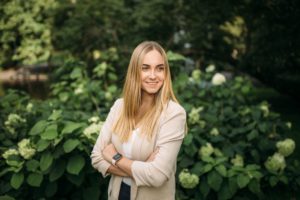 How did HAMK help you find employment?
As I was graduating, HAMK ran an initiative on my campus to help students find work placements. They were helping with the CV, cover letter, tackling interview questions, and giving lots of advice on how to search for a job. It also advertised job ads for entry-level and graduate positions. Unfortunately, I didn't manage to get any of the placements I applied for. But I did complete a short internship for HAMK in Hameenlinna. I managed social media channels to promote the region to Russian tourists and guides. Internships like this are a great way to learn some real world skills and build up your confidence.
What would you say to applicants who are considering studying in Finland?
Be patient. Finland is a unique country. You might not like it instantly. But once you get the vibe, you'll fall in love. So stay open-minded, and don't miss opportunities to make many friends. Networking is essential nowadays. You never know how the person next to you could influence your life. They could become your future best friend, spouse, or even business partner. Travel around Finland, embrace Finnish culture, and just enjoy it. You live it only once!
As for life on campus, I'd advise everyone to get involved with as much stuff as possible. I was very proactive at HAMK. I tutored new students, promoted the school to Russian and Finnish teens, and helped with organizing official gatherings for students and teachers. I loved the feeling of taking on responsibility. It's empowering, but it also opens so many doors for you.
Thanks for sharing your experiences with us today, Ekaterina. I think this will help a lot of people thinking about coming to Finland.
I hope so. And thank you for inviting me. It's been fun.
Text: Ashley Murphy
Article is originally published at the Keystone Academic Solutions' Bachelorstudies website.