Working life expects us to be not only adaptable and ready for constant change, but also able to predict the future. Futures studies are not for everyone, but we can all learn the basic skills of forecasting. Here are five picks on forecasting and futures research literature. For more examples, see our list of further recommendations.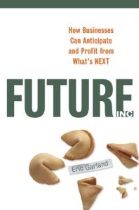 Garland, Eric. Future, Inc : How businesses can anticipate and profit from what's next. Amacom, 2006.
Garland introduces the techniques of futures research and shows how to best use them on a daily basis. He advocates constant information collection and analysis and using the data to shape the future of an organization, using a beer company as a case study. The first part of the book focuses on the tools, while the second part introduces eight megatrends or, as he call them, drivers of our future. The book is quick and easy to read, not least due to the numerous examples from the corporate world.
Recommended for strategically minded business people.
---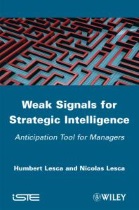 Lesca, H. & Lesca, N. (2013). Weak signals for strategic intelligence: anticipation tool for managers. London: Wiley.
This is the ultimate book on weak signals: what they are and how they can be detected or recognized. But not only that: unlike many others that have written on the topic, these authors also show us how to make best use of weak signals. They give us copious examples and four case studies that illustrate the way weak signals can be used in strategic planning.
Recommended for all involved with or interested in strategic planning.
---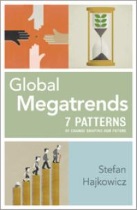 Hajkowicz, Stefan. Global megatrends: seven patterns of change shaping our future, CSIRO Publishing, 2015.
At first I was reluctant to pick up this book, because of the topic; what new could he possibly have to say about megatrends? Then I took a look at the table of contents and was hooked: More from less, Going, going… gone?, The Silk Highway ,Forever young, Virtually here,
Great expectations, An imperative to innovate. Yes, behind the exciting titles were the familiar megatrends, but the fluency and positive tone of the text makes this an enjoyable read.
Recommended as the first glance at the megatrend phenomenon.
---

Wilenius, M. (2017). Patterns of the future: Understanding the next wave of global change. New Jersey: World Scientific.
Wilenius posits that change happens in wave-like cycles, where past, present and future overlap. According to him, we are currently moving to the sixth wave, which focuses on the efficiency in utilizing resources – natural and otherwise. Wilenius focuses on societal development; his goal is help us better understand the changes around us.
This book is an international version of the Finnish Tulevaisuuskirja.
Recommended for all who want to make sense of the present.
---

Bell, W. (2003). Foundations of futures studies: Human science for a new era. Vol. 1, History, purposes and knowledge. New Brunswick, N.J.: Transaction Publishers.
Wendell Bell was a pioneer of futures studies, writing his two-volume work at the end of his professional career. As such, it is more a documentation of his work and observations. In the first volume, Bell focuses on the theoretical foundations of futures research. Rather than critique the field of futures study, he focuses on objective description. The history of the field is extensive and the methods are expertly introduced. In the second volume, Bell discusses ethics, morality, and human values and how they influence all conscious action and the creation of desirable futures.
Recommended for the theoretically inclined. A must-read for all thesis writers using futures research methods.
---
Bonus pick:

All future projections are based on current data. Statista offers you reliable statistical and market data all around the world; just login with HAMK user id.