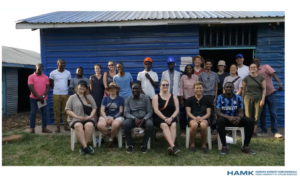 Photograph of team in Kenya
It was a great atmosphere at the final presentations of student teams on 17th May 2022. The participants in the Spring 2022 challenges were about 18 students from HAMK, company representatives and mentors from Finland, Zambia & Kenya. The  energy built and excitement shared throughout the challenge cannot be expressed in words but it was reassuring that our projects provide an avenue for students to learn in new ways. 
The final presentations was held via Zoom which gave an opportunity for students to share findings from the challenge after many months of remote and onsite teamwork. Three challenges were presented at the event. The first one, climate smart forestry in South Africa tried to answer the question; how can forests be used as carbon sinks?
The South Africa team worked completely online without direct involvement of the South African students from partner universities nor undertaking field visits. In this case, students exhibited their strong research skills by providing results that the commissioning company did not expect. In identifying best working methods for their team to achieve results, partners in Forest21 assisted students to identify and interview specialists in various fields of forestry in South Africa.
Very happy with the results because we did not know what is possible and what is not- Mr Mikko Kokkonen-Green Carbon, Finland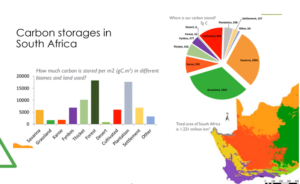 Slide image from presentation day- South Africa team
The second team from 3 different study programmes in HAMK took on the challenge to design a co-creative collaboration model between Higher Education Institutions and Companies in Zambia. It was a good combination from the beginning because, not only did the team have to overcome their own differences coming from different study programmes, they also worked directly with students from Zambian Universities.  The challenge brought together 14 companies from Zambia, students and lecturers. The collaboration model proposed will help students identify competencies needed from them before they start their working life. 
 Team spirit was excellent from the beginning and the different backgrounds was an asset to our team- Ms Taru Karlsson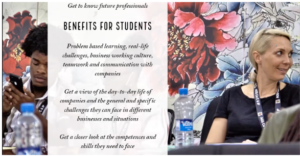 Slide image from presentation day- Zambia team
The third teams' focus was on finding ways of promoting the use of Bio fuel in Kenya produced from water hyacinth. In finding new ways to educate Kenyans on fuel alternatives, the students worked closely with a local Kenya company producing bio ethanol to develop marketing materials for awareness creation. 
Life is full of adventures so,  through the student challenges, 14 students had the opportunity to travel to Zambia and Kenya for field work. Through the trip, they discovered new cultures and met their counterparts from partner Universities. In the end, students have developed skills to work in different multicultural groups and established long lasting relationships and experiences. 
I am amazed at what has been achieved by the students – Ms Ulla-Maija Knuuti, Senior Lecturer and Student challenge mentor, HAMK
In autumn 2022, new challenges will start while some challenges from spring will continue to answer the question, what is possible, who, when ? We can say, students are glad to have had the opportunity to discover new ways of learning through real life challenges and developed new skills. 
Are you a student of HAMK? Join the next student challenges which are open to all students from all study programmes. #hamkinafrica #studentchallenges