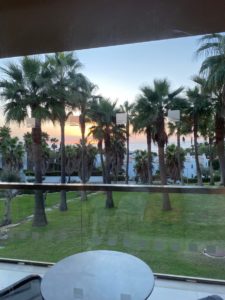 My name is Jussi Lehikoinen, and I am a third-year student of Mechanical Engineering at HAMK University of Applied Sciences. I have just finished my exchange studies at Polytechnic of Leiria. My exchange studies lasted one semester from September to the end of January.
Studying or working abroad has always interested me and in HAMK it was finally possible. However, we had to think about the exchange for a while because we wanted to go there with my wife and our 2-year-old daughter. We chose Portugal mainly because of the climate and we watched a lot of positive videos about Portugal on YouTube. In fact, we were so excited about Portugal that we decided to give up our home in Finland and sell all our furniture, thinking that we would stay in Portugal for a long time. This was a good decision because mentally, being a family in a foreign country was easier to deal with because you knew you weren't going back on any given day. As a young person, six months without any plans doesn't sound bad at all, but as a family you need some stability.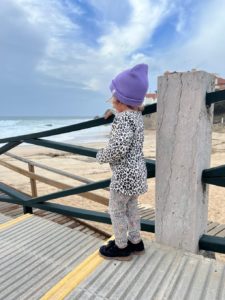 We went to Portugal well before my school started, because we wanted to organize things like finding a daycare for our daughter and getting a car. My wife works full-time, so once I started school, we needed daily care for our child. We initially tried to find a daycare place, but it was not easy because, as in Finland, daycare places were limited. We ended up getting a nanny who lived close to our apartment. She was nice, and our daughter liked her after a little initial hesitation. Our daughter already spoke Finnish well when we arrived in Portugal, but not Portuguese or English at all, so at first the nanny and our daughter had some difficulty communicating. After 6 months of living here, our daughter now understands Portuguese and speaks it a little bit.
Once I started school, I got good advice from the International Affairs Officer on practical matters. The other exchange students were initially surprised when I told them that my wife and children were also with me. I'm 29 years old myself, so some of the exchange students were much younger than me, but we got on well. I didn't go to all the parties because there were so many every week. I went every now and then and was always welcomed with open arms.
Some tips to Portugal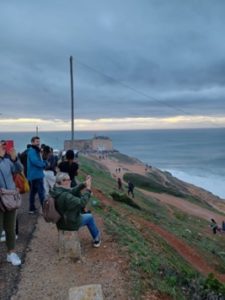 Would I recommend studying on exchange with your family? Absolutely, if it's possible. Our trip was made possible by the opportunity for my wife to work remotely as an entrepreneur from Portugal. Our time here has been really rewarding. Learning a new culture is a great experience in life. However, the biggest lesson has been the feeling of being an outsider, which comes if you don't know the local language or traditions. My understanding of the difficulties faced by people who have moved to Finland from elsewhere has increased considerably. Portugal is an affordable country for a Finn, especially the Leiria region. Eating and drinking out is very affordable. Rents have been on the rise lately because of the large number of remote workers moving to Portugal from all over the world. We are still in Portugal, in Lisbon, doing my HAMK studies remotely.
Portuguese people are proud of their food. The most common food is cod fish (Bacalhau), which can be prepared in a thousand different ways.
Obrigado/obrigada means thak you, if you are a man, you say obrigado and woman say obrigada. Portuguese people will let you know if you do not say it right.
In December it can rain a lot, so remember to also pack some warm clothes.
Pretty close to Leiria is a fishing village Nazare, where you can see huge waves surfed.
Jussi Lehikoinen
Mechanical Engineering student