It all began with a single click and little did I know that my life was about to take an exciting turn. As I excitedly submitted my application to study ICT Bioeconomy Engineering at Häme University of Applied Sciences, I couldn't have imagined the journey ahead.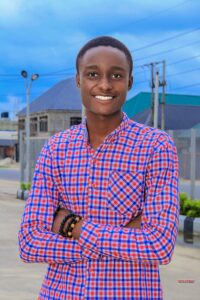 Introduction
I am Kelechi Emmanuel Uko from the beautiful state of Abia in Nigeria. Today, I am excited to share my upcoming adventure with all of you. In just a few weeks, I will be embarking on an exciting journey to Finland to pursue my studies in ICT, Bioeconomy Engineering at Häme University of Applied Sciences (HAMK). As I prepare for this new chapter in my life, I am filled with a mixture of excitement and nervousness. In this blog post, I want to delve into my feelings and thoughts about moving to Finland with an African background and how I am gearing up to overcome the challenges that lie ahead.
Excitement and Anticipation:
I cannot contain my excitement as I anticipate experiencing the Finnish culture and students' life at HAMK. Finland's reputation for excellence in education and research has drawn me to pursue my studies there, and I am eager to immerse myself in a world of knowledge and innovation.
Challenges and Concerns:
However, I must admit that, alongside my excitement, I also harbor some concerns about the challenges I might face as an African living in Finland.
The language barrier, especially with Finnish being famously known as difficult to learn, is another area of concern for me.
Preparing to Overcome:
To address these challenges, I have been proactively preparing myself. I have been doing extensive research about Finnish customs, traditions, and social norms to familiarize myself with the cultural landscape. Additionally, I have begun learning Finnish, as I believe that making an effort to speak the local language will greatly aid my integration and interactions with others, especially with the locals.
Connecting and Integrating:
I plan to attend university events and join student organizations or clubs at HAMK to meet fellow students who share similar interests. Volunteering or interning with local organizations will not only allow me to give back to the community but also facilitate interaction with Finnish people. Social media and online forums will also serve as valuable tools to connect with like-minded individuals.
Staying Optimistic:
Overall, I approach this journey with an optimistic mindset. I know that stepping out of my comfort zone will come with its share of challenges, but I am ready to face them head-on. By being open to new experiences and never hesitating to ask questions and seek help, I am confident that I will gradually acclimate to the Finnish lifestyle and thrive in my studies.
Conclusion:
As the days draw nearer to my departure, I feel a mix of emotions, but excitement and hope dominate my heart. My four-year journey in Finland is bound to be filled with ups and downs, but I am eager to embrace every moment of it. I am grateful for the opportunities that lie ahead, and I look forward to meeting new people, making lasting memories, and growing both academically and personally.
To all my fellow international students and anyone embarking on a similar journey, I encourage you to stay positive and proactive in your preparations. Embrace the challenges, cherish the experiences, and enjoy the growth that comes with stepping into the unknown. Thank you for joining me on this exciting adventure, and I can't wait to share my experiences with you all from the land of a thousand lakes – Finland!
Do well to connect with me on LinkedIn https://www.linkedin.com/in/kelechii/
Kelechi Uko, Information, Communication and Technology, Bioeconomy, 2023 Autumn intake.
The story is edited by Qingyang Li, Talent Boost Mentor from HAMK International.