Hello, my name is Liina a 22 year old student currently pursuing a bachelor's degree in business administration at HAMK. I have spent the past 10 months doing an exchange period in Paris, France. As my exchange journey has come to an end, I want to reflect on the past year and tell you little bit more about my highlights of the experience.
Paris as a city: where there is always something to see!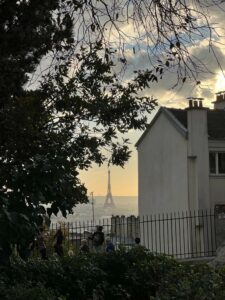 Paris is a fascinating metropolis with a rich history, iconic landmarks, and vibrant culture. Whether you're looking for unique experiences or pure leisure pleasure, Paris offers endless possibilities from sipping coffee in cafes, picnicking on the banks of the Seine, strolling through beautiful parks, or discovering hidden gems in its enchanting streets in lively districts such as Montmartre and Le Marais , there is a lot of things to do and see . I really loved the city, and as an exchange student it was the perfect chance to explore, really get to know the city, and to create long lasting memories.
University in Paris:
My academic journey in Paris led me to the Université Paris Cité, IUT Descartes. My task was to complete 60 credits worth of courses, and fortunately the university offered a wide range of suitable options. I pursued my studies in English, and despite occasional language challenges with French, everything went smoothly. The teaching style was different from what I was used to in Finland; it felt less digital, as assignments often required printed copies and there was definitely less need for computers in the classroom.
Meeting new people:
During my exchange I got the chance to meet lot of new people, and for me that was definitely one of the best things in my exchange experience. Parisian locals and students proved to be friendly although sometimes reserved due to language differences.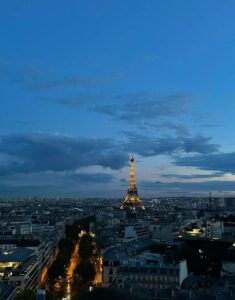 In addition to connecting with the locals, Paris welcomed a diverse community of international students. At our university, I had the pleasure of meeting individuals from Italy, Germany, Portugal, Belgium, and beyond. I became friends with many of them, and we explored Paris and the French culture together. It was also enriching to learn about their diverse backgrounds and cultures, gaining insights into their home countries. These relationships not only enhanced my social life, but also introduced me to different world views and perspectives.
The people I met during my exchange played a crucial role in my overall experience and I am very grateful for the friendships I made!
Reflecting on an unforgettable experience:
To sum up, my exchange in Paris has been an exceptional chapter in my life. From the city's captivating streets to the academic challenges and the wonderful people I have met along the way, this experience has broadened my horizons, deepened my worldview, and left me with many wonderful memories. I carry with me a deep appreciation for this opportunity and encourage anyone with even a hint of interest to explore the exchange program as well!
Liina Ihalainen
Business Administration student