I am Milan Gautam. I left Nepal for Finland in 2014 to pursue higher education at Häme University of Applied Sciences (HAMK). I graduated with a  bachelor's degree in Mechanical Engineering and Production Technology from HAMK in 2018.  I am currently working at HAMK Tech Research unit as a Development Engineer in Robotics Research Group. My work is to execute industrial projects focused on collaborative robots and associated technology and developing the robotics lab environment in Riihimäki.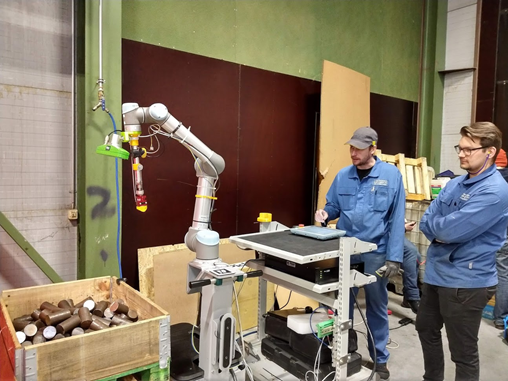 मेरो नाम मिलन गौतम हो। म सन् २०१४ मा HAMK मा उच्च शिक्षा हासिल गर्न नेपालबाट फिनल्यान्ड आएको हुँ। मैले HAMK बाट सन् २०१८मा  मेकानिकल ईन्जिनियरिङ र प्रोडक्शन टेक्नोलोजीमा स्नातक डिग्री हासिल गरेको हुँ। म हाल रोबोटिक्स रिसर्च समूहमा डेभलपमेन्ट इन्जिनियरको रूपमा HAMK Tech रिसर्च इकाईमा कार्यरत छु। मेरो काम सहयोगी(Collaborative) रोबोटहरू र सम्बन्धित टेक्नोलोजीमा केन्द्रित औद्योगिक परिक्षण कार्यान्वयन गर्ने र HAMKको रिहिमाकी (Riihimäki) सहरमा रहेको क्याम्पसमा रोबोटिक्स प्रयोगशाला विकास गर्ने हो।
Collaborative robots, abbreviated as cobots, are designed to facilitate human robot collaboration at different levels in various industries. The HAMK Tech Research Unit  started to explore the possible application areas of the collaborative robot in April 2018 with the commencement of the Y-robo project which was funded by the Häme regional council. The project lasted  a year until April 2019 where five industrial cases were carried out in the Kanta-Häme region and two unique applications from agriculture and construction area were tested. The project did not only focus on technological solutions but also on learning across boundaries between companies and an educational institution with the participation of HAMK Edu Research Unit.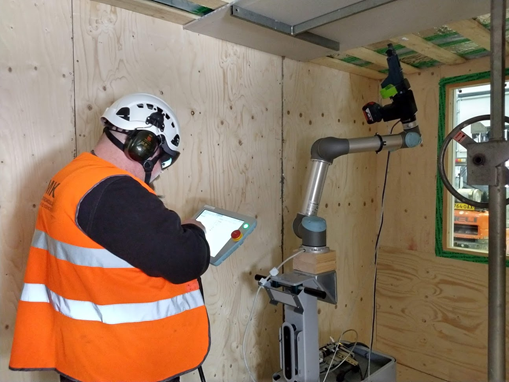 सहयोगी (Collaborative)  रोबोटहरू संक्षिप्त रूपमा कोबोटहरू(cobots) विभिन्न उद्योगहरूमा विभिन्न स्तरहरूमा मानव-रोबोट सहकार्यका लागि डिजाइन गरिएको हो। HAMK Tech रिसर्च इकाईले अप्रिल २०१८देखि सहयोगी रोबोटको सम्भावित अनुप्रयोग क्षेत्रहरूको अन्वेषण गर्न शुरू गर्‍यो । यो काम वाई रोबो(Y-robo)  परियोजनाको थालनीबाट भएको थियो, जस्मा Häme क्षेत्रीय परिषदले आर्थिक अनुदान प्रदान गरेको थियो। यो परियोजना अप्रिल २०१९ सम्म एक बर्षसम्म चली रह्यो। यस परियोजनामा फिनल्यान्डको कान्ता-हामे(Kanta-Häme) क्षेत्रमा पाँचवटा औद्योगिक परिक्षणहरू गरिएको थियो । साथै एक कृषि र एक निर्माण क्षेत्रमा गरेर दुई नयाँ अनुप्रयोगहरूको परीक्षण गरिएको थियो। यस परियोजनाले प्राविधिक समाधानमा मात्र केन्द्रित नभएर  कम्पनी र शैक्षिक संस्था बीचको शैक्षिकदुरि साथै नयाँ प्रविधीको अंगीकरण गर्न चाहिने औद्योगिक शैक्षिक परामर्श सम्बन्धित अनुसन्धान HAMK Edu  रिसर्च इकाईको सहभागितामा गरेको थियो ।
HAMK Tech has established a robotics research group headed by Principal Research Scientist Francois Christophe to further explore the possibilities with collaborative robots. Work with collaborative robots continues with the aid of European Union EAKR funding called RoboTS- Second generation of robotics.
HAMK Techले सहयोगी रोबोटहरूको सम्भावनाहरूको थप अन्वेषण गर्न वैज्ञानिक फ्रान्कोइस क्रिस्टोफको नेतृत्वमा रोबोटिक्स अनुसन्धान समूह स्थापना गरेको छ। अहिले यूरोपियन युनियन EAKR कोषको सहयोगमा सहयोगी रोबोट सम्बन्धित काम Robo-TS नामक परियोजनाका साथ निरन्तर भइरहेको छ ।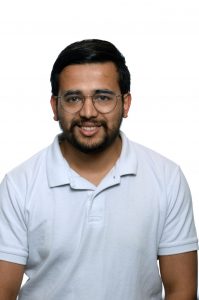 Milan Gautam
Development Engineer, HAMK Tech Robotic Research Group
मिलन गौतम, डेभलपमेन्ट इन्जिनियर, HAMK Tech रिसर्च इकाई रोबोटिक्स रिसर्च समूह

Further readings:
Ryymin, E., Gautam, M., & Väisänen, T. (2019). Collaborative Robots Transforming Work and Learning. HAMK Unlimited Journal 23.9.2019.