Philipp Veresov is a final year student of Construction Engineering, who has interesting work placement in the world of research. He is one of the HAMK students who is working during their studies in HAMK's research units.  
Philipp works as a research assistant in HAMK's Sheet Metal Centre research unit. His responsibilities includes preparation of the study materials, assistance with preparation of test arrangements, guidance of two design projects for FUAS Summer School and assisting teachers with creation and explanation of assignments.
During his work placement, he has been involved in many research projects and tests, like testing of local stability loss of beams under bending. "The goal of this test was to demonstrate phenomenon of member stability loss under bending and its relation to slenderness of the cross section." Philippdescribes. Besides the standard testing, he has a chance to take part also to the high profile research, which is made for big international companies. "Currently, I take part in the big research ordered to Sheet Metal Center by an outside business partner. It will involve full scale testing of new steel products."
Philipp's professional interests are methods of energy-efficient renovation of multi-stored residential building, design of new industrial buildings and project management of these two. For future, Phillip has straight goals; "My plan for the next five years is to gain more experience in the international construction business, to build a professional reputation and to enroll for a master's degree program."
People are the best thing
When asked about the best thing about working in the Sheet Metal Centre, Philipp points out the people who work there. "The atmosphere created by the staff gives every trainee a chance to shine or to simply do their job and gain valuable experience," he describes.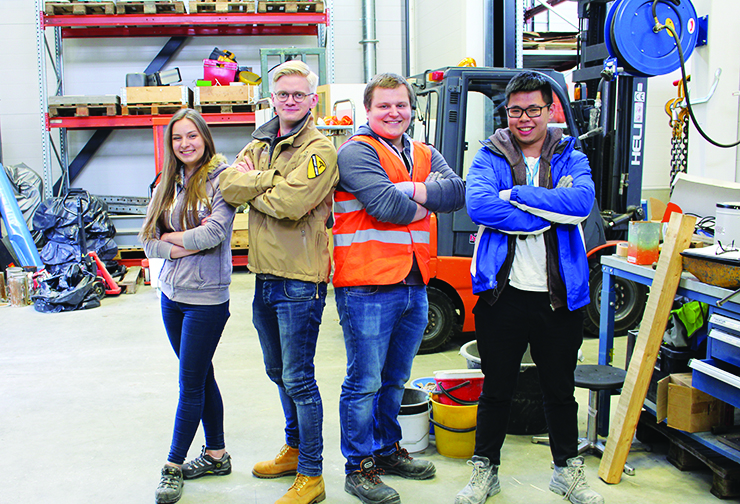 Students in the picture, left to right: 1) Anna Makarcheva. Automation Engineering 1st year, Trainee in SMC. 2) Philipp Veresov, Construction Engineering 4th year, Student Assistant in SMC. 3) Lev Antimonik, Construction Engineering 4th year, Trainee in SMC. 4) Tran Hoang Anh, Construction Engineering 3rd year, Student Assistant on SMC. 
——
Sheet Metal Centre 
Sheet Metal Centre (SMC) is the oldest research unit of Häme University of Applied Sciences (founded in 1998), with nearly 20 R&D employees and a varying number of trainees. They are equipped with e.g. testing apparatus for corrosion and weathering, a test-loading frame for full-scale structures, and strain measuring systems and friction testing equipment. The research and development projects of Sheet Metal Centre aims at improving the competitiveness of Finnish metal and construction industry. They collaborate with industry and other research institutes.
Read more about Sheet Metal Centre and their opportunities for students!