My name is Artemii Polishchuk and I am the third-year student of HAMK University of Applied Sciences who is currently pursuing a degree in Mechanical Engineering and Production Technology.
This year I have participated in the Double Degree Program offered by HAMK and spent two semesters in VIA University College, Denmark.
In this brief article I want to share my personal experience and assist those who are still doubting whether to pursue a Double Degree.
First of all, why Denmark and VIA?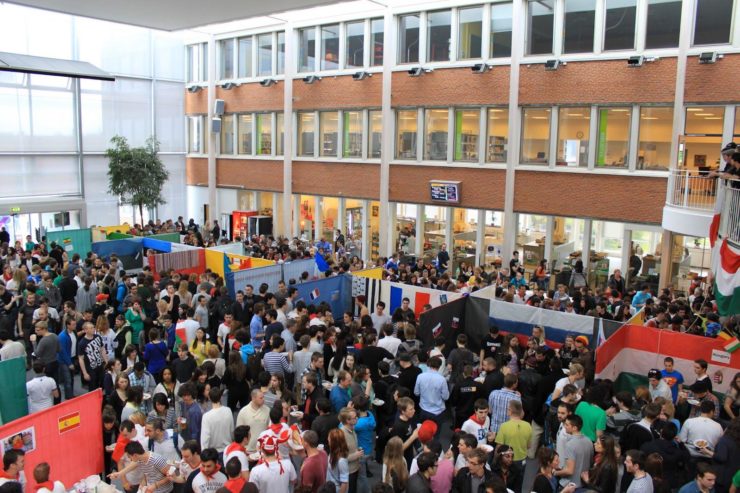 The selection of an exchange destination was in my case determined primarily by the opportunity to get the Double Degree, and since VIA UC was the only institution providing it, I, without further considerations, made a firm decision to go there.
But why was I, and still am, so excited and resolute about obtaining the Double Degree? Well, I considered the Double Degree program as the perfect opportunity to expand and complement my resume and hence to broaden the specter of possibilities for my further technical career.
I was also curios to discover how it feels to study in a different environment and to compare two educational systems by being directly engaged in the process of learning. What also attracted me in the Double Degree program is the great variety of courses offered by the partner institution in diverse spheres and branches of engineering that allowed me to develop my competences in many segments of the technical industry.
Describing my Double Degree experience, I can hardly recall any negative aspects about it, and I in general consider my participation in the program as an extremely useful activity. The tremendous advantage of the Double Degree program, and particularly of the system in VIA, is its great flexibility and wide possibilities for composing a specific curriculum that would suit the personal needs of a student. I myself was pleasantly surprised by how easy it was to alter my study plan and to select and/or remove the courses.
What I definitely want to mention is the unique environment in the campus Horsens that highly encouraged me to study and made the learning process an engaging activity rather than tedious routine. For me, just as for many others, the end of classes did not mean the instant, prompt escape from the institution and return to the residence. On contrary, the spacious, comfortable and bright facility filled with fellow students called to stay and to continue with the learning even after the lessons were over. The library, abundant with books and materials, the professors, opened for questions and ready to assist, the manufacturing laboratory with all the instruments needed for crafting the most ingenious prototypes, the numerous cozy corners and areas equipped with everything required, the pool table, the music and gaming rooms perfect for taking a break – all this at full disposal of diligent and dedicated students.
Concluding all written, I can strongly recommend this program and destination to everyone who is eager to acquire new knowledge and to study in a vigorous international environment.
I can strongly recommend this program and destination to everyone who is eager to acquire new knowledge and to study in a vigorous international environment.
The important thing that I have realized during my stay in Denmark is that the Double Degree program is not only the opportunity to grow professionally and to enhance personal expertise but is also a unique chance to diversify a study path, to add colours, memories and valuable experiences into it and the most important – to understand how vast are the possibilities that the world can offer to a student of any specialization.
Artemii Polishchuk, Mechanical Engineering and Production Technology student