After months of preparing and building the spaces, HAMK Design Factory celebrated the official opening  on 29th of August in Hämeenlinna.
Opening day started (with speeches held by) Mayor of the City of Hämeenlinna Timo Kenakkala, Rector of HAMK Pertti Puusaari & Vice Rector Heidi Ahokallio-Leppälä, and HAMK Design Factory Manager Jari Jussila. Morning continued with Head of Aalto Design Factory Kalevi Ekman and Design Factory Global Network strategist Päivi Oinonen sharing their experiences working in Aalto Design Factory. We also had the pleasure to welcome former NASA astronaut and Founder/CEO of Epic Education Foundation Dr. Charles J. Camarda on stage to share his experiences working on epic challenges in NASA.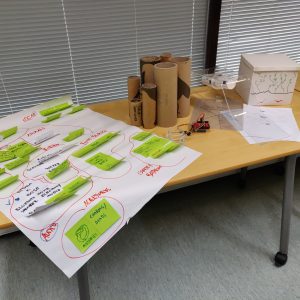 In the afternoon guests had the chance to take part in the Design Factory PD4 (Product Development in 4 hours), where teams had four hours to create a prototype and solution for Iittala Glass Factory using the machines, materials and innovation kits available at Design Factory. PD4 included coaches from HAMK Design Factory and Aalto Design Factory, as well as, shop coaches from HAMK.
These marvelous prototypes remain in HAMK Design Factory for visitors to enjoy.
Live stream and recording of the events
Program
8:45-9:15 Morning Coffee
9:15-9:20 Timo Kenakkala, Mayor of the City of Hämeenlinna |Video | Written speech.
9:20-9:35 Pertti Puusaari, Rector of HAMK and Heidi Ahokallio-Leppälä, Vice Rector | Video
9:35-9:45 Jari Jussila, Factory Manager of HAMK Design Factory | Video | Presentation
9:45-10:00 Nailing the DF cooperation | Video
10:00-10:15 Re-coffee break
10:15-10:40 Kalevi Ekman, Head of Aalto Design Factory | Video | Presentation
10:40-11:00 Päivi Oinonen, DF Global Network Strategist | Video | Presentation
11:00-11:45 Charles J. Camarda, Founder/CEO, Epic Education Foundation | Video | Presentation
11:45-12:00 PD4 Challenge by Iittala Glass Factory, Taija Toivonen
12:00-16:00 Prototyping new with Design Factory Global Network
We want to thank everyone for participating in the HAMK Design Factory opening ceremony. We are looking forward to starting the new projects and courses with our students and partners.