Product Development Project (PDP) at Aalto University is an 8-months long project course where learning is tied to a real-life product development challenge usually given by partner companies. HAMK staff participated in the latest PDP, and this blog series describes the experience as a set of interviews.
Who are you and what do you do at HAMK?
I am Juha-Matti Torkkel, HAMK Design Factory staff and heading the gamEngine Lab at HAMK Smart Research Unit.
What was your PDP project about?
Our team fought and got the project we wanted. It was to build an artificial intelligence themed escape room inside a truck. It's main purpose was to familiarize all aged people to what artificial intelligence is, how it can help us in the future and also diminish fears about it. Our main sponsor was Omnia, to whom the city of Espoo gave the task originally. We also worked closely with companies like Microsoft, Lenovo etc.
What was your team and where were the participants from?
Our team consisted of six members located in Finland and five members abroad. The members located in Finland were originally from Finland (3x), German, India and Greece. The members located  abroad were  from Australia and Estonia.
How was the learning experience in PDP?
Passionate, inspiring and empowering. It has been the best or second best learning experience I have had in school to this date. The only thing coming near was Amazing Business Train (ABT). PDP was totally different from any other experience in many ways. It is hard to explain the whole experience, because it is an experience not just a course. It starts with the inspiring facilities and spaces, tools and machines available but they are just the start. Main difference to any other learning experience was definitely the trust put in the students. They are treated as respectable adults and equals to everyone. They are responsible for everything (timetables, communications with the companies, safety, budget, money etc). Working closely with companies that give you a real problem to solve takes the meaning of your doings to another level and you can almost touch the feeling of wanting to succeed amongst everyone. The course ultimately is about product development but you learn a lot more about other skills you need in work life during the eight months than about product development. PDP takes a lot but it if you allow it it gives you a lot more. The key ingredient for the experience to be successful for me was the community and the great personalities involved. The staff made us feel so welcome that it felt like a place of my own. Their smiles, passion and expertise were very catchy and it did not take long for us to heritage that.
How was it to work in multidisciplinary teams with international students? What was hard? and what easy if any?
I have done many different projects with a lot people around the globe before this so I kind of knew what to expect. It usually is about the personalities and how well do they work together. We had our difficulties with personalities clashing and wanting to force their own way, but nothing too major. Biggest difficulties were information flow and keeping decisions that was already made. A lot of decision were overruled either by us or our sponsor. This made our time management very difficult since we had to re-do them plenty of times. Working inside a multidisciplinary team really helps everyone to understand that there are many sides and approaches to things, not just your own disciplinary´s approach or view.
How do your experience DF, staff, people and spaces?
It truly was an unique experience like no other. We got our certificates three months ago, but I still feel like a part of the DF family. It is because I am.
What did you learn?
It is hard to say specific things during the whole process, but a lot. One thing was that for a student it really makes a big difference if you truly (meaning staff) but students first. Meaning they have time for them, being helpful, reply to their e-mails first etc. The other thing was that the given projects had plenty of space to innovate and the team to choose how they want to do it. So that way their own passions influenced the outcome. When you are working on / learning something you are passionate about it really makes a big difference.
How did the DF staff and environment support your learning?
I think a lot was described earlier. They both were really important as part was described before. They allowed enough of freedom to do things how you want to do them, but also provided the safety net in the same for the cases you failed or didn´t know what or how to do things. So for me it was perfect mixture or learning by doing and asking for guidance and help that was always provided.
How did the project go?
First I want to say that because of so many changes during the process, it was battle until the last day to make it happen, but we manage to pull it off. It was a lot of work, sweat and tears. They said that it will be tough and it was. The ten credits should equal to one hundred seventy hours, but it was a lot more. The thing is that it did not matter, because we really wanted to pull it off and make it the best possible product we can. We were pleased with the end result we were able to put together within in the timetable and as far as we know the sponsors were too. The PDP Gala was a great end to showcase our hard work and have a closure for the journey. In our case our end product meaning the truck actually rolled out from the parking lot with us cheering about it.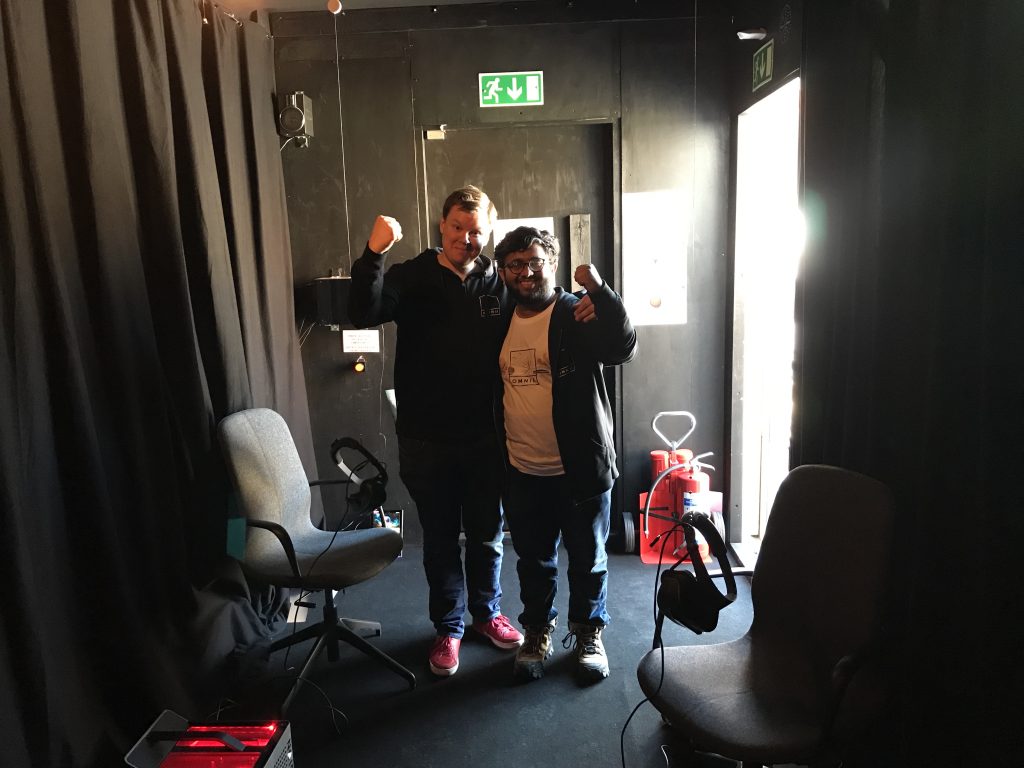 Photo: Jari Jussila. Juhis, master of VR on the left and Dipes the Tech Guru on the right.
Read more about PDP experiences:
About the project itself, you can find more information from e.g.