International business student Amanjot from India has been pleased her studies in HAMK. Amanjot wanted to see the world and increase her self-confidence by studying abroad. From the beginning of applying to school, she has felt welcome in Finland and HAMK.
Why I choose HAMK
In India number of students want to go abroad to make their life better. But I always wanted to go abroad to explore myself and to take power of my life in my own hands. Finland is renowned for providing best education in world, and HAMK is known for giving quality of education in Finland. I found lots of information about HAMK on its online channels (website, FB, YouTube, Instagram, Twitter).  With words of my experience HAMK is a great education institution where each and every student is treated equally with no discrimination. It has an international staff from countries like Canada, Spain, India, the Netherlands, America and many more.  HAMK provides various opportunities for students to increase their international competences during their studies through exchange and double degree programmes, work-placement and by organizing international class trips. In real sense I am getting more chances to explore myself internationally.
Experience with my resident and application process
Before applying to HAMK, my family did not agree with me about my studies abroad, but I wanted to go to see the world outside my small town. When I applied I did not tell about it until after passing all formalities and getting selected. Then I asked my parents for applying resident permit. It was a golden opportunity for me and a decision I needed to make, and my father supported me in applying for a resident permit. We did not have any knowledge of what to do and how to do it. Fortunately HAMK was there to guide me. Amazing thing was that I was able to get a resident permit without contacting any consultant. Every time when I emailed HAMK personnel from India I was getting prompt reply and they never made me feel that I was left alone. It was like I know them already. It was a great experience to learn to take steps confidently even when you are not sure what to do.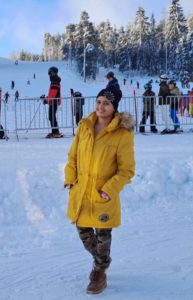 Study Experience at HAMK
In HAMK it was for the first time that I experienced an education institution preparing students to the business world by well thought lesson plans. The students are given the opportunity to participate by starting with what students know already and by reviewing their material from previous course of study or experience. The students are helped to plan their future by giving great courses with a global mindset and individual study counselling. The long-term learning is encouraged when the students strive for their desired field of expertise. All students' individual needs are taken into account and everyone is helped to build their brighter future. A wide set of materials, resources and strategies are introduced and utilized. I am enjoying my studies at HAMK!