Elizaveta Tunik studies International Business at HAMK's Valkeakoski campus. Elizaveta finds Valkeakoski a great place to study and live and in this blog post she introduces you the advantages of this small but versatile town.
My name is Elizaveta Tunik, I am the second year student of International Business degree in English at HAMK Häme University of Applied Sciences, Valkeakoski campus. I moved in Finland more than one year ago from Russia when my studies started and since then I have lived in the Valkeakoski city.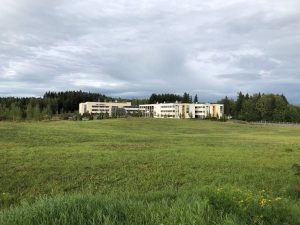 Short distances to everywhere and lots of free time activities
In my opinion, it is an incredible place to live for all students who attend a full-time studies in its campus. First impression was that this place is so quiet and small, full of nature and amazing friendly people, but it became its best advantages with time. Quite a lot of my classmates from other countries also live here and we have found a lot of ways to spend our free time with quality. Student accommodations are located really close to one another, approximately 10 minutes' walk. It is more than affordable to come to your friend's place and hang out, work on the assignments together or have a home student party. Valkeakoski campus is 5-10 minutes' walk away from all accommodations likewise.
Moreover, city center is less than 3 km away and there you can find everything you need: big supermarkets, night clubs, cafes, sport clubs, football stadium, dance studio, library, hospital, restaurants, swimming pool, gyms, and so much more. Because of a HAKA football team there are a lot of football matches going on and it is really interesting to visit this type of events.
Enjoying the Finnish nature
Also, Finland is famous because of its amount of lakes and Valkeakoski city is not an exception, no matter what season it is, without any doubts you will be beyond happy if you go to a hot Finnish sauna one day and enjoy a long swim in a lake right after. The Finnish nature is something what definitely got my attention the most. I am a big lover or climbing and camping, that is why a long walks and runs in quiet forests amazed me a lot. And I would love to mention that sunrises and sunsets here are so incredibly colorful.
Central location and easy access to bigger cities
In addition, I would like to say that public transportation is well developed for everyone and with a student card it is easy to travel to other cities with good discounts. Valkeakoski is located really close to a big places like Tampere, Hämeenlinna, Helsinki, etc. That is why for me and every other student it is very affordable to travel around and hang out with friends in other cities and explore new areas.
Valkeakoski is definitely a great place for all the students who come to study at HAMK, Valkeakoski campus.