Satyam Arora is a first-year Computer Applications student at HAMK. During these months he has already learned a lot about different web development languages and a little bit of Finnish language too. The reason why he chose HAMK was the practicality over research-based studies. And now he is already gaining work experience while working as a part-time intern at the ad-tech startup called Cyreen! The company is situated in Germany and Satyam works remotely from Finland. As a Data Scientist he supports the team with analytical insights.
Tell a little bit about yourself
I am Satyam Arora, a 19-year-old kid from the exotic country of India. I came to Finland for my Bachelors' degree in Computer Applications at Häme University of Applied Sciences in August of 2019 with a lot of hopes and aspirations. I came here right after completing my high school diploma from Delhi Public School, one of the top schools in New Delhi. I got my diploma in physical sciences i.e. Physics, Chemistry, Mathematics and Economics.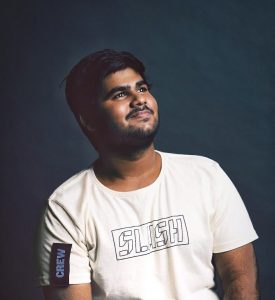 Apart from this boring stuff, I like to play basketball and the piano in my free time. I am not much of a party person; hence I would rather prefer to be curled up in my bed with a good book rather than waking up with a hangover in the morning. I love to cook, so the transition from getting home cooked food in India to cooking for myself here was pleasant. I love to game whenever I can get the time to. I play on an Xbox console, but lately haven't got much time to indulge myself into that. Halo, Call of Duty: Ghosts, GTA vice city, GTA V, NBA 2k18 are some of the games I have played a lot.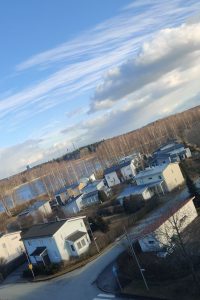 Why did you decide to study at HAMK?
Since, I had made up my mind of studying in the country with the best education system in the world, choosing HAMK was indeed an obvious choice. The reason being practicality over research-based studies. While going through the brochures of all the UASs, I found HAMK to be the most appropriate one as they give technical insights along with a work-place exposure. They were many other factors as well, like; they have students from 70 different countries, the highly qualified faculty, they have strong links to many IT companies which is always a plus point to have.
Why did you decide to study Computer Applications?
As I had mentioned before, I got my diploma in physical sciences i.e. Physics, Chemistry, Mathematics and Economics. But, when I searched for bachelors' degrees which I could pursue studying these, they were all highly research based which is not a personal favorite of mine. This was the main reason I had decided to broaden my horizons and searched for a degree which would have the base of the sciences but with a great practical application. After a great deal of searching, I finally found the right fit for me, which was to study computer science, in Finland at a university of applied sciences.
Tell about your work placement?
I am currently employed as a part-time intern at the ad-tech startup Cyreen, which is situated in Wiesbaden, Germany. Cyreen provides intelligent, data-driven marketing solution for the physical point of sale (such as supermarkets) and as a Data Scientist I am responsible in supporting the team with analytical insights. I can work remote from Finland and am in close correspondence with Davide Scheidegger, who leads the strategy and data science department.
Cyreen runs a b2b (business-to-business) business model, which means that our customers are not the in-store shoppers but the brands advertising their products. As a company, we provide two solutions to our customers: 1) Intelligent screens and trolleys, which inspire shoppers with audio-visual advertising directly at the point of sale. The technology allows advertisers to display their ads at the right location and time. 2) The analytics of the data collected by these smart screens and trolleys, providing insights on the advertisement's performance
How did you find this work placement opportunity?
The story about me finding this work placement opportunity is quite unorthodox. I went to SLUSH 2019 in November from the 20th to 22nd. Slush is a tech-event focused towards entrepreneurship. In the event, there are speakers from different fields, big companies like AWS and Google, investors and of course people from startups from all around the world looking for opportunities. I wanted to attend Slush as soon as I got to know about it but since the ticket was too expensive, I decided to volunteer in the program. I got recruited into the cloakroom team.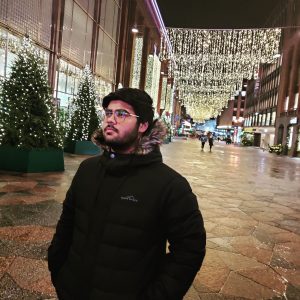 There we after parties at the end of every day organized by Slush, in Helsinki. It was on the 20th, my birthday eve, that me and my best friend decided to go to the party. But when we reached there, it was not a "party" since it was full of people looking to form business connections and not to actually party.
So, my friend grabbed a beer and me, a coke and we sat down at a table. After about ten minutes or so, three people came and sat with us. They introduced themselves. They were from three different companies. They started explaining what their companies did and everything. Two of them were honestly, not that great, but there was one which I really liked. We talked for a while and it was getting boring so I told my friend that we should go to some other club since the birthday eve, but he said he had an early morning shift tomorrow. We argued and had a fight and then went home. The next day, I had my shift in the afternoon and then I went to the after party with another friend of mine. She took a long drink and me a coke. This time though, the place was really beautiful as it was covered with pink and lights and it was in the middle of a park.
We were walking around when I saw the same guy I had met yesterday. I wouldn't usually go and talk with someone I don't know, but that day I did. We were talking about random things and then I told him that I really liked what they were doing and was genuinely interested. In the end, I got a business card and I was really looking forward to it. I contacted them a week later, had some interviews, and luckily landed the position.
So, this was the story of me getting my work-placement on my birthday, at a party.
What have you done during your work placement?
I am doing my internship in data science. So, till now all my tasks have been centered around that subject. Also, they have progressed with a smooth slope. My first task was the database documentation. Simply put, it is to define all the tables, the primary and foreign keys and the contents of the table. I believe that it was the best first task that I could have got since it required me to know the database as well, I developed an understanding of the kind of data that we have.
The next big task could be the research work. We needed a solution for making one of our processes faster and better, so I had to research and get in-touch with people for getting some insights upon the problem. I reached out to Mr. Tapani Honkanen who is a lecturer at HAMK. I knew that he had a background in data-science and would be the right person to contact. He showed me different ways to go about the problem and they were indeed very helpful. There were some basic but necessary tasks as well, like setting up of email signature and introduction to the softwares we are using, for example, slack, bitbucket, pgAdmin, etc.
The most recent task which I'm working on currently is the KPI generation. This included getting the right data from the database, analyzing it and then creating meaningful KPIs which help in understanding the sales and shopper data.
What have your learned during your work placement?
Since this was my first work-placement, the most important thing which I learned from this so far is the working environment. I didn't have much knowledge about how things run in a workplace and specially, working remotely. But now, I have a basic understanding of the "work-place", to say the least.
The next thing could be the usage of different software and tools. I have been working with a lot of different tools and experimented with a lot more softwares related to the IT-industry. This, I believe, really helped me in broadening my understanding in general and enabled me to provide an answer to a bigger range of questions.
Lastly, I have also been provided a Udemy account to further enhance my skills on any related topic. Currently, I am learning the language; Python concurrently as I know it is widely used in data science and would benefit a lot in the future. Also, it would improve the quality of inputs that I would be able to provide for the company.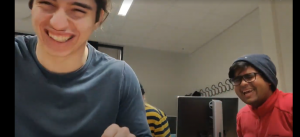 What are you studying at the moment?
Currently, I am learning a lot of things. The one which strikes me the most interest is web development. We are learning 4 web dev languages; HTML, CSS, PHP and JavaScript. We first had to make a static website using plain HTML and CSS to understand the basics of web design. After that, to make the website interactive and user-friendly, we had to implement some PHP and JavaScript elements and using MySQL for the database connection. My team had made a food-blog website called fud-hub. We had used HTML, CSS, PHP and JavaScript. We used MySQL for creating different users and for a comments system for each of the recipes on the website. Another module that we have is Content Management Systems. In this, we are learning about WordPress as a CMS. It just covers the basic of Content management systems and the use of them. For WordPress, we are learning about how to implement a theme and how to create one ourselves, how to create a child theme from it, how to implement CSS changes of our own and basically how to customize it for our own needs.
The other module is about robot programming with LeJOS. It is a Lego programming language based on Java. We had done programming with LeJOS before as well, but at that time it was to build a simple code that makes the robot perform certain tasks like following a line made on the ground. However, in this module, we had to change the code to incorporate threads into our code. Threads allow two or more processes to be run at the same time and hence it would make the program much more efficient.
Alongside all this, we are learning to use the online code-hosting platform, GitHub. Since, most of the modules require group work, learning about GitHub would increase the productivity, efficiency and overall collaboration of the team We are learning the basic commands, like pull, push, commit, creating a repository, forking a repository, adding collaborators, etc.
The last module is Finnish. Currently, we are learning Finnish 2 but there is Finnish 3 as well in the next module. We have just covered the basic till now and the Finnish you would need in everyday conversations like at the grocery store or describing your hobbies or telling about pains like headache and stomachaches, etc. Puhun vähän suomea koska opiskelen Suomi kaksi.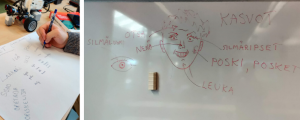 What are your future goals?
Talking about the near future, I aim to complete my university i.e. to get 210 ECTS as early as possible and graduate with a good GPA. Concerning about the years after that, I hope to be working with the same organization as I really believe in what we are doing as a company and the solutions we provide to our customers. I aspire to become a data-scientist in the future. Using my skillset to the fullest and constantly updating it as it is highly required in the IT-industry. Having a broad skillset, I would want to create and give back something meaningful and valuable to the world.
Read another Computer Applications student story:
Computer Applications student Alessandro: "My final goal is to never stop learning"