Maksim Karpelson is a third-year International Business student at HAMK in Valkeakoski but this semester he has spent in Worms, Germany. Maksim is studying for a double degree which means he will get two bachelor degrees instead of one. Double degree studies offers lots of international experience and possibilities to meet new interesting people as well!
Can you tell me a bit about yourself?
My name is Maksim Karpelson and I am from Saint-Petersburg, Russia. I study International Business at HAMK, in Valkeakoski campus. It is the best campus in my opinion from all seven.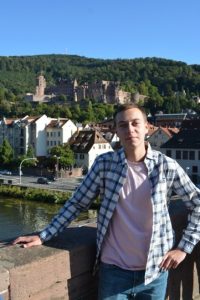 Why did you decide to study at HAMK? And why did you decide to study International Business?
I wanted to have independent life from my family and that is why I came to study abroad. I always had a feeling that I want to study Business, but not regular Business Administration. Instead I wanted to specialize on International affairs of economics. Since it is quite rare program I was very glad to find out that HAMK has it. In 2017 I started my incredible University life and now I am on my third year of studying.
Why you wanted to complete a double degree?
I always wanted to experience a different life in Europe and that is why I decided to study abroad in Finland. During my studies I realized that I have more opportunities to see other countries, and Double Degree was one of them. I looked for exchange programs and mostly there were suitable for one semester, so I took a risk and applied for the Double Degree program in Worms Hochschule.
What have you studied in Germany?
Most important that I understood is that I can't be late. I am not very organized, but life in Germany changed me in a good way. Here this semester we did a big accent on politics and creation of Economical alliances, it was very interesting to go deep in this field. Moreover, I had excellent Entrepreneurship classes, which gave me a lot of insides about start-ups.
What is the best thing in the double degree?
The best is that each person has an opportunity to meet so many international students, who have the same idea of travelling and receiving new emotions from various places. To stay one year abroad is also what many people consider as an advantage of DD program. And of course two diplomas from different countries tells a lot about the person, when you are looking for an internship or work place.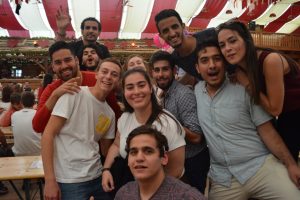 What was the most challenging thing in the double degree?
I did not count that I will study so much. Double degree requires a lot of work and studying. I have many quite complicated subjects, which I need to pass, but they are all extra interesting for me. This semester I can combine my trips with classes, but how well I can do it, I will see after exam results.
Why would you recommend others to complete a double degree?
Double Degree is an amazing opportunity to see the life in a different country and to understand how various education systems work. Of course, it is an opportunity to study new language and practice your English skills and to meet with other students, who can give their point of view on various subjects, which you never consider before. When you are open to the world, you have much more possibilities and expertise.
How did you manage with accommodation and money issues abroad?
Even I am not European citizen, I applied for the Erasmus grant. I made all needed requests and documents, and finally I received money, which covered my accommodation in Worms, where I live right now, and couple additional costs I have during my stay in Germany.
What have been the most memorable thing during your studies?
I have a lot of memorable days from both my university life in Finland, and in Germany. But if I need to choose, in Finland it was our project, which we made for one of our courses. It is called Coffee and shots, and if you became interested in how it was here is the link to the Facebook page.  Read also a blog post about the Coffee and shots project.
In Germany University provides to exchange and double degree students plenty activities, but one of my favorite was the trip we did to Heidelberg. It is a medium-sized city 1 or 2 hours far from Worms. With a big group we went for an excursion to Heidelberg Castle, and after we climbed a huge mountain to have an amazing view of the city from the top. It was so beautiful and memorable.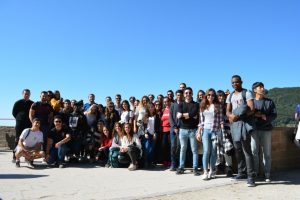 I live my dream life right now by studying what I am interested in and travelling in the country I want to know more about. But the coolest are people I meet during my journey, and going abroad is the best way to make new friends.