Sini Forsblom , who previously worked as a police officer and has since created a career in various positions in sports, is also a part-time student in International Business degree programme at HAMK. IB studies have brought her a lot of new insights from outside of the world of sport as well. For example, discussions with fellow students who are working in different fields, have broadened Sini's perspective. After graduating as BBA, Sini plans to continue with postgraduate studies and aiming for an international career.
Introduce yourself
I'm Sini Forsblom and I live in Riihimäki. I am studying as a par-time student in International Business degree programme and this is my third year of studies. So studies are almost complete and I'm working with my thesis at the moment. 
I work in the field of sports, which is a very different compared to the world of studies. Currently I work full-time at Kisakallio Sports Institute and organize high school camps for young athletes. Once or twice a month on Monday mornings I have been  attending to the Yle morning show's sports panel as well. It has been interesting and very different compared to what I have done otherwise.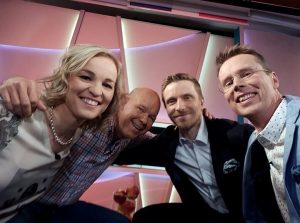 Tell us about your career and study path, what kind of background do you have before your studies?
My background is quite diverse. After high school, I studied to be a police officer and worked in that job for ten years. During my police studies, I was actively playing ringette, which has been my passion.
My career as an athlete ended when I started working as a police officer. However, I started coaching and also became the vice-president and eventually the president of the International Ringette Federation. During that time I realized I would like to work among sports and thought about different ways how to do it. Additionally, I was already considering further education at that time, but then I had the opportunity to go to Hyvinkää Ringette's head of coaching in 2015. Simultaneosly I studied at the Sport Institute of Finland in Vierumäki and graduated as a sports instructor. It would have been interesting to study more, but at that point I couldn't find a suitable study path for me.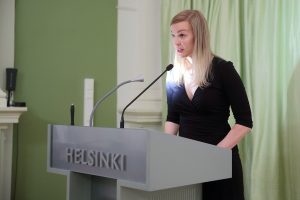 When I started working at Kisakallio, I was also searching  possible study options. At that time I noticed there was application period going on to HAMK's International Business part-time studies. This study option suited me because HAMK's part-time studies required attendance at HAMK only once a month on Fridays and Saturdays and otherwise studies were online. So I ended up applying and got in!
Studying in English has been interesting and I would like to continue my studies possibly abroad. About studying business, I thought it would be good for me to know more about it and a BBA degree would certainly be useful in the world of sports as well. Studying would increase other skills than those related to sports.
How has the combination of work / private life and studies worked for you?
It's been successful, but it's certainly not always easy. I raise my hat to all those who have young children and do this degree at the same time while working. However, my work is binding and during the camps which I organize, I really don't have the opportunity to do anything other than working. That means that when the camp ends on Thursday night, I have time on Friday and Saturday and a little bit on Sunday to do my studies either in Valkeakoski or online. Therefore, I just keep it really well scheduled and look at the calendar in advance when I have to study.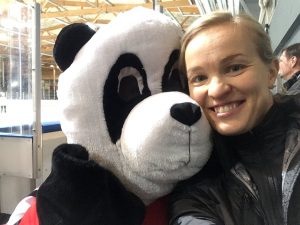 What has been important is to give yourself peace of mind and do what you can and must do. At first, it was more difficult when I didn't know what was required for what. But now I think I'm doing well, even though I haven't had tough goals in my studies. I also noticed that the working life skills and life experience has helped a lot with my studies. 
What has been the best thing about studying?
The best thing has definitely been my fellow students. It was a surprise to me that in the context of online studies, we can get to know and network so well. It has been top notch! Of course, you can't get to know as well as you do as a full-time student. But within these attendance days, it has been nice to chat with fellow students. I have learned a lot from them and it has been great.
Another good thing is that studying has been as a really good counterbalance to work. There are people in our student group from many different fields and, as far as I know, there have been only a few people in our group who work among sports. It's nice to have contacts outside of sports as well. In general, of course, it is nice to learn something new, and at the same time I have noticed I have become interested in many new things!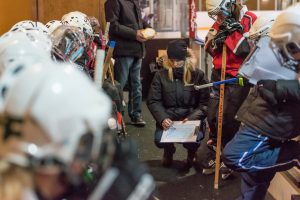 What is the most challenging thing with studying?
The most challenging things have been time management and coordinating schedules when doing something in groups or in pairs. Fortunately, we are able to do things over the phone and we have also done a lot of work at Teams. It has been successful and even before the corona we had adapted to work remotely.
Needless to say, sometimes the flow of information is challenging when we're not on the campus asking things face to face. Understandably, teachers are teaching and doing other work during the day. Sometimes the flow of information has caused problems.
At the same time, it is instructive even for those students who do not yet have so much work experience. It's good to notice that this is how things sometimes go and the flow of information can be problematic in working life as well. But everything has been resolved, and there have been no bigger problems. Distance learning is probably not the easiest possible setup for teachers either. Thanks also to them for their patience in the flood of questions.
What do you think about part-time learning?
If it were possible for myself, I would like to be a full-time student and study physically on campus, listen to the teachers and discuss about things. Since that's not possible now for me, this part-time opportunity has been a really good thing. I have also had been able to have a two-way conversations with teachers or send email and ask for advice. If the options were that you study either full-time or not at all, then this is just awesome, that there is also the opportunity to study in a part-time way.
Has your studies at HAMK been useful to you in your work?

If so, how?
It has been a great advantage to get to know people from different fields. At the same time my your own perspectives has been broadened.  I allows me to bring out new and alternative ways of working in my own workplace. Also, many different digital tools have been unfamiliar me before, but during my studies I learned to use many of them.  
In general, studies have brought different perspectives and a lot of new insight. The world is constantly changing and it is important to understand it and learn to use different opportunities.
What are your future plans?
Internationality is interesting and it would be nice if at some point I found employment abroad. I will also continue my studies after this degree, but I still don't know if I will continue right after these studies. Probably I won't continue immediately.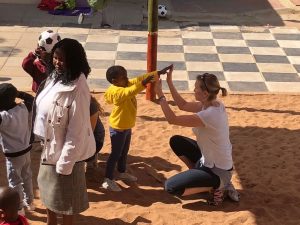 I am interested in Master's studies, but I still don't know if they would be related in sports or not. Management is interesting and I feel like I could do that kind of work. Communication and marketing and many other things are also interesting, so I don't know yet what I will end up with my future studies.
In any case,  Master's studies are a long-term plan that I already had before my current studies. Before I started studying, I had a stronger feeling that I wanted to work specifically in sports. However, now, I'm not so sure anymore and I could imagine working in another field as well.
What would you like to say to someone who is planning to study International Business? Any t

ips?
I encourage everyone to study and I also encourage to be patient, because in today's world, it feels like you have to get everything you learn right away. Over the years, I have noticed that it is good to learn more than what feels like the core issue. This way, you learn to think a little more broadly and get a chance to understand things better. At times I've wondered myself whether things I have studied are beneficial, but they are in the end. For all those who are wondering about being able to study alongside work and whether it is possible, I can say that is it.
See also International Business
Part-time Frequently Asked Questions