Marion Marre spent winter 2019 at HAMK as an exchange student. She is from the south of France and currently she is studying Marketing in Audencia Business School in the city of Nantes. During her exchange she was studying in the Business Administration (liiketalous) degree programme and she participated Marketing Dynamics and Global Fashion Business modules. In her spare time, Marion had opportunity to travel around in Finland and other Nordic countries.
When were you at HAMK as an exchange student and what did you study here?
I was in HAMK during winter 2019 semester. I had to choose the module, so I naturally followed Marketing Dynamics course and I wanted to discover something new for me: my second choice was Global Fashion Business module.
Why did you decide to apply for an exchange in Finland and at HAMK?
My university and HAMK just began their collaboration in 2019, so I was the first to take advantage of this exchange. It was the occasion for me to introduce this new association. Then, Finland is famous for its good English level talking and for its education level. And, it was the perfect occasion to discover a culture really different from mine.
What were your expectations from your exchange and did your experiences at HAMK met your initial expectations?
My main expectations were to discover: discover new competences, people, culture, experiences. These are finally Erasmus goals to me. The reality was better than my expectations. I had unforgettable experiences with the university, such as a big project in Fashion Business which allowed us to participate to the Copenhagen Fashion Week. I met people who became friends for life and shared with them incredible travels with amazing memories.
What were some differences between the educational system in your home country and education in Finland?
Finland and France educational systems are really different. In France, our assignments are mainly written exams, but the truth is that you are just repeating your course without learning it. In Finland, you apply your knowledges with concrete and interesting projects. In terms of Marketing, I think I have learn more in 5 months in HAMK than in 3 years in France.
Another point that impressed me was the HAMK support for exchange students. For my arrival, everything was anticipated, especially for the accommodation. Then, during all the semester, coordinators and teachers were here for us. Special mention for Virpi Peltovuori who was a big help for us and always available!
What parts of Finnish culture you were most excited to experience?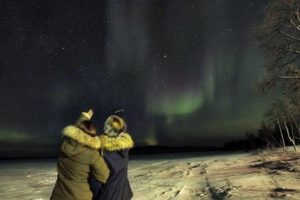 I was excited to experiment everything: the 100% English, the safety, Finnish personality… and the cold of course!
Were there any difficulties adapting to the new culture?
At the beginning, the biggest difficulty was the light, the lack of sun during the day. But with time it's okay. Then, Finnish personality is really different from mine. In culture like mine, people are extremely friendly, not really in Finland; but that's cultural, not impolite!
What did you do in your spare time?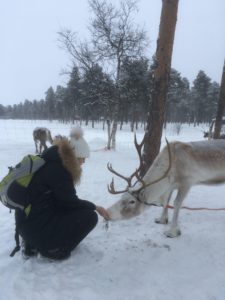 I took all spare time occasion to travel: Nordic countries, Lapland, but also Finland countryside and lakes.
How has this exchange experience affected your future career?
This exchange and all the projects I did there helped me to enter a really good business school in France, in which it's difficult to enter actually. As I said, I learned a lot in terms of Marketing tools and knowledges, which are essential to my future carrier. But the biggest improvement is my English level and facility.
What would you say to a student who is considering having an exchange period? Any tips?
Choose HAMK! Take advantage of all opportunities which are offered to you, in and out the university.
Enjoy the HAMK restaurant, which is really good 😉
Finland is the best choice for an Erasmus exchange, don't hesitate a second more. I promise you that at the end of your exchange, you will have one will: to come back.