Hey everyone! My name is Ulvis Metra, I am a second year student of International Business at HAMK Valkeakoski. I combine school with one of my biggest passions in life: floorball. I play for the Hämeenlinna Steelers in the Finnish Salibandyliiga.
"This is the place I want to study"
My journey here is an interesting and very lucky if I could say so myself. I knew that I wanted to study and play floorball overseas after graduating upper secondary school. I had no idea how to apply or even find schools in Finland, so I went to an annual university convention that happens in Latvia every year. I had visited almost every single stand, but did not find anything I was looking for. But then, when I thought that all was lost, I stumbled upon the HAMK stand. I talked to the representatives and students there, we connected instantly and I knew then and there that this is the place I want to study. After a while I took my entrance exams, passed them and was ecstatic to know I would be a student here.
Combining studies and the life of an athlete requires planning – but is possible!
Outside of school, I knew that I wanted to play floorball here also, that has been my second priority always. Fortunately I was a part of a great team back in Latvia and had the joy of winning gold in all of the major competitive levels of Latvian floorball: junior, first division and the men's league. Also had the honor of representing Latvia in the 2017 World Junior Championship where we placed fifth. I was looking for options to grow myself further as a player and seek out new challenges, the high level of the sport that is played here provided me with that.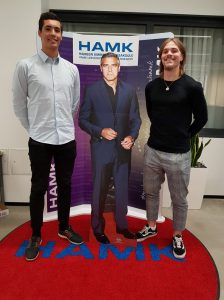 Combining school with sports is always a peculiar task with any dedicated athlete, but everything is possible is you put your mind to it. My days usually consist of classes in the morning and day between 8am until 4pm, small break at home and then practice from 6pm until 9pm. After practice, I go home, take care of necessary school tasks and just relax to prepare for the next day. This is what my weekdays usually look like. I practice 6-7 times a week with games on the weekends so I takes a lot of planning on how and when to execute all necessary school tasks in between.
Supporting environment both in and out of school
It would seem that all my days are a rushed and I do not get a lot of time for myself, but that is just how it goes for me. Our teachers and staff of our school are super understanding of out of school activities and try to help us as much as they can. Our classmates cheer us on in our ventures and come to see our games once in a while. You could not ask for a better environment both in and out of school.
If you have passion for academic studies and something other outside of school, I would say that HAMK would be the right choice for you. The international learning environment, supportive school staff and professional atmosphere is valuable for anyone wanting to grow as a professional and as a person in general.
Hope to see you in the halls!