Elina Aattela is a second year student in HAMK, Valkeakoski campus and currently studying International Business. She is 22 years old native Finnish girl from Lempäälä who went on exchange to Austria, Graz. Read more about Elina's interesting experiences from exchange and how she ended up in HAMK from the interview below!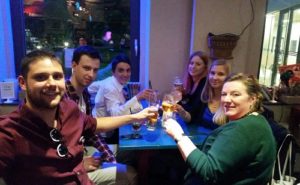 How did you end up in HAMK?
After doing several career tests and searching what were my strongest sides I decided that I want to have a general knowledge and basics of a business administration, BUT I didn't want to be just the "normal" bachelor of business administration and added the characteristic of "international" in my searching process for education. HAMK had a degree of international business in Valkeakoski which suited me perfectly because I didn't live far away from there which let me still be in contact with my family and friends every day. But actually my path to HAMK wasn't easy because I applied two times before getting in but as a result of that I got the best classmates I could wish for!
Why you wanted to have an exchange period? Where you did your exchange?
The degree of International Business in Valkeakoski is one of the best considering going on for exchange and that is the simple answer for this, but of course my own goal was to take full advantage of my studies which included exchange period. I wanted to push my limits, see the world and I was honestly interested how the education in different countries is. Therefore I decided to go to Graz, Austria.
Why heading to this country for exchange?
In my first year of studies I had already decided that I want to go for exchange in Spain but when the time came I actually was a bit scared and decided to explore a country little closer, Austria. I had no expectations since I have never been to Austria but I was visiting Germany in 2016 as a part of Finnish-German Summit and that place blew my mind, and maybe that's why I decided to go to Austria; to still be in a similar country but have a little change of scenery. I started to do research and realized that Austria is the perfect place for exchange. Education level, economy level, general knowledge, etc. all the ordinary indicators were right in place but what really was most fascinating to me was that Austria is in the middle of the Europe and the thought of eight neighbor countries with different cultures influencing Austria was worth to experience.
Tell something about your exchange university?
Campus 02 is a modern and rather new school of applied sciences in the city of Graz. The school has roughly 1300 students altogether and provides five different bachelor degrees and six different masters degrees. When I first got here I was sincerely surprised how warm was the welcoming and how well the Institutional International Coordinator Barbara Schantl and Departmental International Coordinator Veronika Wolf took care of me and gave aid with whatever I needed. I could really feel that they wanted me to enjoy my stay which enhances my exchange experience to ultimate level. The courses have been purely amazing; I have learned so much in so short time and the diversity of learning techniques with combined to equal amount of theory and practical learning is more than I could have asked for. Not to mention my classmates who have been trying their best to integrate me to their group even though I'm a typical Finnish who warms up really slow. Overall, I'm more than content to this university and its courses, teachers and facility.
Tell something about university life?
I experienced a small culture shock when I discovered that my lessons will take place in Saturdays and sometimes late in the evening for example, Friday evening from 17:45-21:00 but regardless I have enjoyed the free time I have in the week. And actually I think there is more going on in the week than on the weekends. Second shock was that no one uses the school canteen but bring their own lunches or order regular food delivery, nevertheless I learned how to handle this and in addition, I can't even explain the hospitality of Austrian people; always sharing their food and offering whatever snacks they have taken with them. It's amazing! I have gotten to know the Austrian classmates from bachelor degree but also the master's degree students which has given me insight on Austrian business life, work life, night life you name it. In addition, with me arrived six other Erasmus students and needless to say we have been hanging together.
What has been the best thing in exchange?
Every year the Mayor of Graz invites all the exchange students to a welcome reception in the City hall. This year it was my university's turn to be the honor school at the event and they proposed me to give thank you speech to the Mayor. It was such a valuable, memorable and honorable opportunity for me. I actually was a bit overwhelmed by the positive feedback I got from so many different students and teachers after the speech. This was one of the best experiences so far. And in general the second best thing is (I know this is a cliché but you need to experience it to really understand it) getting new friends and talk across with them what differences you have between and realizing that there is more than your own country in this world. In addition, the third best thing is yet to come!
What has been the most challenging thing in exchange?
There is not much to say what has been challenging but I guess scheduling the school has been tricky since I have so much free time I sometimes forget I have homework, essays, exams to do. There is no regular school rhythm what I have used to in Finland. Going abroad is scary in the beginning and if you don't move from your flat to anywhere you miss out a lot and this is something I have been terrified of but up until now it hasn't happened. But I think it sums up what are the challenges when I say that the hardest part is to miss out on experiences and to leave back home.
How you have managed with accommodation and money issues in exchange?
There is a great Facebook page for students in Graz who are looking for apartments to rent and that's how I got mine, My landlord is exceptionally friendly and my flat is perfect for me. I live with two AMAZING girls and we have big rooms, huge flat tv with satellite, wifi and the whole apartment is recently renovated. The flat is near the city center, my landlord got me a bike and the rent is €430 month. I think I got really really lucky. I was granted with Erasmus money of €1,200 and from Finnish government the €504 / month. In the beginning I started to store all the receipts so I can every month see how much I spent and for the first month the amount was 500 e (excluding rent) because I needed to buy all the necessities. But after that it has been surprisingly low ~250-370€ / month. One thing to bear in mind, cash rules here; plastic money is not common, therefore I have to withdraw money every month and I researched if there are any additional fees with my bank.
Anything else?
I have learned so much about my field of study and about myself. And to get recognition of that I have heard this sentence many times "You are not a stereotypical Finnish person, you are open, warm and outgoing and even your voice is more melodic than I had thought" therefore I believe I have developed as an international person. Gaining independence and trust on your own performance is vital in this part of life and exchange is a great way to achieve it. In addition, I was farsighted and well aware of the post Erasmus depression and decided to right away apply for another semester of exchange. I'm going to Spain!
Read more about HAMK International Business degree programme here.