Formulas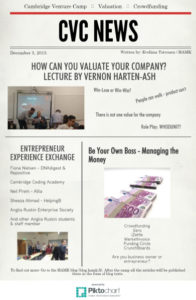 Today (3.12.2015) was quite different day than the other days. Our day started with the lecture about valuation by Vernon Harten-Ash. Harten-Ash is the managing director of The Harten Group and works closely with different venture capitalists and business angels. He had a quite different approach to a subject: How to valuate your company. Companies which sell products rather than services are much more easier to valuate because people can walk, products can not. Valuation is not simple simple, because the is not one value for any company. Harten-Ash also convinced us that not every entrepreneur or business manager need to understand numbers – instead of that you need to have someone close to you who understands. Harten-Ash gave us also couple of formulas about valuation:
Net Book Value
EBITDA (Earning Before Interest Tax Depreciation and Amortisation)
IRR (Internal Rate of Return)
Multiples
Market Pricing
When it comes to valuation, Harten-Ash summarised the most important things: there is a lot of definitions for valuation, every business manager should know a new methods, value can and will change overnight, you should only agree what is worth to you and the valuation process is not over until the fat lady signs. After the lecture Harten-Ash gave a role play task for students. Some of them were buyers, some of them company owners and there was the price competition between buyers with different background information. This was an useful and demonstrative practice.
Entrepreneur experience exchange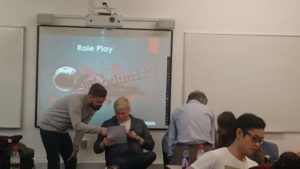 In the middle of the day we had an entrepreneur experience exchange event where local entrepreneurs were sharing their experiences with us.
Maybe the most interesting discussions were with Cambridge Coding Academy and Anglia Ruskin Enterprise Society members. Cambridge Coding Academy was interesting because programming and coding are a big topic currently in Finland. On the other hand from the discussion with ES students I learned a lot about the operations of student societies. There was also a lot of changes to promote HAMK as a university of applied sciences.
Be your own boss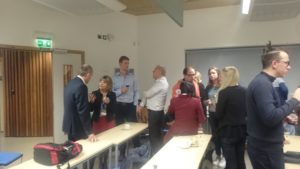 In the evening we attended in part of the Be Your Own Boss -seminar series. Today's topic was managing the money and it was presented by Gary White. White is the director of CBHC Chartered Accountants. Even though the lecture considered those subjects mostly from the UK's point of view, there was also a couple of interesting companies mentioned. Such as Funding Circle and CrunchBoards. White also asked one question, which was an interesting one: Are you a business owner or entrepreneur? After the lecture there was left a time for free networking and we had a nice conversation with ARU students from Uruguay.
What is Cambrigde Venture Camp?
Cambridge Venture Camp is a business idea camp for students in four Finnish universities of applied sciences, arranged by Laurea Entrepreneurship Society. HAMK, LAMK, Laurea and KYAMK are the universities of applied sciences attending. HAMK students and staff members have been attending Cambridge Venture Camp for a couple of years. This year it was my turn to attend Cambridge Venture Camp "CVC" as a role of a staff member with a couple of HAMK's students with their business ideas. CVC was held from 30th of November until 5th of December. This time there were students from Finland, Taiwan, Russia, Pakistan and Germany. Students were from different fields of education, such as Construction Engineering, Design, Business and Physiotherapy. This blog report my experiences from the trip and highlights the most interesting topics or ideas.