Maximise your change of success – minimise your time!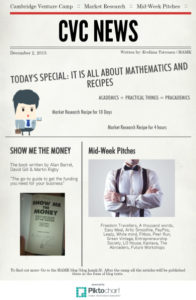 Our day today (2.12.2015) started with a lecture concerning market researches and it was held by Chris Lamaison from Cambridge Resolution. The company focuses on market research for technology companies. Lamaison gave us two recipes for market research. The first recipe was for doing an indicate market research in 10 days, over several weeks.
Agree scope of project (+training) 0,5 days
Web search and ringing a few known people 2 days
Sample from database (+build your own) 2 days
Telephone interviews (25) 2 days
Personal interviews (2 key influencers) 1 day
Summary report, data entry, analysis 2 days
(Informal) presentation 0,5 days
TOTAL INVESTMENT OF TIME 10 DAYS
The second recipe was a recipe for market research in four hours. I found this really interesting and there might be many potential possibilities of using in my own work. For example in Amazing Business Trains and different market research project for our customers students could use this recipe.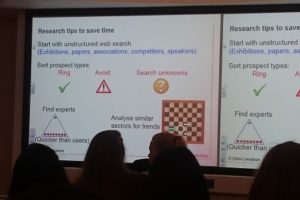 What data do you most need? – Maximum of 5 key issues
Web search – Market size, growth potential, sectors etc
Three short questions – Not same 3 for every person
Find 20 relevant sources – Prospects, speakers, experts
Telephone 5 five people – Small sample
Analysis – Only 5 brief statements
After the lecture students got the real market project from their own business idea. They had to scope their research with 4 different questions: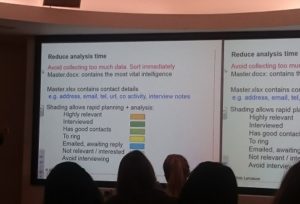 What do you really need to know?
Who will you interview?
How will you start the conversation?
Which three questions will you have?
Mid-week pitches
After the lectures there was time for students to pitch their business ideas. There was 15 pitches in total and ideas were about concerning about for example smoothie bars, money transfering business but also new construction innovations. Students got a lot of important comments from teachers, Laurea ES member and from Alan Barrel, who is the professor in the University of Cambridge.
What is Cambrigde Venture Camp?
Cambridge Venture Camp is a business idea camp for students in four Finnish universities of applied sciences, arranged by Laurea Entrepreneurship Society. HAMK, LAMK, Laurea and KYAMK are the universities of applied sciences attending. HAMK students and staff members have been attending Cambridge Venture Camp for a couple of years. This year it was my turn to attend Cambridge Venture Camp "CVC" as a role of a staff member with a couple of HAMK's students with their business ideas. CVC was held from 30th of November until 5th of December. This time there were students from Finland, Taiwan, Russia, Pakistan and Germany. Students were from different fields of education, such as Construction Engineering, Design, Business and Physiotherapy. This blog report my experiences from the trip and highlights the most interesting topics or ideas.