Anastasiya Malyshenko is recently graduated and she studied International Business in Valkeakoski campus. She came to Finland from Ukraine and immediately fell in love with Finnish lifestyle and beautiful nature. Read more about her experiences from right below!
Could you tell little bit about who you are and how you ended up in HAMK?
My name is Anastasiya Malyshenko and I am an Ukrainian 21-year-old girl who have just graduated from HAMK (congratulations accepted😊 ) with Bachelor's Degree of Business Administration in the degree program in International Business.  About 4 years ago one of my friends suggested me to try my luck and apply for studying in Finland. I had no expectations at all, but against of all my excuses that I created for myself, I was accepted. It was an extremely important step in my life for both me and my family, since we all knew about the high level of education in Finland and we all were happy about how these all turned out.
Did you settle easily to Finland (found an apartment etc.)? Did you had any culture shocks?
As far as a remember, tutors were the most helpful when taking about adaptation. They helped me to get a student apartment, to learn more about the town and to get along with other students. The second useful tool was a Facebook. There were many groups for freshmen, other students, Buy and Sell groups etc where I got all information I needed for the beginning.
I did have a culture shock! Who wouldn't? It's Finland – just joking. I mean, Finnish people are so unique and different, and you need quite a long time for understanding their lifestyle and behavior. You have to accept their love for slow and quiet life, as well as break rumors about them being shy and introvert, even though they say the opposite.  They are not fans of small talks but the silence is not considered awkward.
What do you do on your free time? Is it easy to cope without knowing the Finnish language?
When I was in HAMK, I had variety of activities: language club, gym, sauna and swimming pool every Saturday. What a lovely time it was! Now I take part in some events because I am a singer. I still visit gym (or at least trying to), attend Finnish language course, and hang out with friends. Currently I have been looking for a job. Honestly, that is the only thing I found difficulties in without knowing the Finnish language.
What has been the most challenging or surprising thing about moving or living in Finland? What are your favorite things about living in Finland?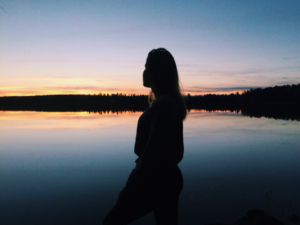 It was challenging to stop using too many hand gestures when talking to Finn 🙂 I can't recall any big challenges of living here, but there were definitely many surprises which are built on the cultural difference. My favorite thing is that in Finland everything is made for people so that they can live a comfortable life. Moreover, I cannot mention the stunning nature. I remember the first time walked to the lake next to my place in Valkeakoski. The sun was shining but it was windy and I was crying from the emotions and I felt like the nature translates it all.
Could you tell more about your exchange studies? Where were you and for how long?
I went for exchange in the 3rd year of studies. First, I went to Spain in Edem Business School and on the second semester I went to Czech Republic in Mendel University. It was two totally different experiences. In Spain, it was highly professional school with strict rules. We had to wear nametags, we couldn't be late, we couldn't use laptops on my classes, we had many rules about our appearance and behavior. At the same time, Spain is a land of relaxed atmosphere and delicious food. Nevertheless, the campus was two-minute-walk from the beach.
In Czech Republic we had a huge amount of exchange students and everything was carefully organized for our best experience. Excursions, parties, international days… We were even given a calendar with all the events so we wouldn't miss any. Moreover, it was a first time I stayed in student dormitory which was also a totally new experience.
During the exchange, I learnt to work in live in extremely different surroundings and quickly adjust to new cultures. I strongly recommend using this opportunity.
What are your plans after graduation? Are you planning on staying in Finland?
I will try to stay here, for sure. I take part in different events as a volunteer. I have a part-time job, but I am highly interested in finding one according to my specialization. So for my plan I would say learning Finnish and actively searching for a job. Moreover, at some point I'd like to continue studying more for a Master's Degree.
For who would you recommend HAMK's International Business studies?
For those who really see themselves in this profession. If you are passionate about business, you are creative and hard-working and you want to grow in international atmosphere – welcome to HAMK.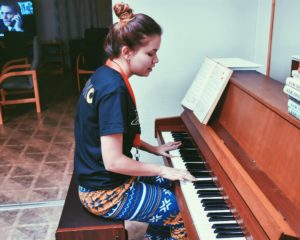 Something more you want to share about your experiences?
Never stop learning and exploring new things – that's what I have learned during these amazing 4 years. I am thankful for everyone who had been a part of this journey. And my journey has just started.
Interested in studying International Business in HAMK? Check out more!