Freezing Week brought teachers and staff members to HAMK from all over the Europe. International week themes were Smart and Sustainable Design, Business Intelligence for Business Design and Entrepreneurship. During the week, guests gave interesting lectures around their own expertise and shared thoughts about current topics.
Freezing Week kick-off
Monday started around IT themes and guests had a chance to get to know more to the IT department. In the evening guests and HAMK staff had a get-together event for introductions and networking. Official opening of Freezing Week were on Tuesday and first keynote presentation of the week was Paul McElheron: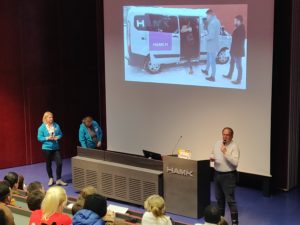 From Design Thinking to Strategic Design Practice. Day continued with another keynote presentation: User Experiences of a Robot at a Senior Citizens' Home in Sipoo, Antti Ainamo.
Presentations gave many new thoughts and ideas for the visitors to think and maybe something to bring back home. Business design and robots are very current topics and something that is improving fast. Especially Artificial Intelligence (AI) is something that is very hot topic in Finland right now and it's developing all the time. Using AI with senior citizens can have a big impact in their lives and give them more safe feeling at home. Also Business Design is making a big changes in Finnish companies. It's giving companies better understanding to customer needs and it helps companies to recognize new business opportunities. After a great start of the morning day continued with very diverse topics like introduction to game theory, business design thinking, alternative data in asset management and intercultural communication. There was something for everyone.
Workshop: Freezing Safari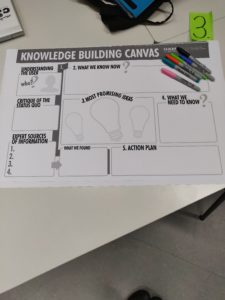 Multidisciplinary Business Design workshop was about the ecosystem of Hämeenlinna. Students and visitors were divided into the groups to work with the assignment. The city of Hämeenlinna gave an assignment where the goal was to develop the city attractiveness from four different aspects: culture, history, free time and shops.
Workshop had a great start and ideas started to fly around the rooms.. After a short meeting, teams went to the streets to ask citizens what is missing from Hämeenlinna and what would they improve. Based on those wishes teams started to brainstorm ideas. Students shared their ideas with guest teachers and staff and together they shared great point of views about what would work. It was a great mixture of students' needs and how they do things in other countries. On Thursday workshop continued and the ideas started to see the daylight. After choosing the best idea according to teams they started to built models based on their ideas. It was a success.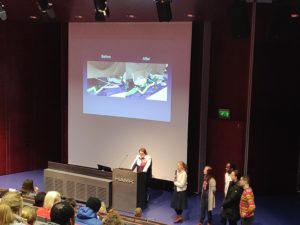 In the afternoon, there was an award ceremony where the teams presented their big and bold ideas for the panel. Panel and the audience were thrilled and it was not an easy choice to pick a winner. In the end the winning team had great thought about how to bring together the citizens of Hämeenlinna and how to give them a better sense of community.
Yet another great Freezing Week
After all the Freezing Week was a success. Visitors had a great chance to get to know to a Finnish education system and to the city of Hämeenlinna. On Thurday evening staff members from HAMK and visitors had a farewell dinner where everyone could sit around the same table for the last time before heading back to home on Friday. It was all about great music, tasty food and chatting. A great way to end the fifth Freezing Week.