Valentin Nizyevis graduating soon from HAMK's International Business degree programme. He has been utilizing the international opportunities offered by HAMK with the fullest. Valetin did his second exchange period in a country whose name most people have never even heard of. Read the whole interview and find out what is the name this country.
How did you end up in HAMK?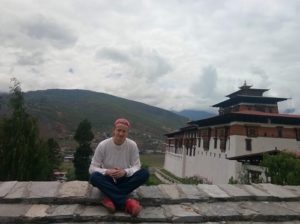 I am originally from Crimea, Ukraine. I ended up studying in Finland, because its education system is highly recognised and appreciated around the world. I went for IB studies because the skills and knowledge obtained on this course can be implemented in a wide range of professional contexts.
Why you wanted to have an exchange period? Where you did your exchange?
I think that in today's world there are very few who argue against the vast benefits of student exchange programs. The question isn't why one should go on an exchange, but rather why not?
Having already done an exchange at the University of Derby, UK, in 2016, this year I decided to try something completely different. As a result, I spent about 5 months in a country whose name most people have never even heard of.
This country is Bhutan, a tiny kingdom nestled in the Himalayan mountains between India and China. Almost completely isolated from the outside world for centuries, Bhutan is a Buddhist state that fiercely guards its ancient culture. For example, the law requires all Bhutanese citizens to observe the national dress code, which means that they must wear the country's traditional dress at work and schools. Here are some more facts about this great country:
Bhutan is the only country in the world that is carbon negative;
Smoking tobacco is illegal;
No animal is killed in Bhutan – slaughter houses are banned;
Bhutanese can compete with Finns in their honesty and humble attitude;
Traffic lights are absent, but the driving etiquette is at a super high level!
Internet and TV only arrived in 2001 (the last country in the world);
71% of Bhutan is forest (Finland – 75%);
Tourist visas costs 250$ per day (hence, you barely meet foreigners – even in the city centres);
Rather than using GDP (Gross Domestic Product), the government has officially adopted the Gross National Happiness index which measures the collective happiness and well-being of a population; and
The education system is entirely in English, so most people speak the language fluently.
What did you study there?
I spent a semester studying at the Royal Thimphu College. HAMK isn't an official partner yet so I contacted the college myself. On my arrival, I selected two courses: History of Buddhism, and Dzongkha language (official language of Bhutan). Now I can both proudly and shamefully declare that I speak Dzongkha better than Finnish.
What was the best thing in exchange?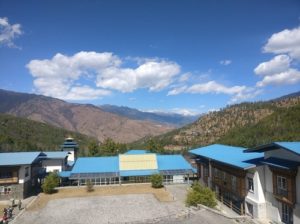 The best thing in this exchange was the opportunity to experience Bhutan in all its manifestations. It was truly an adventure. Prior to my landing in one of the most dangerous airports of the world (only 8 pilots have a license to land there), I knew slightly more than nothing about the country and what awaited me there. There isn't much information about life in Bhutan available even on the internet.
What was the most challenging thing in exchange?
The most challenging thing was leaving Bhutan at the end of my exchange period. It was hard to say goodbye to my new friends and this beautiful country.
Why would you recommend others to go for an exhange?
Doing an exchange has great potential to become a strangely life-changing experience, especially if you do it in a country like Bhutan.
How did you manage with accommodation and money issues in exchange?
I had to pay around 6000 euros for 4,5 months of studies. This included tuition fees, accommodation and food (three meals a day). I lived on the college campus, which is located in the middle of the forest. Just like HAMK! 🙂 The only difference is that it lies at an altitude of 2700 meters above sea level and white mountains could be seen from my dormitory.
How did you spent your free time (did you had any hobbies)?
Apart from studies, the college provided an opportunity to do an internship in one of the local organizations. So, I ended up doing my internship in an NGO that works with HIV-positive people.
Also, I started and facilitated the Religious Studies Club in the college, which was open for students and teachers from any religious and non-religious backgrounds. We met together every week and had a discussion about religious and spiritual topics. Bhutan is a deeply spiritual country, where every aspect of life and culture is shaped by the Tibetan Buddhism. This is why the club discussions turned out to be very interesting and absolutely special.
And of course I didn't miss the opportunity to explore stunningly beautiful nature. I went for several hikes and reached the altitude of 4350 meters above sea level.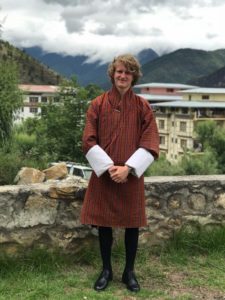 Anything else? Tell some funny stories about your exchange for example.
I visited many countries, but Bhutan was the only place where I didn't meet Russians, not even one. I even met a Finn from Tampere in one of the cafes in Thimphu (capital of Bhutan), but no Russians. Now I consider moving to Bhutan. (joking) 🙂