Zana Shillova is a recent graduate from HAMK's International Business. During her studies, Zana decided to get out of her comfort zone and complete a double degree in Mönchengladbach, Germany, at the Niederrhein University of Applied Sciences. Check out below was it worth it!
How did you end up at HAMK in the first place? 
Before I made the decision regarding where I wanted to study, I did a lot of research about different universities in different countries. The fact that Finland has an exceptional education system which used to be free for everyone is what made me decide to come here to study.
Why you wanted to complete a double degree?
It was nice to know that all students from HAMK IB have the opportunity to go abroad for a semester or a year (the double degree). When I first learned about this, I was quite hesitant, and I thought to myself that I've already moved from my home country Kosovo to another country, so why would I want to go through the hassle of moving again. I'm glad to say that I'm very happy I decided to get out of my comfort zone and do a year abroad at the Niederrhein University of Applied Sciences.
What did you study there?
In there, I studied International Business, with a distinguished concentration in Management.
What was the best thing in the double degree?
One of the best things was being in a warmer climate than Finland (haha :D). Nevertheless, the quality of the studies was undoubtedly great.
What was the most challenging thing in  the double degree?
The most challenging thing was the language, as we all know, people in Germany generally don't prefer to speak English. I took a couple of courses which helped a lot with getting around and speaking the basics, but other than that, the whole experience was amazing.
Why would you recommend others to complete a double degree?
I definitely would recommend for people to do a Double Degree. It's the kind of experience that you only get to have once, and since it is offered to us by HAMK, I think every student should at least consider doing a DD.
How did you manage with accommodation and money issues abroad?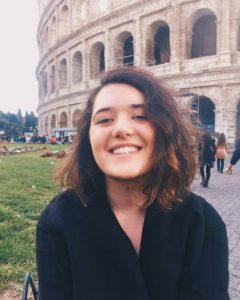 It was slightly cheaper to live in Germany. Furthermore, I got the Erasmus money which wasn't much on a monthly basis, but it definitely helped. The accommodation was offered by the university for exchange students, so that wasn't a problem at all, even though I lived in a private apartment.
Anything else? Tell some funny story about your time abroad.
My favorite part was that the city was located in Western Germany, and countries like The Netherlands, Belgium, and Luxembourg were very close. I got to travel a lot within Germany as well as to the neighboring countries. It truly was an amazing experience that I cannot recommend enough!