Now that we study and work from home, the easiest way to browse our new acquisitions is our constantly updated book carousel on HAMK Finna homepage. The carousel includes information of both new arrivals and titles on order. Here are five picks from the new titles; for more, go to the more comprehensive list.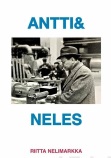 Nelimarkka, R., Garner, M. & Garner, M. (2020). Antti & Neles: "Neles, the Nokia of its day". [Helsinki]: Seneca.
Neles has been featuring in the news quite a lot this year. Neles was originally founded in 1956 as a family company by Mr. Antti Nelimarkka, the creator of the rotary valve. By the 1970s the company was a model for others. When it was sold to Rauma Repola, it had more than 700 workers and offices all over the world. This book has been written by Antti Nelimarkka's daughter Riitta, and combines company and family history with contemporary recollections. It makes interesting reading and describes not only the company, but also the rise of industry in Finland after the war.

Pine, B. J. & Gilmore, J. H. (2020). The experience economy: competing for customer time, attention, and money. Boston, Massachusetts: Harvard Business Review Press.
This book was originally published more than 25 years ago, and a lot has changed since then. Experience economy has become a reality and experience staging a science; new forms of experience are being innovated almost daily. Today, every company competes with every other company in the world for the time and attention of individual customers. In this updated edition, the authors provide new metrics for measuring performance and discuss how best gain customer attention for a longer period of time.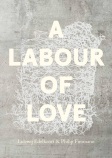 Edelkoort, L. & Fimmano, P. (2020). A labour of love. Eindhoven: Lecturis.
I originally picked up this book because of its unusual binding, but the content proved to be as rewarding as the binding itself. The labour of love refers to the artisan process of creation. The book introduces us to more than 70 creative studios in design, architecture, fashion and textile, and cover topics like responsible production, circular thinking, ethical practice and organic aesthetics.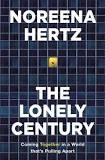 Hertz, N. (2020). The lonely century: Coming together in a world that's pulling apart. London: Sceptre.
This might be the most important book about the pandemic and its effects on people, though it was written just before Covid. Noreena Hertz argues that our current lifestyle is making us more lonely than ever before. Our constant work, problems with finding a partner and/or time for relationships, not to mention the time we spend on smartphones, have given rise to new industry where we hire companions by the hour (for other reasons than the oldest one) and where old people commit petty crime just to meet people. Loneliness can also seriously damage our health: chronic loneliness increases the risk of serious illness, like heart disease and dementia. Despite the serious topic, the tone of this book is quite hopeful, at times even funny, and the numerous concrete examples make it an interesting read.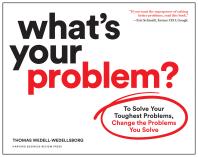 Wedell-Wedellsborg, T. (2020). What's your problem? To solve your toughest problems, change the problems you solve. Boston: Harvard Business Review Press.
The author argues that more often than not, we identify and solve the wrong problems. We are in a hurry to do something and do not stop to analyze our problem; consequently, the wrong problem gets solved. On a personal level, this can be annoying; on a company level, it costs both time and money. In his practical book, Thomas Wedell-Wedellsborg introduces a simple, three-step model for solving problems: framing, reframing and moving forward. Actually, with goals, different point of views, and self-criticism, the method includes quite a few more than three steps. Nevertheless, this is a good book on problem solving, suitable for not only business people but for all interested in improving their skills in critical thinking.